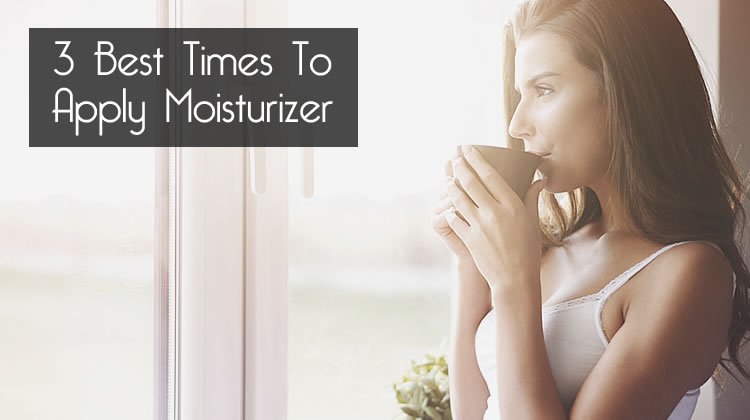 There seems to be an ever-changing playbook when it comes to skincare.
Just when you think you have it down, some earth-shattering information comes out and you might as well throw that playbook out the window.
It's confusing, frustrating, and time consuming.
What's a girl gotta do to get some supple skin?
One thing that's not changing, and is becoming increasingly evident, is the need for moisturizers.
It's the best thing you can do for your skin, especially with what we put it through on a daily basis.
The key with moisturizing is consistency.
Get into a daily routine and stick to it.
Also, stop being reactive and start being proactive.
We have a bad habit of waiting until dry skin rears its ugly, red, flakey head to start remorsefully smothering on 8 weeks worth of moisturizer.
Save yourself the patchy pain and use moisturizer regularly to prevent dry, irritated skin before it happens.
And by regularly, we mean at least once or twice per day.
However, there are optimal times to moisturize that you should keep in mind.
Let's look at the 3 best times to moisturize…
Time #1: In the morning
Set your skin up right for the day by moisturizing in the AM.
This is the best way to prep, hydrate, and protect your skin as you go about your day and (literally) face countless environmental factors and irritants.
Also, make sure you're putting your morning facial products on in the correct order.
The general rule is to put products on in order of viscosity.
Start with the thinnest and end with the thickest.
Here is an example of a potential morning facial routine:
Cleanse your face
Apply toner
Spot cream – such as a topical acne treatment
Serum
Eye Cream
Moisturizer – let sink in for 1 – 2 minutes before moving on
SPF
Make-up (primer, foundation, concealer, powder, bronzer, blush)
Time #2:  After you shower, wash your face, or swim
No matter what time of day it is, it's crucial to apply your moisturizer every time your skin comes in contact with water, such as after showering, swimming, or cleansing/exfoliating your face.
These are some of the most optimal times possible to apply moisturizer.
That's because your skin is fully primed to absorb moisture.
The trick to sealing in the most moisture is to apply moisturizer immediately after you get done showering or washing your face.
(Right away or within 3 minutes)
Gently pat your face with a towel, don't overly dry or rub, and leave a few droplets behind.
Applying moisturizer to freshly moist skin successfully locks in the product and the moisture.
If you wait any longer than 3 minutes, you lose your skin's precious moisture to the air.
Time #3:  Before you go to bed
Morning moisturizer preps you for the day and nightly moisturizing creams do corrective work while you sleep.
Research suggests that from 10pm and 11pm at night is when our skin most effectively repairs itself.
This means that we should have our nightly moisturizing cream on before this time so that it can work its best.
Sleep is a crucial time for our bodies to replenish and repair itself, which includes our skin at a cellular level.
Not only is the time important but just as you have a morning facial routine, you should have a nightly routine, as well.
Here is an example of a potential nighttime facial routine:
Cleanse and/or exfoliate with a gentle scrub
Toner or astringent
Spot cream – such as a topical acne treatment
Serum
Eye Cream
Moisturizer – let sink in for 1 – 2 minutes before moving on
Facial oil – helps seal in your moisturizer and is one of the only products that can penetrate moisturizing cream
Now that you know the 3 best times to moisturize your face, it's time to look at some other helpful tips to keep your skin smooth and supple.
Healthy Skin Tips
1. Shorten your showers
Your sauna like showers could be wrecking havoc on your precious skin.
Long, hot showers (along with hard water) strip your skin of vital moisture and its natural, protective oils.
Try to keep your showers to a maximum of 10 minutes.
Also, make the water temperature as cool as possible, which will help with moisture loss.
2. Adjust your moisturizer for the season
The time of year and fluctuating climate can influence your skin.
Just as your clothes are different for winter and summer, your face needs to sport different materials, too.
Our skin tends to be dryer in the winter, making ointments and creams a better solution during the cold months.
We have to keep our skin protected from those harsh elements–our adorable beanies and scarves can't do all the work alone.
Once summer arrives, along with our sandals and swimsuits, it's time to switch to a lighter weight formula such as a lotion or oil-free moisturizer.
3. Go easy on the irritants
Dry skin is already in a delicate state and susceptible to further irritation.
Choose moisturizers that are gentle on the skin.
Synthetic and artificial fragrances (even some natural fragrances such as citrus extracts, menthol/peppermint, and eucalyptus) are common irritants and can exacerbate redness and burning.
Opt for fragrance free, alcohol free, non-comedogenic, and hypo-allergenic formulas.
A quick word of caution…
According to the American Academy of Dermatology, the term "unscented" can sometimes mean that a fragrance was added to mask an odor in the formula, rather than to create a pleasant scent.
So they can still contain irritating artificial and synthetic fragrances.
4. Increase humidity
During the cold winter months use a humidifier in frequently used rooms or at night while you're sleeping.
A humidifier adds moisture to the air to help replenish your skin and keep it from drying out.
5. Say sayonara to soap
Ok, you don't have to say goodbye forever but definitely minimize your use of soaps.
Soaps contain a chemical called "surfactant", which degreases and emulsifies fats and oils.
Our skin has natural oil (sebum) on it that is susceptible to surfactant soaps.
Stay away from deodorant soaps, soaps with perfume, and products with alcohol.
Each of these can strip away oils and cause dry, irritated skin.
6. Stop over-exfoliating
Exfoliating is beneficial for removing excess oil, dirt, and dead skin cells.
However, we can easily over-exfoliate.
Sometimes we unknowingly use multiple exfoliating agents (such as salicylic acid, retinol, glycolic acid) or have a chemical exfoliator along with a physical scrub.
With so many products, it can lead to dryness, flaking, redness, irritation, and burning.
Stick to one exfoliating agent at a time.
If you have oily or acne-prone skin, exfoliate once or twice per week.
If you have dry or maturing skin, exfoliate only once per week.
When drying your skin with a towel or washcloth, be sure not to rub too hard.
Key Takeaways
We know that moisturizing is crucial to healthy, supple skin.
Change your approach from reactive to proactive and follow a daily skincare routine.
Be sure to moisturize your face at least 1 – 2 times daily.
Also, take advantage of the 3 best times to apply moisturizer, which are in the morning, after showering/cleansing/swimming, and before bed.
Doing so will ensure that skin is protected, optimally moisturized, and hydrated.
Do your skin a favor and skip the hot showers, surfactants, irritants, and over-exfoliation.
Nurture your skin and use appropriate moisturizers during the seasons, opt for fragrance free formulas, and sleep with a humidifier.
It doesn't take much to keep our skin happy, but it does take consistency and the right products.
To find the perfect moisturizer for your unique skin type, check out our list of the 10 best moisturizers!