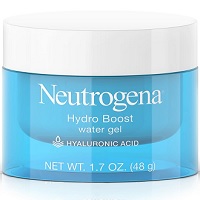 Product Name:  Neutrogena Hydro Boost Water Gel
Overall Rating: 

Face or Body:  Face
Day/Night:  Both
Size:  1.7 oz
Price:  $19.99
Cost Per Ounce:  $11.76
Where to Buy:  Click Here
# of Ingredients:  20
Notable Ingredients:  Mineral Oil, Preservatives, Blue 1 Dye, Sodium Hyaluronate
Overall Opinion:
Like many of you, I was really excited to try Neutrogena Hydro Boost Water Gel.  The advertising and commercials make it seems like the end all be all as far as hydration goes.  Let me tell you, it's not, and my experience with this gel wasn't pleasant.
After testing it out, I give it 1 out of 5 stars, so I really don't care for it at all.
First of all, it didn't do anything at all for my skin.  It just gave my acne breakouts and dried my skin out.  I thought it was supposed to do the opposite?
It also burns as you apply it.  I found this to be a common complaint among customers.  So there's something in there that's very irritating to a lot of skin types.
Second, the ingredients in here aren't good at all.  This gel literally only contains one good ingredient, Sodium Hyaluronate (hyaluronic acid).  And that is near the end of the list of ingredients, so there can't be much in there.  So after digging through and researching the ingredients, I now know why this one broke me out and caused burning.  It's just packed with preservatives, mineral oil, and even blue dye.  Why do they feel the need to dye the gel? It would've been fine if it stayed white or clear in color.
The smell is also pretty heavy and becomes off-putting the longer the product is on your skin.
So overall, I don't like this moisturizer for my skin.
Detailed Opinion:
Texture/Feel
This product has a slick, gel texture.  The gel itself is kinda slimy feeling, and the odd thing about this one is it's blue in color!
The product itself feels very soft, and you can definitely tell it's a gel over a lotion texture.  It's on the thin side and is even a bit soupy.
Application
I didn't have any issues applying this gel, despite the thin texture.
The gel is blue, but it goes on your skin clear.  Its texture made it very easy and quick to blend into my face and neck.
Drying Time
Neutrogena Hydro Boost Water Gel dries really quickly.  Once I applied it, it dried in 1-2 minutes.  I'm happy about the drying time because it made it easy to apply makeup or other products on top of.
My skin felt smooth and soft immediately after the product dried.
Smell
The smell of this water gel is one I've smelled before, but I can't place. In my opinion, the smell is just okay.  It's a pretty heavy fragrance, to be honest, and as the day went on the smell became more intense.
The smell is from fragrance, although they don't say what the fragrance is.  But based on other ingredients in this product, I'm guessing the scent is not natural.
It's not a light, refreshing scent (how I prefer my moisturizers to smell), but it's more of a heavy perfume scent.
Immediate Results
After I applied this water gel, my skin immediately felt very smooth and soft.  I wish this effect lasted, but unfortunately it went away over the next few hours and my skin began to feel sticky.
I also noticed as I applied it, my skin was burning.  It felt like it was irritating my skin right off the bat, and it was really uncomfortable.
Longer Term Results
Longer term I noticed that my skin was breaking out heavily.  My pores were clogged, and I had a lot of blackheads.
I also noticed I still had a lot of dry skin on my face.
So this product really doesn't do anything it claims to.  They claim it's non-comedogenic, which is completely false.  If you look at the ingredients, there are ingredients in there (mineral oil) that clog pores.
I didn't notice any hydrating or anti-aging affects either.
I don't really think this will work for any type of skin tone, so I recommend staying away from this product.
Ingredient Notes
I was extremely disappointed in the ingredients included in Neutrogena Hydro Boost Water Gel.
They claim is has hyaluronic acid, which it does, but it's near the bottom of the list of ingredients, which means there are only trace amounts.
Other than the hyaluronic acid (Sodium Hyaluronate), there are no good ingredients.  I was expecting to see a few other cosmeceuticals or plant extracts, but nope.  The rest of the ingredients are just fillers, preservatives and blue dye.
I understand that moisturizers need to have preservatives in them to maintain the product, but this one is packed with preservatives, more so than other products.
It also contains mineral oil, which is known for clogging pores and causing breakouts.
Blue Dye is another ingredient found in here.  Now, I'm completely baffled as to why they need to include dye in this product.  It does absolutely nothing for your skin; it just creates a prettier product.  I would've rather them kept the gel white or clear and withheld the blue dye.  But they obviously just included it so the product matched the packaging better.
So overall, this gel contains a lot of bad stuff that I'd rather not be putting on my skin.
Price
For a "drugstore" moisturizer, I'm surprised by how much this one costs.
It's $19.99 per jar, which is pretty expensive for a drugstore brand.  Especially when all you get is a jar full of preservatives and dye.
Guarantee
Yes, they have a 30 day guarantee on the Neutrogena website.  You need to have purchased the product via the website in order to utilize the guarantee though. I'm happy to see they offer this guarantee.
Where To Buy
To buy Neutrogena Hydro Boost Water Gel, click here.
Neutrogena Hydro Boost Water Gel: Summary
| | |
| --- | --- |
| Factor | Neutrogena Hydro Boost Water Gel |
| Overall Rating | |
| Texture/Feel | This is a soupy, blue colored gel. |
| Application | Applying is easy and doesn't take long at all. |
| Drying Time | It dried in 1-2 minutes. |
| Smell | Smells strong and heavy. |
| Immediate Results | It burned my skin, but after applying my skin felt soft. |
| Long Term Results | It gave me acne and left me with dry skin. |
| Ingredients | Hyaluronic Acid, Mineral Oil, Preservatives, Blue Dye |
| Guarantee | Yes, through Neutrogena.com |
| Price | It's $19.99 per jar, which is expensive compared to most drugstore moisturizers. |
| Where To Buy | Click Here |