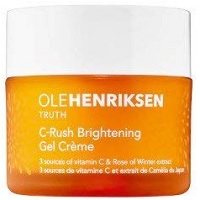 Product Name:  Ole Henriksen C-Rush Brightening Gel Crème
Overall Rating: 

Face or Body:  Face
Day/Night:  Both
Size:  1.7 oz
Price:  $46.00
Cost Per Ounce:  $27.06
Where to Buy:  Click Here
# of Ingredients:  46
Notable Ingredients:  Ascorbic Acid (Vitamin C), Gogi Fruit Extract, Rosehip Extract, Jojoba Esters, Phenoxyethanol, Orange Fruit Extract, Hyaluronic Acid, Yellow 6, Yellow 5
Overall Opinion:
Ole Henriksen Gel Brightening Crème was a totally different take on a daily moisturizer, so I was really excited to try it out.
I really liked the results that I saw from this product, so I ended up giving it a 4 out of 5 stars!
One of the best things about it was the texture – it's totally different than a lot of the moisturizers out there right now. It seemed to keep my skin moisturized without clogging my pores.
It also has three different forms of Vitamin C in it, which is amazing! It really seemed to brighten my skin even after using it for a couple of days, which was an amazing perk!
As far as downsides, it definitely felt more like a daily moisturizer. I didn't mind using it at night, but it was more of a gel, so it takes a little bit longer to completely soak in.
Another downside is the ingredients. I didn't see any concerning ingredients, but it's definitely not one of those organic all-natural products. It's also bright orange and contains different dyes, which some of you might not like.
The price is a little high, but somewhat in the middle in terms of all the moisturizers out there. I would say, for the money, it is totally worth it though.
Detailed Opinion:
Texture/Feel
C-Rush Brightening Gel Crème is exactly what the title says it is – it's a gel with a smoother finish.
Because of the unique texture, a little bit goes a long way. It didn't take more than a penny-sized amount to cover my whole face and neck.
Application
Application is totally easy – it's in a jar, so you just have to scoop out the amount you want.
The packaging is really nice and it's a good size. It is orange with a white lid. It's a good weight and feels like a high-end product.
Drying Time
Because of the gel, I noticed it took a little longer to completely soak in.
The longer drying time made it feel a little sticky on my skin, but that went away after 10-15 minutes.
Some people might want a product that's a little more light-weight.
Smell
It has a light orange/citrus smell, which is really refreshing.
The smell is not faint, but fades quickly after application.
Immediate Results
After waking up the next morning, I noticed my skin felt hydrated. I didn't see much difference other than it felt moisturized and healthy.
My skin felt smooth, but I didn't really see the major results until a few days later.
Longer Term Results
After 3-4 applications, I noticed my skin looked a lot healthier than before. It felt plump and hydrated.
The best thing I noticed was how bright and even-toned my skin looked.
As time went on, my dark spots were a lot less noticeable. My skin felt hydrated, but all the other benefits really made this product worth it.
I think overall, if you are looking for a moisturizer that has added results, this is the one for you if you want something specifically for intense hydration.
Ingredient Notes
Ole Henriksen has an entire line of products made to help specifically brighten the skin and deal with discoloration. This Gel Crème is one of the products in the line and contains three different sources of Vitamin C.
The three forms of Vitamin C in this moisturizer are Tetrahexyldecyl Ascorbate, 3-O-Ethyl Ascorbic Acid, and Ascorbic Acid.
I also noticed it contains Rose of Winter extract, which is used in skincare to help improve acne scarring and keep skin moisturized. It is also packed with Vitamin C. It is known for being an antioxidant and helps new skin regenerate.
Another unique ingredient in this crème is Lycium Barbarum Fruit Extract, which is Gogi Berry Extract. It contains antioxidants, which helps with skin discoloration and can actually make skin softer.
Price
A 1.7 oz jar of C-Rush Brightening Gel Crème is $46, which comes out to $27.06 an oz.
They also have a 0.25 oz tester on their website for only $12, which is great if you're wanting to try it out but aren't sure.
I would say of all the products I have tried, it's in the high-mid range in terms of pricing. In my opinion, totally worth it for the extra perks of the brightening with the hydration.
Guarantee
Ole Henriksen has a 60-day money back guarantee for all items purchased on their website.
You do not have to pay return shipping. Simply send the product back to them within the 60 days for a full refund or exchange for another item that is of less or equal value.
Where To Buy
To buy Ole Henriksen C-Rush Brightening Gel Creme, click here.
Ole Henriksen C-Rush Brightening Gel Crème: Summary
| | |
| --- | --- |
| Factor | Ole Henriksen C-Rush Brightening Gel Crème |
| Overall Rating | |
| Texture/Feel | This is a thick, translucent gel. Bright orange in color |
| Application | Applying is easy. It comes in a jar. Just a small amount covered my whole neck and face. |
| Drying Time | It felt a little sticky for a while, but dried over 10-15 minutes. |
| Smell | The smell is really refreshing. It's a citrus orange smell. |
| Immediate Results | After the first use, I didn't really see much of a change, but my skin felt more hydrated. |
| Long Term Results | Over time, my skin was much brighter and plumper. It just looked healthier overall. |
| Ingredients | 3 Sources of Vitamin C: Gogi Berry Extract, Vitamin E, Jojoba Esters, and Rose of Winter Extract |
| Guarantee | Yes, as long as it is purchased on the Ole Henriksen website. |
| Price | It's $27.06 per oz, which is pretty middle-of-the-line. |
| Where To Buy | Click Here |