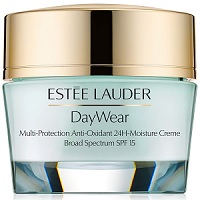 Product Name:  Estee Lauder DayWear Multi-Protection Anti-Oxidant 24H-Moisture Creme SPF 15
Overall Rating: 

Face or Body:  Face
Day/Night:  Day
Size:  1 oz
Price:  $34.00
Cost Per Ounce:  $34.00
Where to Buy:  Click Here
# of Ingredients:  77
Notable Ingredients:  Chemical Sunscreens, Guava Fruit Extract, Dimethicone, Stearyl Alcohol, Rosemary Leaf Extract, Caffeine, Fragrance (Parfum), Blue 1, Yellow 5
Overall Opinion:
Estee Lauder has been around in the skincare world since the 1940's. We wanted to try out one of their most popular daily facial moisturizers to see what all the fuss is about.
Turns out, it's a pretty great daily face cream. The consistency is light and has SPF 15, so it gives a little extra protection from daily sun exposure. It does a great job at moisturizing without being too intense. It also made my skin look healthy and more even-toned after just a few days in a row!
As far as downsides, this product has 77 ingredients. A lot of the ingredients aren't natural and the sunscreen is chemical instead of mineral, which might be a downside for some people.
Another issue I saw with this was the price tag – a small 1 oz jar is $34, which is pretty expensive for something you are using daily. It is also a really light crème, so if you are needing something heavy for the winter, this might not be the right product for you.
Overall, if you can afford it and don't mind some of the ingredients, I would try this one out. It was worth the results in my opinion!
Detailed Opinion:
Texture/Feel
As far as face moisturizers go, Estee Lauder DayWear Moisture Creme is pretty middle-of-the-line in terms of thickness. It almost has a slight gel consistency to it also, which I liked.
It goes on really smooth and doesn't feel greasy or oily at all.
Application
Application is super easy. It's a jar with a lid that screws on. The packaging is really beautiful too.
I used about a penny-sized amount each morning, which covered my entire face and neck.
Drying Time
Drying time was nice a quick. It took about 30 seconds – 1 minute for it to completely soak in.
The dimethicone gave a smooth appearance (like a makeup primer), so it went on great underneath my makeup in the morning.
Smell
The smell is really fresh, kind of like cucumber with a hint of that sunscreen smell – it is really subtle, so I didn't mind it at all.
I thought the overall smell was light and refreshing and didn't linger too long after it soaked in.
Immediate Results
After applying Estee Lauder DayWear Moisture Creme, I thought my skin looked healthy and smooth.
It made my cheeks feel really soft and went on great under my make up in the morning.
Longer Term Results
Longer term I noticed my skin felt more hydrated throughout the day.
My fine lines were less noticeable, and I even noticed my complexion was a little more even after a couple of days!
Overall, I was really impressed with the results!
Ingredient Notes
This Estee Lauder DayWear contains 77 ingredients! Whoa! That makes it kind of hard to know what you're putting on your skin every day. Of course, all the ingredients have been tested and shown to be safe in small amounts, but I didn't love how many preservatives they included or the dyes like Yellow 5 and Blue 1.
This crème is labeled as "Anti-Oxidant" Guava fruit extract and Gentian root extract contain tons of antioxidants, which help fight against aging by protecting the skin and helping it look young and healthy.
This moisturizer also contains caffeine, which can help reduce redness. It constricts blood vessels close to the surface and tightens skin.
Sodium Hyaluronate helps retain water, which is one of the ingredients that makes this moisturizer so awesome at hydrating the skin.
Price
A one ounce jar of this moisturizer was $34.00, which I think is fairly expensive for a daily face cream.
The results were great, so if you can stomach the price, I think it is worth it.
Guarantee
Yes! If you purchase online at Estee Lauder website, you can return the product if you are not completely satisfied for a refund or exchange within 1 year of purchase!
Where To Buy
To buy Estee Lauder DayWear Moisture Creme, click here.
Estee Lauder DayWear Moisture Creme: Summary
| | |
| --- | --- |
| Factor | Estee Lauder DayWear Moisture Creme |
| Overall Rating | |
| Texture/Feel | Lightweight crème |
| Application | Applying is easy. It didn't take much to cover my face and neck. |
| Drying Time | It dried really fast – less than a minute. |
| Smell | Very light smell of cucumber with a little bit of a sun screen smell. |
| Immediate Results | After I first applied it, my skin felt really soft and smooth. |
| Long Term Results | Over time, my skin felt bright and lightly hydrated. My fine lines were minimized. |
| Ingredients | Guava Fruit Extract, Caffeine, Vitamin E, Lemon Extract |
| Guarantee | Yes, Estee Lauder has a great guarantee! |
| Price | It is $34 per oz, which is fairly pricey. |
| Where To Buy | Click Here |