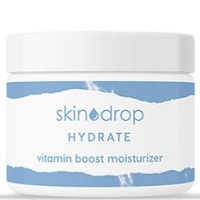 Product Name:  Skin Drop Vitamin Boost Moisturizer
Overall Rating: 

Face or Body:  Face
Day/Night:  Both
Size:  1.7 oz
Price:  $24.95
Cost Per Ounce:  $14.67
Where to Buy:  Click Here
# of Ingredients:  31
Notable Ingredients:  Snow Algae, Sea Kelp, Birch, Cucumber, Peptides
Overall Opinion:
Skin Drop Vitamin Boost Moisturizer is our absolute favorite face moisturizer right now!
It has virtually every single characteristic we like to see in an effective, high-quality moisturizer.
For starters, it goes on really easily.  It's not sticky, or too thick or too thin.
It's just the perfect consistency in my opinion!
It also dries extremely fast.  And once it does, it feels truly amazing on the skin.
My face felt smooth and very soft within just a few minutes of use!
Another great thing about Skin Drop is it's a great "base" for other products.
I can put on retinol cream after using it, or make-up or even sunscreen.
It doesn't seem to interfere with any of these things.
So yeah, I really love it!
The fact that it's reasonably priced, is made in the USA, and has an awesome guarantee is just icing on the cake!
This is truly one of the best moisturizers I've ever used.
Detailed Opinion:
Texture/Feel
This product has a really nice consistency.  It feels very silky and smooth, almost weightless.
Not too thick and not too thin, that's exactly how I like moisturizers since so much comes after them.
Application
Vitamin Boost Moisturizer is pretty easy to apply.
It does come in a jar, which isn't necessarily my favorite way to use moisturizers.  But it does make applying them super easy.
This moisturizer is very lightweight and non-greasy.
And a little went a long way as a few dips in the jar covered my entire face and neck.
It spreads on very smoothly and blended into my skin nicely.
Drying Time
This product dried extremely quickly.  And it absorbed very cleanly with no mess.
Once it did dry (within a minute or so), it felt good on my skin.
It wasn't sticky or "wet" like some moisturizers out there.
Smell
This one smells really good.  It had a VERY light spa-like scent or some kind of essential oil.  It reminded me of a spa, and I loved how delicate the scent was on my face.  I also like that the scent they use is natural and dissipates pretty quickly after application.
Immediate Results
Right after I applied Skin Drop, my skin looked really good.  It was soft, smooth, and glowing.
It was more of the same the next morning after I woke up.
My skin felt refreshed and still very soft.
Longer Term Results
Fortunately, the longer term results from Vitamin Boost were as good as the short term results.
My skin feels healthier, hydrated, and looks amazing!  Tiny lines and discoloration seem to have evened-out and lessened a bit.
I apply this morning and night and it's the perfect "base" for all the other skincare products I use.
It goes particularly well under makeup—it keeps it in place for a full day which is HUGE.
They say this is good for acne-prone skin and I believe them.
I swear my acne got a little bit better while I was using this.
Ingredient Notes
I really like how the ingredient list looks for Skin Drop.
They have a lot of conditioning agents and cosmeceuticals (as well as your obligatory preservatives).
Of note, they have things like Snow Algae, Birch, Cucumber Extract, and Sea Kelp.  They also have a few different peptides in there.
These are all modern ingredients that have been shown to do amazing things for the skin on your face.
I also like how Skin Drop has a naturally-derived fragrance in it.  I prefer natural fragrances over synthetic ones when I'm applying them to my face.
Price
Skin Drop Vitamin Boost Moisturizer costs $14.67 per ounce, which isn't too bad compared to most of the other high-end moisturizers out there.  I got a 1.7 oz jar for about $24 or so.  It lasted me more than a month.
Guarantee
Skin Drop has one of the better guarantees we've seen.  They give you a full 90 days to try it out.  If you don't like it, you can return it and get your money back.  Can't beat that!
Where To Buy
To buy Skin Drop Vitamin Boost Moisturizer, click here.
Skin Drop Vitamin Boost Moisturizer: Summary
| | |
| --- | --- |
| Factor | Skin Drop Vitamin Boost Moisturizer |
| Overall Rating | |
| Texture/Feel | This has a very lightweight, smooth feel to it. |
| Application | It's very easy and a little goes a long way. |
| Drying Time | Dried REALLY quickly—within a minute or two |
| Smell | Smells very good, light and spa-like |
| Immediate Results | My skin looked great immediately after use.  Soft, smooth, and hydrated |
| Long Term Results | Really good long term results.  Minimized fine lines and discoloration |
| Ingredients | Modern ingredients like Snow Algae, Birch, Sea Kelp, Cucumber, and Peptides |
| Guarantee | Yes, they have an amazing 90-day moneyback guarantee. |
| Price | It's $14.67 per ounce.  Not bad considering how good it is |
| Where To Buy | Click Here |
Skin Drop Vitamin Boost Moisturizer Review