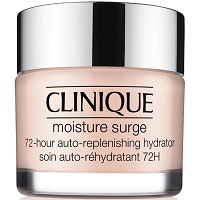 Product Name: Clinique Moisture Surge 72-Hour Auto-Replenishing Hydrator
Overall Rating:

Face or Body: Face
Day/Night: Both
Size: 1.01 oz
Price: $21.00
Cost Per Ounce: $13.13
Where to Buy: Click Here
# of Ingredients: 36
Notable Ingredients: Dimethicone, Butylene Glycol, Green Tea Extract, Lady's Thistle Extract, Saccharomyces Lysate Extract, Aloe Leaf Water, Caffeine, Vitamin E, BHT, Red 4, Yellow 5
Overall Opinion:
Clinique has several moisturizers in their skincare line – some great and some not.
I was overall pretty impressed by this moisturizer, even though its main ingredient is dimethicone.
Even though I saw some good results, there were a couple of things I didn't love, so I decided to give it 3.5 out of 5 stars.
In terms of what I really liked – this was a great light weight moisturizer. It definitely didn't feel too heavy and really made my skin feel refreshed.
The smell was nice and light and went away after a couple of minutes. I was also really surprised by how smooth it made my skin look and feel.
One of the issues I had with it was the amount of dimethicone. Almost all skincare products on the market have some dimethicone, which is fine, but this one has a lot.
Most people's skin can tolerate dimethicone really well, but after a week, it gave me a couple of whiteheads. I definitely didn't break out or anything, but I decided I only wanted to wear this moisturizer during the day under my makeup.
Overall, I thought this moisturizer did a pretty good job! I liked how it made my skin feel and look, but it was a little too lightweight for me. I wouldn't say it moisturizes for 72 hours, but it made my skin look smooth and healthy.
Detailed Opinion:
Texture/Feel
Clinique Moisture Surge 72-Hour Auto-Replenishing Hydrator has a kind of gel-like feel to it.
It is really light and a little bit goes a really long way!
Application
Applying this moisturizer was super easy!
This one comes in a jar, which is super easy to use and looks nice.
Because of the consistency, a little bit covers a lot! I needed a little more than a dime-sized amount to cover my whole face.
Drying Time
Drying time was super-fast!
It definitely feels a bit heavier on the skin and is a little sticky.
Since it's meant to be applied at night, these things really didn't bother me too much. Although some people will undoubtedly prefer a lighter-weight product.
Smell
The smell of Clinique Moisture Surge 72-Hour Auto-Replenishing Hydrator is really nice. It is slightly sweet but didn't really remind me of anything specific.
It is really refreshing and didn't linger on my skin too long, which I loved.
Immediate Results
Right after I first applied the product, I thought my skin looked really smooth and healthy.
I noticed my pores seemed to appear smaller and my skin definitely felt moisturized.
After about an hour, my skin felt less moisturized but still looked really nice and even-toned.
Longer Term Results
Longer term is when I got a little disappointed. I definitely did not find this moisturizer to do much moisturizing long term.
After a couple of weeks, I even noticed a couple of whiteheads which was disappointing, but I didn't break out or anything.
It was a great primer for under my makeup for the day and seemed to feel moisturizing in the morning, but it definitely wore off after a couple of hours and didn't transform my skin or do anything that impressive over time.
Overall, long term I just didn't think it was moisturizing enough for me. I definitely recommend something a little heavier if you are mainly concerned about hydration.
Ingredient Notes
Clinique Moisture Surge 72-Hour Auto-Replenishing Hydrator contains Milk Thistle Extract, which is known for its antioxidant effects and its ability to really sooth the skin. It is mainly recommended for issues like acne and rosacea.
One of the most interesting ingredients in this product is the Saccharomyces Lysate Extract, which is an extract of yeast cells that has now only been shown to improve the shelf life of products but has also been used to help skin cells absorb skincare products better!
Caffeine is another great ingredient in this moisturizer – it helps constrict blood vessels, which gets rid of swelling and redness. It can also make skin appear tighter and more vibrant.
Overall, I thought this moisturizer contained some really unique ingredients that you will not find in just any products on the shelves.
Price
Around 1 oz of Clinique Moisture Surge 72-Hour Auto-Replenishing Hydrator is $13.13, or 50ml for $21.00, which is a little on the pricey side. It is a little higher than most, but not terrible for the ingredients.
Guarantee
Clinique website offers satisfaction guaranteed – they will try and find a product that works for you!
If not, they will accept the unused portion of the product back for a refund on a case by case basis.
Where To Buy
To buy Clinique Moisture Surge 72-Hour Auto-Replenishing Hydrator, click here.
Clinique Moisture Surge 72 Hour Auto-Replenishing Hydrator: Summary
| | |
| --- | --- |
| Factor | Clinique Moisture Surge 72 Hour Auto-Replenishing Hydrator |
| Overall Rating | |
| Texture/Feel | Lightweight gel-like moisturizer. Acts like a makeup primer also. |
| Application | Applying is super easy and clean. Just a thin layer does the trick. |
| Drying Time | Drying time is nice and fast. Only less than a minute |
| Smell | Refreshing and extremely light. Slightly sweet |
| Immediate Results | After the first morning, I noticed my skin looked smoother and slightly hydrated. |
| Long Term Results | Left skin feeling smooth, but overall not moisturizing enough. |
| Ingredients | Dimethicone, Caffeine, Saccharomyces Lysate Extract, Vitamin E, Green Tea Extract |
| Guarantee | Yes, satisfaction guaranteed. Only on the Clinique website |
| Price | It is $13.13 per oz. Not too expensive |
| Where To Buy | Click Here |