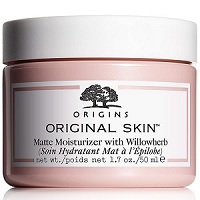 Product Name:  Origins Original Skin Matte Moisturizer with Willowherb
Overall Rating: 

Face or Body:  Face
Day/Night:  Both
Size:  1.7 oz
Price:  $36.00
Cost Per Ounce:  $21.17
Where to Buy:  Click Here
# of Ingredients:  57
Notable Ingredients:  Dimethicone, Alcohol Denat, Lemon Oil Extract, Orange Oil Extract, Willowherb Extract, Eucalyptus Oil Extract, Caffeine, Sodium Hyaluronate
Overall Opinion:
Origins is a super popular company that has been around since the 1990s. It was actually started by the son of Estee Lauder and it's known as one of the first major brands to focus more on natural products.
I saw really great results at first with this moisturizer, but over time, it really didn't do much for my skin, which is why I had to give it 2 out of 5 stars overall.
As far as the highlights – this is a great product if you're looking for a matte finish in your moisturizer. I thought it went on light and didn't suffocate my skin.
But one of the major downsides was that it didn't really moisturize my skin that much. I felt like over time, I didn't see any change in my skin. Even after applying the product twice a day, my skin didn't really feel any better, even weeks later!
The price is a little high at $36.00 for a 1.7 oz jar. If you are going to buy this, you could probably just throw out your makeup primer and use this instead.
Detailed Opinion:
Texture/Feel
Origins Original Skin Matte Moisturizer with Willowherb is a really light gel-like paste with a refreshing citrus smell.
It is pretty thin, so a little goes a long way! It didn't take more than a dime-sized amount to cover my whole face.
Application
Applying this matte moisturizer was super easy! It comes in a small jar with a screw-on lid, which was really easy and simple to use.
The thin consistency made it really quick and easy to evenly cover my face.
Drying Time
Drying time was interesting because Origins Original Skin Matte Moisturizer with Willowherb dried almost instantly.
It felt more like a makeup primer than a moisturizer, so it took seconds to seem like it totally soaked in.
The instructions on this one is to apply morning and night, but I really didn't want to apply it at night.
It feels more like a light day cream to me, just because I don't really want to cover my pores in dimethicone right before bed.
Smell
The smell of this moisturizer is refreshing and light!
It almost smells like grapefruit, which I loved! The smell also goes away pretty fast. So, if you're sensitive to fragrance, this one might still be ok for you since the smell wears off quickly.
Immediate Results
Right after applying it, I noticed how soft and smooth my skin looked. I loved the results right after it soaked in.
I thought it did a great job at blurring fine lines, but I noticed my skin didn't feel very moisturized.
Longer Term Results
Longer term results really didn't impress me at all. I didn't see any improvement in my acne scars or fine lines.
My main concern was that my skin really didn't feel moisturized even after several days. I really don't think this would be enough for my skin in the winter when the dryness really sets in.
I also didn't love putting this on at night, just because it was so lightweight and didn't really feel very soothing before bed.
I also noticed a couple of whiteheads on my forehead and cheeks after a couple of weeks, which I really didn't like. But overall, this might be a great product for people looking for something really light.
Ingredient Notes
Origins Original Skin Matte Moisturizer with Willowherb contains tons of ingredients. Some of them are pretty unique!
Like it says in the title, one of the ingredients is Willowherb extract. Willowherb is used in skincare to help reduce inflammation. It's known to even help skin heal and get rid of redness.
I liked the fact that this contains caffeine, but I have heard that your skin can build up a tolerance over time. Caffeine is an antioxidant and can help reduce redness by constricting blood vessels.
Of course, I had to mention the ingredient that makes it matte – dimethicone. Dimethicone is a synthetic ingredient that fills in pores and gives that great soft look. The downside is it can also clog pores and cause breakouts in large amounts, but most people don't have too much of an issue with it.
Price
A 1.7 oz jar is $36.00, which comes out to more than $20 an oz. I think it's pretty expensive, even though it has almost 60 ingredients.
Guarantee
Yes! Origins Online Purchase Satisfaction Guarantee states that the unused portion can be returned for refund or exchange if the customer is not completely happy with their purchase!
Where To Buy
To buy Origins Original Skin Matte Moisturizer with Willowherb, click here.
Origins Original Skin Matte Moisturizer with Willowherb: Summary
| | |
| --- | --- |
| Factor | Origins Original Skin Matte Moisturizer with Willowherb |
| Overall Rating | |
| Texture/Feel | This is a really lightweight moisturizer with a dry gel-like finish. Not greasy at all |
| Application | Application is super easy. A small amount goes a really long way! |
| Drying Time | Because of the matte texture, this seemed to dry almost instantly, which was great. |
| Smell | Refreshing citrus smell – almost like grapefruit |
| Immediate Results | After the first morning, I noticed my skin had a beautiful smooth matte finish but didn't feel very moisturized. |
| Long Term Results | Over time, I didn't really see any difference in my skin. I definitely didn't feel like my skin was any more hydrated than before. |
| Ingredients | Dimethicone, Alcohol Denat, Lemon Oil Extract, Orange Oil Extract, Willowherb Extract, Eucalyptus Oil Extract, Caffeine, Sodium Hyaluronate |
| Guarantee | Yes, satisfaction guaranteed through purchases made on the Origins website. |
| Price | This moisturizer comes in a 1.7 oz jar for $36.00 on the Origins Website. |
| Where To Buy | Click Here |