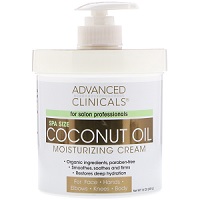 Product Name:  Advanced Clinicals Coconut Oil Moisturizing Cream
Overall Rating: 

Face or Body:  Face and Body
Day/Night:  Both
Size:  16 oz
Price:  $15.00
Cost Per Ounce:  $0.94
Where to Buy:  Click Here
# of Ingredients:  21
Notable Ingredients:  Mineral Oil, Aloe Leaf Juice, Coconut Oil, Lavender Flower Extract
Overall Opinion:
Advanced Clinicals Coconut Oil Moisturizing Cream is a moisturizer for both face and body.
I wasn't really sure what to expect, because the price is so cheap, but the packaging looks really nice and professional.
First, I love the smell of this because I love coconut. The coconut oil really comes through in this product. The consistency is nice and it soaks in really fast, which I like. It left my skin feeling moisturized, but it also left a waxy residue on my skin that I didn't love.
I really don't love that this has mineral oil in it, just because it can really clog my pores, especially on my back and face. Over time, I had a few pimples develop on my face, but I didn't have any issues on my arms or legs.
This is a really affordable moisturizer and I think overall I prefer it more as a body lotion than face moisturizer. For the price, it has some benefits, but it really wasn't my favorite.
Detailed Opinion:
Texture/Feel
Advanced Clinicals Moisturizing Cream is a thinner cream. A little bit really goes a long way.
It isn't too thin, but it is definitely not as thick as I would like my daily moisturizer to be.
Application
Applying this is very easy. It comes in a large tub with a pump applicator.
Each pump produces a lot of cream, so I only really needed ¼ of a pump for my face.
Just one full pump covered my whole leg, so I thought it was a lot of product, especially for the low price.
Drying Time
Drying time with Advanced Clinicals Coconut Oil Moisturizer is really fast – I think the fact that it is on the thinner side helps.
It really doesn't say what time of day to apply it, but I didn't mind applying it in the morning, since it dries so fast.
Smell
This has a coconut smell, which is really sweet.
The smell is nice and light, so it doesn't linger too long.
Immediate Results
After I applied it in the morning, I thought that it made my skin feel pretty soft – but this definitely wore off over a short period of time.
I didn't really see any difference and felt like I wanted to apply more each time because it soaked in so fast.
My skin felt a little waxy after the moisturized feeling wore off, which was disappointing.
Longer Term Results
Longer term I didn't see any significant change in my skin.
There was no change in fine lines and it didn't make my skin feel any healthier.
What really made me unhappy was over time my face broke out a little bit after multiple days. I didn't see any issues on my arms or legs, but there was no real benefit to using it every day.
Ingredient Notes
Like mentioned in the title, this cream has coconut oil in it, which is generally used to help lock in moisture for dry skin and has been said to help reduce inflammation.
Matricaria Flower Extract is also known as German Chamomile. This ingredient is used in skincare to soothe skin. It also has antibacterial properties as well as anti-allergic activity.
Mineral Oil is used in moisturizers to help really lock in the moisture. The problem is, it also locks in other things like dirt and bacteria, which is why it can really clog pores and cause acne.
Price
The price of this moisturizer is amazing – I bought a 16 oz bottle for $15.00
This is obviously a great price for so much product, but for the results I got, I understand why it is so cheap.
Guarantee
There is no mention of a return policy or money back guarantee on the Advanced Clinicals website.
Where To Buy
To buy Advanced Clinicals Coconut Oil Moisturizing Cream, click here.
Advanced Clinicals Coconut Oil Moisturizing Cream: Summary
| | |
| --- | --- |
| Factor | Advanced Clinicals Coconut Oil Moisturizing Cream |
| Overall Rating | |
| Texture/Feel | This is a white, lightweight lotion. |
| Application | Application is really easy – 16 oz tub with a pump applicator. |
| Drying Time | This cream soaks in and dries really fast in about 1-3 minutes after applying it. |
| Smell | The smell is a light coconut scent which is sweet like coconut extract. |
| Immediate Results | Leaves skin feeling soft and a little waxy. |
| Long Term Results | No improvement or benefit overall. Clogs pores on the face. |
| Ingredients | Mineral Oil, Aloe Leaf Extract, Coconut Oil, Matricaria Flower Extract |
| Guarantee | None |
| Price | 16 oz bottle is $15.00. |
| Where To Buy | Click Here |