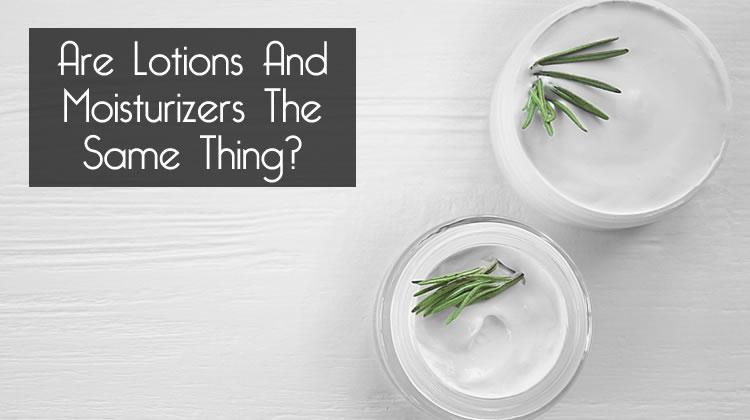 In a world of endless skincare products, knowing which moisturizer to choose is becoming increasingly challenging.
It's like the entire aisle at the store is competing for your face!
There's a wave of lotions, creams, ointments, gels, serums, and oils waiting to be absorbed by our fragile skin.
Which begs the question: What is the difference between all of these products?  Are lotions and moisturizers the same thing?
Put simply, the answer is no.
Think of moisturizers as the umbrella term.
They cover a wide range of products, including lotions, touting their skin super powers.
These benefits mainly include hydrating the skin, locking in moisture, and softening dry, irritated skin.
Whether you have dry, oily, or combination skin, moisturizer is a must.
Moisturizers aren't all created equal, though.
There are many different types to consider and each of them bring along a combination of active ingredients, additives, and textures to think about, too.
Before we get into the components and types of moisturizer, let's take a quick (and painless) trip down Scientific Skin Lane to see how skin works.
Functions and Composition of Skin
We often take our skin for granted, even though it has some pretty important duties like, you know, keeping the outside out and our insides in.
It's the largest organ in the body and works to protect, regulate, and sense.
It's our first line of defense against damaging ultraviolet (UV) radiation, harmful bacteria, and pollution.
Skin regulates body temperature, maintains the balance of fluids, and detects environmental changes like cold, heat, pain, and touch.
Our skin is made up of 3 main layers:
Epidermis – outermost layer that we can visibly see; made up mostly of skin cells (keratinocytes) that protect and seal in moisture
Dermis – middle layer made up of tough, elastic collagen fibers that retain water and moisture
Hypodermis or Subcutaneous Layer – made up mostly of fat and connective tissue that act as a shock absorber, insulator, and stores energy and nutrients
Covering the epidermis is an emulsion of lipids (fats) and water called the hydrolipid film or acid mantle.
Secretions from the sebaceous and sweat glands, located in the dermis, maintain the acid mantle.
As the name suggests, the acid mantle works ideally when it's slightly acidic, around a 5.5 pH balance.
The acid mantle is an incredibly vital barrier that minimizes transepidermal water loss (TEWL) and keeps moisture and lipids in the skin.
It also protects the skin from invading bacteria, chemical irritants, allergens, and pollution.
When pH levels are thrown out of whack, the acid mantle is disrupted and the skin's natural barrier is compromised.
This makes the skin susceptible and defenseless to outside invaders, while losing precious water and lipids.
The skin is left dehydrated, irritated, rough, and flakey and it can cause inflammation, allergies, acne, and skin disorders to flare up.
Other things that interfere with our skin's natural barrier and moisture levels are environmental factors (cold weather, wind, low humidity levels), sun damage, aging, central heating, harsh soaps, hot showers, and acne medications.
It's important to keep skin protected and healthy and luckily moisturizers can do just the trick.
But how are moisturizers able to do such a task?
Let's take a look…
How Do Moisturizers Work?
We don't really think about how or why moisturizers work, we just want them to.
Moisturizing products are actually pretty sophisticated little buggers.
There are 3 main components in moisturizers that make them have their magical (ok, scientific) skin soothing and smoothing powers.
Occlusives
These "first generation" moisturizers coat the skin and work by creating a barrier that prevents water loss and stops evaporation.
The molecules in occlusives repel water and can prevent TEWL by up to 98%.
They are very beneficial to dry skin but can be messy, heavy, and sticky.
The most effective occlusive is petroleum jelly (Vaseline).
Other examples are:
Oil-based oils and waxes – Mineral oil, Paraffin, Squalene
Silicones – Dimethicone, Cyclomethicone
Fatty acids – Lanolin acid, Stearic acid
Fatty alcohols – Lanolin alcohol, Cetyl alcohol
Vegetable waxes – Candelilla, Carnauba
Wax esters – Beeswax, Lanolin, Stearyl stearate
Phospholipids – Lecithin
Sterols – Cholesterol
Natural oils – Shea Butter, Coconut Oil, Avocado Oil, Sweet Almond Oil, Olive Oil, Castor, Soybean Oil, Safflower Oil, Cocoa Butter
Emollients
This class of moisturizer is chemically similar to occlusives and usually contains fatty acid chains.
The big difference is that emollients penetrate the skin, instead of coating it like occlusives, and make it soft, more flexible, and less itchy.
They fill the cracks or spaces between skin cells, which smooths and soothes the surface of the skin.
Some emollients can also function as occlusive moisturizers.
Most emollients are oils or lipids, such as ceramides, stearic, linoleic, lauric, linolenic, and oleic.
Humectants
Humectant moisturizer penetrates the skin, and unlike emollients and occlusive, it actually attracts water to it.
This moisturizer enters the outer layer of skin, draws water molecules from the surroundings, and then locks that moisture in.
This works because the chemical structure of humectants contains a hydrogen and an oxygen atom, which both love water.
Another benefit is that it aids in ceramide production.
Ceramides are lipid molecules that hold skin cells together, which forms a protective layer that retains moisture.
Examples include:
Hyaluronic Acid
Butylene glycol
Glycerin
Urea
Sorbitol
Lactic acid
Alpha-hydroxy acids
Now that we know what the main components of moisturizers are, let's see what different types fall under the moisturizer category.
Types of Moisturizers
The 3 main types of moisturizers are lotions, creams, and ointments.
The biggest differentiation between these 3 types are their water and oil contents.
More or less water or oil can alter the product and make it more suitable for certain skin types and needs.
Moisturizing Lotion
Lotions have the greatest percentage of water among all the moisturizers.
The water in the formula gives them a very thin consistency that is easy to spread.
Lotions are absorbed quickly into the skin and feel very light.
They give a reasonable amount of hydration minus any heavy, greasy residue.
Lotions are great for those with oily skin and individuals with dry skin can also enjoy their benefits but particularly during hot, summer months.
A great deal of facial moisturizers fall into this category, which is why lotions and moisturizers are often considered the same.
Moisturizing Cream
Creams are usually half water and half oil.
This makes them heavier than a lotion but still less greasy than an ointment.
Creams are beneficial for dry to normal skin types because they moisturize dry skin very well but don't feel too heavy or uncomfortable on the skin.
This moisturizer also works great during dry, cold winter months because it gives the skin additional hydration that it needs.
Moisturizing Ointment/Serums
Of the 3 main types of moisturizer, ointments are by far the heaviest.
They are made up of 20% water and 80% oil.
They work by forming a barrier on the skin that seals in moisture and provides intense hydration.
Ointments are best for those with extremely dry skin.
During cold months, they work well to protect and relieve painful chapped skin.
Individuals with oily skin probably won't benefit from ointments because of how heavy and greasy they are.
In Conclusion…
Our skin works hard to keep us protected.
Unfortunately, outside factors can throw off the natural balance of our skin.
This leaves us with dry, irritated skin that is vulnerable to additional damage and invaders.
Lucky for us, moisturizers are very effective at correcting these problems.
Moisturizers contain powerful ingredients such as occlusives, emollients, and humectants, which help retain moisture and restore hydration.
They leave your skin soothed, smoothed, and luxuriously soft.
Three main moisturizers are available to you, which are lotions, creams, and ointments.
Each has varying formulas that work best with certain skin types and seasons.
To find the perfect moisturizer, check out our updated list of the 10 best moisturizers.