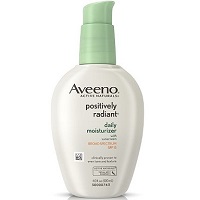 Product Name:  Aveeno Positively Radiant Daily Moisturizer
Overall Rating: 

Face or Body:  Face
Day/Night:  Day
Size:  4 oz
Price:  $16.99
Cost Per Ounce:  $4.25
Where to Buy:  Click Here
# of Ingredients:  39
Notable Ingredients:  Parabens, Mica, Glycine Soja (Soybean) Seed Extract
Overall Opinion:
I was planning on ranking this moisturizer higher, based on the effects it had on my skin.  But after reading the ingredients, I had to give it a 3 out of 5 stars.
I think this moisturizer is better than average…. especially for a drugstore moisturizer.  But the ingredients in it just aren't good.
Let's start with the positive.  This cream also includes SPF 15 so it provides protection against UV rays, which is great.  That makes it more of a daytime moisturizer than a night cream.
I used it daily and saw good results as far as my skin goes.  I didn't get sunburned, my skin looked matte, and my overall complexion looked more even.  Not to mention it didn't break me out which is a huge plus!  But sadly, I didn't see much in the ways of anti-aging. So if you're looking for a moisturizer to help with lines and wrinkles, I'd look elsewhere.
Aveeno Daily Moisturizer smells just okay.  It smells like sunscreen mixed with a floral scent.  Luckily, the smell is pretty light.
Now, for the really bad part…it contains parabens as well as mica.  We all know parabens are frowned upon in the skin care world, and there's really no reason to be using them anymore.
I also don't really like seeing mica in here, because that's an ingredient that's commonly tested on animals.  I don't know for sure that they test of animals, but there is a good chance.  Also, mica is used to cause a shimmering effect, and I don't think that's needed in a moisturizer.
So overall, I think this moisturizer is slightly better than average.  I would've ranked it higher if it weren't for the ingredients.
Detailed Opinion:
Texture/Feel
This is a thick, white moisturizer that comes out looking a lot like sunscreen.
Although the lotion is thick, it doesn't feel heavy once applied to the skin.
Application
This moisturizer has SPF 15 in it, so I got a little bit of a soaping effect when I applied it (it'd turn white on my skin).
So it took a little bit of elbow grease to blend this one in, but it wasn't anything too crazy.
This one doesn't say whether to apply it morning, nighttime, or both, so I assume it's a daytime moisturizer due to the fact it has SPF in it.
So I applied it daily before my makeup.
It comes in a pump bottle, which I really like.  To me, it feels more sanitary than a jar.
Drying Time
This moisturizer dries super fast.  It only takes about a minute to dry, which is really nice when your applying makeup on top of it.
Smell
The smell is good, but not great.
It has a light, floral smell, but it's mixed in with the smell of sunscreen.  At times, the scent reminded me a little of an older lady scent.
It's not the worst smelling moisturizer, but I've definitely smelled better.  The good news is the scent is pretty light overall.
Immediate Results
As far as immediate results, my skin felt and looked very matte.  This matte look left a great canvas to apply my daily makeup on.
My skin also felt pretty soft immediately after applying Aveeno Positively Radiant Daily Moisturizer.
Longer Term Results
My long-term results with this moisturizer were really good.
I found the SPF aspect did a great job protecting my skin from the sun.  I never got any sunburn or redness, but you need to make sure to reapply if you're going to be in the sun for long periods.
As far as moisturizing, I also saw nice results.  My skin felt moisturized, without feeling greasy or oily, which is hard to do with my oily skin!
I didn't notice any significant anti aging effects, but I did notice that my overall complexion looked very even and smooth.
I'm also happy to report that I didn't notice any negative effects from using this moisturizer long term.  I didn't experience any new breakouts, and it did a surprisingly good job at keeping my oil at bay.  I just wish I saw a little more in the terms of fine lines and wrinkles.
So I'm very happy with the results of this moisturizer.
Ingredient Notes
I really liked this Aveeno Moisturizer until I read the ingredients.
This daily moisturizer contains 3 parabens…. yes 3! Nowadays, there are so many other ingredients to use in place of parabens, it's really silly that they're still using them.  I try to avoid parabens in my skincare, so I was let down to see it has them in it.
It also doesn't have that many ingredients that are actually good for your skin. I love seeing a moisturizer that's packed full of cosmeceuticals, plant extracts, etc.  This one has soybean oil, and that's about it.
Now, soybean oil is a good ingredient.  It's been shown to help moisturize the skin and even fight the effects of father time.  I just wish they included some good ingredients in addition to this one.
Another ingredient in Aveeno Positively Radiant Daily Moisturizer is mica.  Now, I'm a bit surprised to see mica in here, because mica is usually used in makeup to give a "sheen" or shimmering effect.  Not sure why they'd need that in this moisturizer.  Mica is also quite often tested on animals, which I am firmly against (as I know many of you are as well!).
Price
You can't beat the price.  This 4-ounce bottle sells for $16.99 which is a very good price point.
Guarantee
It depends on where you purchase the moisturizer.  This is a drugstore cream, so it's widely available.
I purchased on Ulta and they have a 60-day back guarantee.
Where To Buy
To buy Aveeno Positively Radiant Daily Moisturizer, click here.
Aveeno Positively Radiant Daily Moisturizer: Summary
| | |
| --- | --- |
| Factor | Aveeno Positively Radiant Daily Moisturizer |
| Overall Rating | |
| Texture/Feel | This is a white cream that has the appearance of sunscreen. |
| Application | Soaping effect, takes a little bit of work to blend in |
| Drying Time | It dried in about a minute, which is great. |
| Smell | Smells ok… like floral mixed with SPF. |
| Immediate Results | My skin looked matte and felt soft. |
| Long Term Results | Moisturized skin, even complexion, but no anti aging effects |
| Ingredients | Parabens, Mica, Soybean Oil |
| Guarantee | Yes, just depends on where you purchase it. |
| Price | It's only $4.25 per ounce which is cheap compared to most moisturizers. |
| Where To Buy | Click Here |