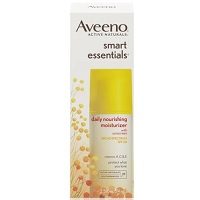 Product Name:  Aveeno Smart Essentials Daily Nourishing Moisturizer
Overall Rating: 

Face or Body:  Face
Day/Night:  Day
Size:  2.5 oz
Price:  $8.99
Cost Per Ounce:  $3.59
Where to Buy:  Click Here
# of Ingredients:  5 active, 35 inactive
Notable Ingredients:  Oxybenzone, Candelilla/Jojoba/Rice Bran Esters, Cetyl Alcohol, Citric Acid, Tocopheryl Acetate (Vitamin E)
Overall Opinion:
I decided to give this Aveeno moisturizer 2 out of 5 stars. It is not that I didn't like this product, I just didn't see any great results either.
This is a daily moisturizer with broad spectrum SPF 30, so I applied it each morning before I started my makeup routine.
Something that I was concerned about was how oily this made my skin look. Even after it soaked in, I noticed my cheeks and nose looked really shiny, so I had to put more powder on each morning than I used it.
As the day went on, the moisturizer seemed to separate with my makeup, so my face looked blotchy.
Long term, I didn't really see any improvement in my skin. I thought it did an OK job at moisturizing right away, but over time, my skin didn't look any healthier.
For the price, I think this might be a better option for people with dry skin who are looking for SPF in their daily moisturizer. But I don't think it is something I will buy again.
Detailed Opinion:
Texture/Feel
Aveeno Smart Essentials Daily Nourishing Moisturizer is a lotion that has the consistency of sunscreen. It is a little oilier than most face moisturizers that I have used in the past. The interesting thing is, it is oil free!
In terms of thickness, it is pretty middle-of-the-line.
Application
Applying Aveeno Daily Nourishing Moisturizer is easy and clean.
This moisturizer comes in a pump applicator.
Each pump dispenses a large amount of lotion – I was able to cover my face and neck with just one pump each time.
Drying Time
The texture of this product made drying time a little longer than moisturizers I have used in the past.
It definitely took several minutes before I felt like I could move on to applying my foundation.
I liked that I was getting the SPF coverage for the day, but the drying time took so long that I started applying it earlier in the morning so I could do other things while I was waiting for it to completely soak in.
Smell
The smell of this face lotion is pretty strong – it is sweet, but strong.
My guess is the fragrance is attempting to cover the active SPF ingredients. I think it works and it smells nice, but if you are looking for something that is light and subtle, I don't recommend this one.
Immediate Results
As the day went on, my skin felt moisturized and soft.
I really didn't like how oily it made my face look, so I had to put on more makeup than usual.
It was kind of annoying that I had to keep an eye on my makeup separating with the lotion underneath all day, but I liked that I was getting the SPF coverage.
Longer Term Results
Longer term I didn't really notice any difference in my skin.
I watched to see if my fine lines would improve, but I don't think it really did much in the way of anti aging.
I was worried that I would end up with clogged pores and some acne with how oily the finish was, but thankfully that didn't happen.
I thought the overall results were completely underwhelming. With the greasy finish, I just wasn't a huge fan of this moisturizer.
Ingredient Notes
Aveeno products are marketed as hypoallergenic and noncomedogenic. Ironically, this moisturizer is oil free.
This contains 5 active ingredients for sunscreen, one of them being oxybenzone. There are chemical sunscreens and there are mineral sunscreens. The ingredients in this moisturizer are all chemical sunscreens. While they have ben approved by the FDA, they have also been shown to have possible effects on hormone levels. Even though this might not be a big deal, it is something to consider.
Vitamin E – this moisturizer contains tocopheryl acetate. Vitamin E has antioxidant properties, which protect cells and keep them looking healthy.
Citric acid is used in tons of skincare products. It is a natural exfoliate that is used to help even skin tone, prevent acne, and even help unclog pores.
Price
This comes in a 2.5 fl oz bottle for $9.99, that comes out to $3.99 per oz, which is pretty affordable.
Guarantee
Aveeno does not have an overall guarantee in the US, but they do have short term guarantees for different products at the time of release.
Overall, the return policy will depend on the store where the product is purchased.
Where To Buy
To buy Aveeno Smart Essentials Daily Nourishing Moisturizer, click here.
Aveeno Smart Essentials Daily Nourishing Moisturizer: Summary
| | |
| --- | --- |
| Factor | Aveeno Smart Essentials Daily Nourishing Moisturizer |
| Overall Rating | |
| Texture/Feel | This is a thinner face lotion with an oily finish. |
| Application | Applying is really easy and very clean. |
| Drying Time | This takes a pretty long time to dry – generally more than 5 minutes. |
| Smell | The smell is nice, slightly sweet, and very strong. |
| Immediate Results | My skin felt moisturized but very oily. |
| Long Term Results | As time went on, my skin was a little more hydrated, but I didn't really see any other positive results. |
| Ingredients | Oxybenzone, Candelilla/Jojoba/Rice Bran Esters, Citric Acid, Tocopheryl Acetate (Vitamin E) |
| Guarantee | Yes, but the guarantee will depend on where you purchase it. |
| Price | It's $3.59 per oz… fairly inexpensive! |
| Where To Buy | Click Here |