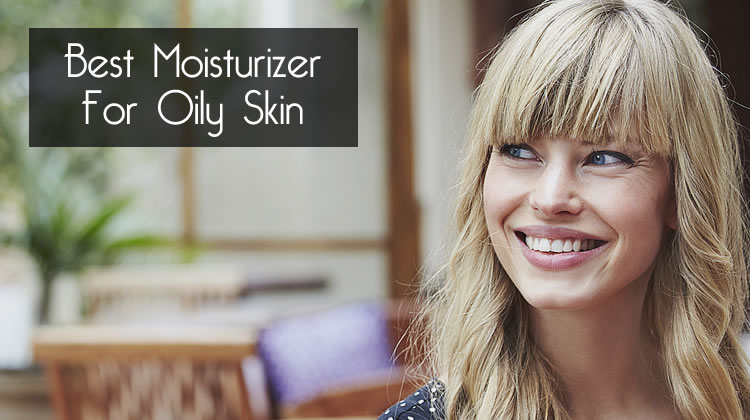 So, you've got oily skin and you obviously want to find the best moisturizer for oily skin.
Some may consider this type of skin a blessing.  Others see it as a curse!
Regardless of where you fall, you probably know all the tricks, nuisances, and daily rituals that come with having oily skin.
That coveted soft, dewy, glow is more like a dewy and drenched beacon that feeds off of camera flashes and even moderately warm weather.
Powder breaks become more crucial than potty breaks.
Forget diamonds, pocket-sized oil blotters are your BFF.
You're the female, facial MacGyver that can morph Starbucks napkins, coffee filters, and tissue paper into your personal oil absorbers.
In extreme oil emergencies, despite the overly "eww" factor, you can utilize toilet seat covers in a pinch.
The good news is that you get to save a heap of money on facial highlighters because you have a built in sheen system that's locked and loaded.
But we get that oily skin can be annoying, especially when you're trying to figure out how to keep it under control and healthy at the same time.
With all that extra oil taking up residency on your luscious skin, it's hard to want to put anything additional on your face.
It can also feel counterproductive applying a moisturizer on already oily skin.
Oil isn't the same thing as moisture, though.
Just because you have oily skin doesn't mean you get a free pass for moisturizing daily.
Contrary to what you might expect, it's actually imperative that you moisturize oily skin.
Think about it. Those of us with oily skin are likely washing our face more often and with harsher products, especially if acne accompanies your dewy complexion.
Avoiding a moisturizer could lead to dry, damaged skin, which cues the facial sebaceous glands to produce more sebum.
This results in even more oil.
As you can see, it's a slippery slope down a vicious, oily path.
That's why it's vital to find the best moisturizer for oily skin.
We'll go through what to look for when buying the perfect moisturizer, along with particularly beneficial active ingredients.
First Off… Read The Label
There are key terms listed on moisturizers that are specifically designed for oily skin.
These terms include:
Oil-free
Non-comedogenic (won't clog pores)
Water-based
Non-acnegenic (won't cause acne)
Finding a moisturizer with a combination of these characteristics will be best suited for your skin type.
There are also ingredients you want to avoid if you have oily skin.
Emollients and occlusives can work wonders to soften and smooth dry skin.
However, they're notoriously thick and greasy, which spells out trouble for oily-skinned individuals.
These ingredients can lead to acne flare-ups due to trapped sebum.
Avoid these emollients and occlusives:
Mineral oil
Lanolin
Paraffin
Siloxane
Castor oil
Cyclomethicone
Petroleum jelly and petroleum derived ingredients
Now let's look at what will be the most helpful in keeping oily skin healthy and under control.
The Best Moisturizing Ingredients For Oily Skin
1. Dimethicone
If you have oily skin, you want to avoid moisturizers that have ingredients that can clog pores, such as petrolatum and mineral oil.
Oil-free moisturizers (which are best for oily skin), often use dimethicone as a helpful alternative.
Dimethicone is great for oily skin because it mimics the properties in oils, but leaves your skin dry after using it.  Your pores will thank you.
And the best part is your skin is left feeling healthy without being greasy or heavy.
2. Glycolic acid
Glycolic acid is a must-have ingredient if you have oily skin.
This is especially true if you're prone to acne and breakouts.
Glycolic acid is an Alpha Hydroxy Acid (AHA) that lessens excessive oil production and prevents pores from getting clogged, which is what causes breakouts.
The acid eats away dead skin cells and frees them from the surface, leaving a clearer, smoother complexion.
Glycolic acid is able to refine the skin by correcting minor skin pigmentation and present blemishes without harming the healthy skin around it.
3. Hyaluronic Acid
Oily skin needs moisture but many products are just too heavy, which can exacerbate the unwanted greasy look and feel.
Hyaluronic Acid packs a powerful moisturizing punch while being incredibly lightweight.
It also won't clog your pores.
This acid helps your skin retain its natural moisture by pulling water to the skin and preventing moisture loss.
Since you're not losing additional moisture, your skin can then regulate itself easier and keep oil production at a healthy level.
If you want to find the best moisturizer for oily skin, make sure it has some hyaluronic acid in it!
4. Niacinamide
Niacinamide (Niacin) is a derivative of Vitamin B3.
Vitamin B3 supports proper digestive function, healthy skin, hair, and eyes, healthy liver, improves circulation, and the functioning of the nervous system.
This particular ingredient does wonders for the skin in several ways.
It supports your epidermal lipid barrier performance, which locks in the natural moisture and keeps your skin hydrated and protected from harsh environmental factors.
A healthy lipid barrier helps retain your skin's moisture, which controls and regulates the natural production of oil.
It also promotes the creation of ceramides, vital components in your lipid barrier, that hold skin cells together in a strong, protective manner that prevents water loss, while plumping the skin and retaining moisture.
Niacinamide stimulates the skin's rate of surface renewal, which aids in reversing damaged skin cells, large pores, and hyperpigmentation.
Bottom line, it's shown to have anti-inflammatory and antioxidant properties that can help treat acne (a common occurrence due to oily skin).
5. Retinol
Retinol is a vitamin A derivative that we're used to hearing in terms of reducing fine lines, wrinkles, hyperpigmentation, skin aging, etc.
What does this anti-aging ingredient have to do with oily skin?
Well, retinol increases collagen production and firms up the skin.
This tightens the pores and leads to less oil production.
Tighter pores also help diminish the appearance of excessive sheen.
6. Jojoba Oil
This silly sounding oil (pronounced ho-HO-ba) comes from the seed of the Simmondsia chinensis plant that's native to arid climates such as Arizona, southern California, and northwestern Mexico.
What makes this oil so special is that it closely mimics the natural sebum found in our skin.
Further, applying it to your skin can trick your body into producing less oil.
Jojoba oil helps balance pH levels and can diminish breakouts by clearing out pore-clogging sebum.
It's wonderful at moisturizing and protecting skin due to its fatty acid and antioxidant properties.
This oil is quickly and completely absorbed into the skin, so you're left feeling soft and velvety without a greasy, heavy residue.
7. Grapeseed Oil
Grapeseed oil naturally has a high amount of linoleic acid, a vital fatty acid, which helps regulate the production of sebum.
It has anti-microbial properties that aid in clearing acne and preventing breakouts.
Grapeseed oil is anti-inflammatory and loaded with antioxidants that protect the skin and promote collagen production.
It's very light, allowing for quick absorption, which makes it perfect for individuals with oily skin.
8. Hazelnut Oil
This particular oil is perfect for those with oily skin.
It's a "dry" oil because it's rich in tannins (healthy flavonoids) and catechins, which leave the skin feeling toned and smooth (not greasy and heavy).
Hazelnut oil is able to unclog pores, reduce their overall size, and naturally balance out oil production.
It's hydrating and helps reduce fine lines due to the natural fats.
The antioxidants present protect the skin from environmental stressors.
9. Salicylic Acid *specifically for acne prone skin
Salicylic Acid is a Beta Hydroxy Acid (BHA) that's commonly used in acne-fighting cleansers.
For those with particularly acne prone skin, you can use a moisturizer that includes salicylic acid.
And those with oily skin sans acne or breakouts can skip this ingredient because it may be too drying for some people.
Salicylic acid is lipophilic ("fat-loving"), meaning it can combine or dissolve in fat and oil.
This allows it to access layers of skin that have lipid membranes and attach to sebum (oil).
It's also a keratolytic acid that gives it the ability to remove dead keratinocytes, which are what make up the vast majority of the outermost layer of skin.
With its lipophilic keratolytic acid properties, it's able to successfully penetrate pores and remove oil.
Salicylic acid supports exfoliation, the removal of the oldest dead skin cells, and decreases the size of pores.
These functions help pores from getting clogged with excess oil and dead skin cells, which lead to the dreaded breakouts.
Key Takeaways
Oily skin can be a hassle that results in breakouts, greasy complexions, and large pores.
Just because your skin is oily, doesn't mean you can skip a moisturizer.
Oily skin can be treated with the proper ingredients.
Utilize the 9 ingredients mentioned for oil control and healthy, supple skin.
Be sure your moisturizer is oil-free, non-comedogenic, and non-acnegenic.
With these guidelines, you'll be well on your way to having a perfect, healthy glow.
For ideas on which specific moisturizers are best for oily skin, check out our list of the 10 best moisturizers!