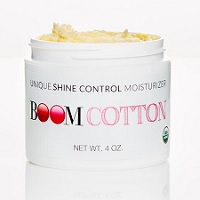 Product Name: Boom Cotton Unique Shine Control Moisturizer by Cindy Joseph
Overall Rating:

Face or Body: Face
Day/Night: Both
Size: 2 oz
Price: $32.00
Cost Per Ounce: $16.00
Where to Buy: Click Here
# of Ingredients: 6
Notable Ingredients: Vitamin E, Shea Butter, Beeswax, Jojoba Oil, Witch Hazel
Overall Opinion:
Boom Cotton is an interesting moisturizer.
I was excited to see the difference in using something that has so few ingredients (only 6). Also, they are all USDA certified organic, which I loved.
Unfortunately, there were several things I didn't like about it, which is why I had to give it 2 out of 5 stars.
I found this to be a thick and intense moisturizer that I wouldn't really want to use on a daily basis.
It might work in terms of hydration, but all the other effects kind of cancel the benefits out.
Overall, I think this product might be good for people who are suffering from dry skin that can't tolerate many ingredients. If you are looking for something simple that will moisturize, but you don't care about the way it makes your skin look when it is on, then this might be a good product for you.
Detailed Opinion:
Texture/Feel
I wouldn't even call this a moisturizer… more of a wax/paste. Even though Boom Cotton Unique Shine Control Moisturizer does melt on the skin over time, it still feels really oily and heavy.
There are small "beads" in it, which also break apart and melt on the skin. I didn't really mind the beads, but I didn't really see a benefit from them either.
Application
Application is fine. This comes in a plastic jar with a screw-on lid, which works just fine.
You do have to scoop it out with your hands, which gets a little messy because of the beeswax and oils.
Drying Time
The drying time was the most disappointing part.
Even after 30 minutes, my face looked oily and messy.
I started having to use Boom Cotton Unique Shine Control Moisturizer before bed instead of in the morning because there was no way I could fit it into my morning schedule with my makeup and everything.
Smell
This is an unscented product, but it definitely has a smell.
It is not bad, just kind of bland and weird (maybe from the beeswax? I am not sure).
Immediate Results
After an hour or so, the oils finally soaked in and my skin looked fine.
It felt kind of dewy but didn't really glow or look healthier or anything.
Longer Term Results
Longer term I thought my skin looked and felt a bit more moisturized.
It didn't really do much in terms of "shine control" which is interesting because that is what it is made specifically for.
I also didn't really see a difference in the fine lines or wrinkles that I want to minimize.
Overall, it just didn't make enough of a difference in my skin to put up with the drying time and oily residue.
Ingredient Notes
Boom Cotton is great because it only contains 6 ingredients and they are all USDA certified organic.
The first ingredient listed is Jojoba oil, which is just like the sebum (oil) that your own skin makes. Applying it can help make your skin produce less of it, which is why this product is marketed as a shine control.
I thought the most interesting ingredient was beeswax, which has vitamin A in it. This can help repair skin and keep it safe without clogging pores, kind of like a barrier.
Another product that I thought was a great addition is witch hazel because it has been used in medicine forever for anti-inflammatory effects and helps to heal the skin of damages.
Price
I was able to buy a 2 oz jar online for $32, which comes out to $16 an oz.
This is not a terribly expensive price, especially if you have super sensitive skin and can't use anything with additives or preservatives.
Guarantee
Cindy Joseph products have a pretty fantastic guarantee – you love it or send it back for a refund.
All you have to do is reach out to the Boom team if you are not satisfied and they work with you to get you your money back!
Where To Buy
To buy Boom Cotton Unique Shine Control Moisturizer, click here.
Boom Cotton Unique Shine Control Moisturizer: Summary
| | |
| --- | --- |
| Factor | Boom Cotton Unique Shine Control Moisturizer |
| Overall Rating | |
| Texture/Feel | Thick waxy paste. Very heavy. Melts on the skin over time, but creates an oily film. |
| Application | Applying is easy enough – scoop it out of the jar with your hands. A little messy. |
| Drying Time | This was the most disappointing part – it took forever to soak in. Almost an hour. |
| Smell | Unscented, though there is a waxy smell to it. Not bad but also not pleasant. |
| Immediate Results | Greasy and shiny residue. Takes 30 minutes to an hour to soak in. |
| Long Term Results | Did a pretty good job at moisturizing, but didn't really change the overall look of fine lines or wrinkles. |
| Ingredients | Witch Hazel, Vitamin E, Beeswax, Shea Butter |
| Guarantee | Yes, Cindy Joseph products have a great guarantee of your money back if you don't love it. |
| Price | Middle-of-the-line in terms of price, $16 per oz. |
| Where To Buy | Click Here |