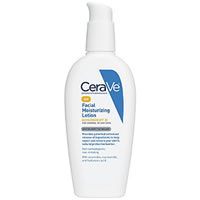 Product Name:  CeraVe AM Facial Moisturizing Lotion
Overall Rating:  

Face or Body:  Face
Day/Night:  Day
Size:  3 oz
Price:  $16.49
Cost Per Ounce:  $5.50
Where to Buy:  Click Here
# of Ingredients:  23
Notable Ingredients:  Homosalate, Octinoxate, Methylparaben, Propylparaben, Hyaluronic Acid
Overall Opinion:
I ended up giving CeraVe AM Facial Moisturizing Lotion 2.5 out of 5 stars.
I really liked this lotion and its results, but I had to knock it down quite a bit due to its ingredient lineup.
This is a lotion you use every morning; it has sunscreen in it, so it will also give you some sun protection.  Although, it's not waterproof so don't wear before a pool or beach outing.
I liked how my skin looked both immediately after applying it, and after weeks of use.  It helped heal my dry spots, and also gave me a little glow under my makeup.  I found it to be hydrating, without being oily or making my skin break out, which is great.
But, I really didn't like how long it took to blend into my skin.  I had to rub it for minutes until I couldn't see the white cast anymore, which was time consuming and tedious.
I also don't like how this moisturizer contains parabens.  Parabens can disrupt your hormonal balance, so I try to avoid them at all costs.
So I definitely wouldn't make it a habit of using this one all the time. But if you need a cheap moisturizer with SPF, I'd use this one occasionally.
Detailed Opinion:
Texture/Feel
This lotion comes out looking exactly like sunscreen.  It's white, and has a rather thick consistency.
Application
Applying this one is a bit of a pain because it takes a few minutes to blend into your face.  While I was rubbing it in, it kept becoming whiter and whiter and just kind of sat atop my skin for a few minutes.
I finally got it fully blended in after about 3 minutes.
Drying Time
CeraVe AM Facial Moisturizing Lotion takes about 10 minutes to completely dry on your face.
I think it felt okay to apply my makeup on top of it.  It wasn't the best as far as drying time goes, but it wasn't the worst either.
Smell
This lotion smells exactly like sunscreen, so I didn't really care for the smell of it.
If you like the smell of sunscreen, then you'll love the smell of this moisturizer.
Immediate Results
Immediately after applying CeraVe Facial Moisturizing Lotion, my skin looked refreshed and my dry spots were instantly gone.
I really like how my skin looks directly after using this lotion.  It has a little glow to it as well.
I was surprised at how good my makeup looked when I applied it on top of this lotion as well.
It also helps with sun protection, so that's great.
Longer Term Results
After using this daily for a while, I noticed it really helped with my dry skin.  I have some dry patches around my nose and it completely got rid of them.
It also didn't make my acne prone skin break out, which is always a plus in my eyes.
I didn't notice any drastic anti-aging effects, but the wrinkles around my eye looked a bit softened after continual use.
I was happy with the long term results as well as the immediate results.
Ingredient Notes
I would've ranked this moisturizer higher (and intended to), until I found out it contains a few parabens.
CeraVe Facial Moisturizing Lotion contains both Methylparaben and Propylparaben. Methylparaben is in the paraben family and can act as a potential hormone disruptor. It also contains Propylparaben.  Both of the parabens can have the same effects on your body as estrogen, so it's a bit scary to be rubbing them on your face.
This daily moisturizer also contains Homosalate and Octinoxate, which are both ingredients found in sunscreens.
Hyaluronic Acid is also included, which is great for plumping and hydrating your skin.
Price
This lotion is pretty cheap.  A 3-ounce bottle sells for $16.49 which is very affordable.
Guarantee
Yes, depending on where you purchase it.  If you buy on Ulta, you can return it within 60 days.
Where To Buy
To buy CeraVe AM Facial Moisturizing Lotion, click here.
CeraVe AM Facial Moisturizing Lotion: Summary
| | |
| --- | --- |
| Factor | CeraVe AM Facial Moisturizing Lotion |
| Overall Rating | |
| Texture/Feel | This is a thick, white lotion. |
| Application | Applying is tedious because it takes so long to blend in. |
| Drying Time | It dried within 10 minutes. |
| Smell | Smells like sunscreen. |
| Immediate Results | My skin felt hydrated and looked great. |
| Long Term Results | It helped my dry spots and protected my face from sun. |
| Ingredient Notes | Methylparaben, Propylparaben, Hyaluronic Acid, Homosalate, Octinoxate |
| Guarantee | Yes, but it just depends on where you purchase it. |
| Price | It's $5.50 per ounce which is pretty cheap. |
| Where To Buy | Click Here |