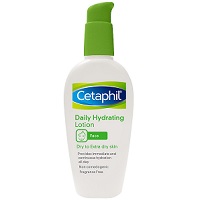 Product Name:  Cetaphil Facial Hydrating Lotion
Overall Rating: 

Face or Body:  Face
Day/Night:  Both
Size:  3 oz
Price:  $15.99
Cost Per Ounce:  $5.33
Where to Buy:  Click Here
# of Ingredients:  17
Notable Ingredients:  Glycerin, Sodium Hydroxide, Hyaluronic Acid, Hydroxyethyl Urea
Overall Opinion:
To be honest, I wasn't really expecting much from this moisturizer, but I ended up being pleasantly surprised!
Cetaphil has been around for a really long time – they are known for basic staple products that "get the job done".
Overall, I thought this was a great lightweight lotion, which dries really quickly and does a pretty good job at keeping skin moisturized.
I didn't really see any benefits in terms of my skin looking younger or brighter, but my skin definitely felt softer and more hydrated.
Another great thing is the price – this is a 3 oz bottle for $15.99, which is more than a lot of those cheap products out there, but it's not going to break the bank.
I ended up giving Daily Hydrating Lotion 3.5/5 stars because it does a better job than most products at keeping skin moisturized throughout the day, but it is also nothing to get excited about.
Detailed Opinion:
Texture/Feel
Cetaphil's Daily Hydrating Lotion is really thin and lightweight, which is amazing.
It is white and doesn't feel oily or waxy at all.
Application
Applying this face lotion is super easy – the pump applicator works without clogging or getting jammed up.
A small amount is dispensed with each pump, but the lotion is so thin that a little bit goes a long way.
Drying Time
Daily Hydrating Lotion absorbs really fast!
This was one of my favorite aspects of this moisturizer. I loved that it took less than 1-2 minutes to soak in and still made my skin feel soft.
Because it dried so fast, it wasn't an issue in the morning before I went to put my makeup on so I could keep going about my morning without having to wait.
Smell
Technically, this is an unscented product. But it has a little bit of a sweet smell.
Once you've applied it to your skin and allowed it to dry, the smell goes away.
Immediate Results
Just after using this moisturizer, my skin felt really soft like velvet.
It doesn't leave a waxy film or a bad residue, which I appreciated.
It also worked fine with my makeup over it in the morning, which is a big deal for me when I am looking for something I can use during the day.
Longer Term Results
Longer term I saw my skin was really moisturized and soft. I didn't have any breakouts or acne over time, which was a relief.
My fine lines didn't really change or get any better, but my skin looked a little bit healthier and any dryness was completely taken care of.
Overall, I think this is a great moisturizer if you are mainly concerned with dry skin. If you are looking for something with anti-aging benefits or a product that will even out your skin tone, this might not be the lotion for you.
Ingredient Notes
Cetaphil Daily Hydrating Moisturizer is very basic in terms of its ingredients – it has a ton of emollients in it, which are the products that help pull moisture to your skin and make skin feel silky smooth.
A great ingredient in this lotion is hyaluronic acid, which mimics the oils that our skin naturally produces and is said to hold tons of moisture and help skin look healthier.
Hydroxyethyl Urea is used in skincare to help with skin conditions like eczema because of its ability to moisturize the skin. It is also said to help with cell turnover and promote healing.
Price
A 3 oz bottle costs $15.99, which comes out to $5.33 per oz.
Guarantee
Cetaphil is sold through third party stores, so the return policy depends on the store you buy it from.
Where To Buy
To buy Cetaphil Daily Hydrating Lotion, click here.
Cetaphil Daily Hydrating Lotion: Summary
| | |
| --- | --- |
| Factor | Cetaphil Daily Hydrating Lotion |
| Overall Rating | |
| Texture/Feel | This is a lightweight lotion. |
| Application | Pump applicator – very easy and clean |
| Drying Time | It dried superfast! Less than 1 minute to completely absorb. |
| Smell | Unscented |
| Immediate Results | Left skin feeling very soft and moisturized. |
| Long Term Results | No change in fine lines or wrinkles. Hydrated skin and kept it feeling moisturized all day. |
| Ingredients | Hyaluronic Acid, Glycerin, Sodium Hydroxide |
| Guarantee | Yes, but the guarantee will depend on where you purchase it. |
| Price | Nice and affordable – a 3 oz bottle is $15.99. |
| Where To Buy | Click Here |