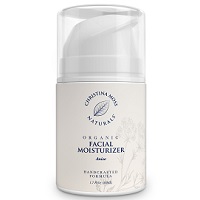 Product Name: Christina Moss Naturals Organic Facial Moisturizer
Overall Rating:

Face or Body: Face
Day/Night: Both
Size: 1.7 oz
Price: $25.99
Cost Per Ounce: $15.29
Where to Buy: Click Here
# of Ingredients: 8
Notable Ingredients: Organic Star Anise Seed Oil, Organic Aloe Leaf Juice, Organic Grape Seed Oil
Overall Opinion:
I was excited to try a Christina Moss product after reading about their brand. The company uses all certified organic ingredients. They're also cruelty free, GMO free, and vegan, which is awesome!
Overall, I really had mixed feelings about this product, just because there were some good and bad things about it.
The first thing I noticed about this facial moisturizer was the smell – yikes! It is really strong from the anise. If you don't LOVE the smell of black licorice, steer clear of this one!
The consistency was lightweight and easy to apply. I didn't think it was too heavy or greasy. It also soaked in pretty fast – less than a minute!
One of the main issues I had with this cream is that I didn't really see any difference in the long term. My skin didn't break out or anything, but I really didn't notice any great results.
Christina Moss is pretty affordable, especially for an all-organic product. Overall, I had to give this a 2.5 out of 5 stars, because I loved the ingredients, but I didn't really see any improvement in my skin.
Detailed Opinion:
Texture/Feel
Christina Moss Naturals Organic Facial Moisturizer is a light, white cream with a smooth texture.
It is pretty middle-of-the-road in terms of the consistency. It is pretty lightweight, but also heavy enough to feel hydrating at first.
Application
Application of this moisturizer is super easy and clean.
The pump applicator worked great – I got enough from one pump each time to cover my face and neck.
Drying Time
Drying time for this moisturizer is great! It took around 30 seconds to completely soak in.
It didn't feel sticky or greasy, but the smell really lingered.
This could really be applied morning or night. I personally did not love the smell, so I put it on in the morning so I didn't have to lay there with it sitting on my face.
Smell
This was my least-favorite thing about it.
Star Anise can do some great things for skin, but the smell is like black licorice. Super intense!
Immediate Results
Right after using Christina Moss Naturals Organic Facial Moisturizer, my skin felt slightly more hydrated, but it really smelled for a long time even after it soaked in.
I could definitely tell that I had put moisturizer on my skin. It didn't look greasy, but it made my skin look kind of dewy.
Longer Term Results
Longer term I didn't really see any noticeable results.
I didn't see any difference in the fine lines that I am trying to hide, and I didn't really feel like my skin looked any more hydrated than before.
My skin didn't really break out or look worse, it just didn't feel any better over time.
Overall, I just couldn't stand the smell all day with the lotion on my face.
Ingredient Notes
Christina Moss Naturals Organic Facial Moisturizer contains only 8 ingredients. All of them are certified organic, non GMO, and vegan.
The main ingredient that I feel like I have to mention is the star anise oil. Anise has antioxidant properties, which can fight free radicals and help skin look younger over time. Even though it has benefits, it also smells really strong!
Grape Seed Oil is packed with Vitamin E and Omega Fatty Acids, which help to reverse the effects of aging on the skin and can make skin look younger over long periods of time.
Avocado oil and Aloe Vera Juice are the major moisturizing ingredients in this face lotion. I think they did a fairly good job at hydrating my skin at first, but I am not sure it did enough over time.
Price
I was pretty impressed that they managed to make an all-organic cream for just $25.99 – I love a company that uses great ingredients!
The price of a 1.7 oz jar was $25.99, which I thought was pretty reasonable.
Guarantee
Christina Moss has a 30-day return policy for used and unused products, which is great!
You just have to send it back to them for a refund or exchange within 30 days – instructions are on their website!
Where To Buy
To buy Christina Moss Naturals Organic Facial Moisturizer, click here.
Christina Moss Naturals Organic Facial Moisturizer: Summary
| | |
| --- | --- |
| Factor | Christina Moss Naturals Organic Facial Moisturizer 20 |
| Overall Rating | |
| Texture/Feel | Lightweight, white lotion |
| Application | Applying is easy and clean. Pump applicator worked great. |
| Drying Time | This dried super fast! It only took about 30 seconds. |
| Smell | The Anise smells like black licorice – took an hour to completely go away. |
| Immediate Results | Felt pretty good on the skin, but the smell is super strong! |
| Long Term Results | Nothing to get excited about |
| Ingredients | Organic Star Anise Oil, Organic Grape Seed Oil, Avocado Oil, Aloe Vera Juice |
| Guarantee | Yes, 30 days for your money back if you send it back to them! |
| Price | This one is only $15.29 per oz, which is amazing for an all organic product! |
| Where To Buy | Click Here |