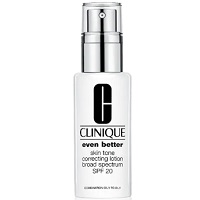 Product Name: Clinique Even Better Skin Tone Correcting Lotion Broad Spectrum SPF 20
Overall Rating:

Face or Body: Face
Day/Night: Day
Size: 1.7 oz
Price: $50.00
Cost Per Ounce: $29.41
Where to Buy: Click Here
# of Ingredients: 52
Notable Ingredients: Octisalate 5%, Caffeine, Tocopherol Acetate (Vitamin E), Olive Extract, Salicylic Acid
Overall Opinion:
Clinique Even Better Skin Tone Correcting Lotion SPF 20 is a daytime moisturizer with a broad spectrum SPF.
Overall, I decided to give it 3 out of 5 stars, because it had some cool benefits, but it wasn't really that moisturizing.
In terms of the upsides, this moisturizer would be great to use during the summer months. It is really thin and soaks in crazy fast. It also has the SPF 20 in it, which would help if you are outside a lot to protect from sun damage.
The main issue I had with this cream was that it just wasn't that moisturizing. It seemed to have other benefits almost like a primer, but I didn't find it very refreshing or hydrating.
The other concern I had was the price tag. This is less than 2 oz of product for $50. Clinique is definitely higher quality, so the increase in price is understandable. I just didn't think it had enough benefits for the expense.
Detailed Opinion:
Texture/Feel
Clinique Even Better Skin Tone Correcting Lotion SPF 20 is a thin, white lotion. It has a wet texture and soaks in really fast.
I really liked how lightweight it felt on my skin. It looked shiny at first but my skin drank it up and it left more of a matte finish.
Application
Application of this moisturizer is as easy as it gets. It is a pump applicator, so there is no mess.
Because of how thin it is, I only needed one pump to cover my whole face and neck.
Drying Time
Drying time is really fast! Maybe 30 seconds or less.
I really liked how fast it soaked into my skin. Putting on my makeup right after was a breeze and looked great.
Smell
This is a fragrance-free lotion, but you can totally smell the SPF in it.
It doesn't smell as strong as most sunscreen out there, but you can definitely tell it's there.
Immediate Results
I really liked how my skin looked after I applied Clinique Even Better Skin Tone Correcting Lotion SPF 20. It almost acted like a primer in that it blurred my fine lines at first.
It left a really clean, smooth finish under my makeup, which was great!
Longer Term Results
Longer term this moisturizer was just OK. I didn't really see any improvement in my skin.
I liked that I got the protection with the SPF and the smooth finish, but it felt more like a primer than an actual moisturizer.
I think overall I found it to be too thin and not moisturizing enough.
I thought it slightly minimized my fine lines shortly after I applied it, but the benefit went away pretty fast as the day went on.
Overall, I think this is a good daily face lotion if you're looking for something SUPER lightweight and fragrance free.
Ingredient Notes
There are so many ingredients in this face lotion! Over 50 including the active sun screen ingredients. This is definitely not one of those products that only contains natural organic ingredients, but it does give the lotion a nice finish.
We like some of the ingredients that are not in most face lotions like the caffeine, which can make skin appear tighter and more rejuvenated, but has also been known to lose its effect over time the more you use it.
This moisturizer also has cholesterol in it, which is naturally occurring in the skin and can really help lock in moisture.
Another important ingredient I thought I would mention is the salicylic acid – it helps to exfoliate the skin and really even out tone.
Price
Clinique is definitely more expensive than many facial care products out there.
I got a 1.7 oz bottle for $50.00, which is pricey compared to most face moisturizers out there.
Guarantee
Clinique has a pretty awesome customer service department for purchases made through their website.
You can return any product that you do not love for a refund. You can also text their representatives or instant chat them over the website.
Where To Buy
To buy Clinique Even Better Skin Tone Correcting Lotion SPF 20, click here.
Clinique Even Better Skin Tone Correcting Lotion SPF 20: Summary
| | |
| --- | --- |
| Factor | Clinique Even Better Skin Tone Correcting Lotion SPF 20 |
| Overall Rating | |
| Texture/Feel | Thin white lotion |
| Application | Super fast, easy, and clean |
| Drying Time | It dried crazy fast! Within 30 seconds it was absorbed |
| Smell | No fragrance or strong smell. A hint of sunscreen |
| Immediate Results | Immediate results are pretty good. Matte finish with a smooth tone |
| Long Term Results | Over time, no significant change or improvement |
| Ingredients | Salicylic Acid, Vitamin E, Cholesterol, Caffeine |
| Guarantee | Yes. Satisfaction guarantee. You just have to send your product back to them for a refund. |
| Price | It's $29.41 an oz! Pretty pricey |
| Where To Buy | Click Here |
Clinique Even Better Skin Tone Correcting Lotion SPF 20 Review