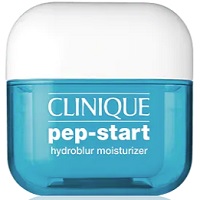 Product Name:  Clinique Pep-Start Hydroblur Moisturizer
Overall Rating: 

Face or Body:  Face
Day/Night:  Day
Size:  1.7 oz
Price:  $29.50
Cost Per Ounce:  $17.35
Where to Buy:  Click Here
# of Ingredients:  37
Notable Ingredients:  Dimethicone, St. Paul's Wort Extract, Caffeine, Red 4, Algae Extract, Mango Seed Butter
Overall Opinion:
Clinique Pep-Start Hydroblur Moisturizer is a product for people who are looking to "mattify" their complexion in the mornings and minimize the look of their pores.
It is really more of a primer and moisturizer in one.
I was both excited and concerned about the ingredients in this moisturizer – this is loaded with fillers or silicones, which are the ingredients that fill in pores and give that primed look.
Using this in the morning was great just before applying my makeup. It really gave that silky finish and smoothed out the look of my skin. I really liked the look of my makeup over it in the morning, but I was surprised to find the look definitely didn't last all day.
After a few days, I did develop a couple of pimples after using it, which I suspected would happen with all the silicones in the moisturizer. I really didn't see any improvement in the appearance of my skin long term and it didn't make my skin look healthier.
Overall, I found the product to be more effective as a primer rather than a moisturizer.  While it definitely gave me the matte/smooth finish I was looking for, it really didn't improve my skin over time or make it seem more healthy/happy.
Detailed Opinion:
Texture/Feel
Clinique Pep-Start Hydroblur Moisturizer has a great texture – creamy and thick like many face moisturizers.
I did notice I had to get a lot each time to really cover my face.
Application
Applying is really easy, but not my favorite in terms of packaging.
This comes in a small jar, which you have to scoop out with your hands or another tool.
The jar makes application a little messy and tends to get out of the jar and around the sides if you're not careful.
I also noticed that because it is so thick, I needed more for each application to really cover my face.
Drying Time
This moisturizer is interesting, because it acts more like a primer. It doesn't really "soak in" completely.
It tends to stay more on top of your skin partly with all the fillers, which help to give that matte finish that people are looking for.
Smell
This moisturizer is unscented.
Immediate Results
Just after using this moisturizer, my skin looked amazing, matte, and silky.
It really didn't feel that hydrated, but I loved the look of it under my foundation.
I noticed it felt a little "tacky" on my skin, but it wasn't an issue with my makeup and it definitely wasn't oily.
This is definitely more of a day cream, as it primes your face for the day.
I also noticed that as the morning went on, the look really didn't last very long.
The matte finish wore off generally before the early afternoon, which was disappointing.
Longer Term Results
The long term effects of this moisturizer were really disappointing – it didn't really improve my skin at all or make it look any healthier.
It minimized my pores at first, but over time, it actually clogged the pores on my cheeks and even gave me a couple of pimples, which I really didn't like.
I was definitely hoping to see more of an improvement in the hydration of my skin, especially for the higher price of $29.50 for less than 2 oz.
As a primer, this product would be great for some people, but as a moisturizer, I thought it was pretty disappointing.
Ingredient Notes
Clinique Hydroblur Moisturizer has a really interesting mix of ingredients.
In order to get that matte finish, it has a bunch of silicones in it, which are used in tons of skincare products to fill in pores and make them "disappear". These have tons of different names, which make them hard to identify sometimes. A couple of the silicones in this moisturizer are Dimethicone and Vinyl Dimethicone/Methicone Silsesquioxane Crosspolymer. While these are generally safe to use and really popular in tons of skincare products, they can clog pores.
I liked that this moisturizer contains caffeine, which has antioxidant properties and can reduce redness.
Another really interesting ingredient is the St. Paul's Wort extract, which is plant extract. Applied to skin, it is used to increase blood flow to the skin and act as an anti-inflammatory.
It is also oil free =]
Price
For a 1.7 oz jar, it is $29.50, which is definitely higher end, but not terrible.
Clinique has been around for a long time and is loved by tons of people, but the prices are definitely higher than anything you would find in a drugstore.
Guarantee
Clinique has a great satisfaction guarantee! Any item that is purchase at Clinique online can be returned new or used for a refund or exchange.
Where To Buy
To buy Clinique Pep-Start Hydroblur Moisturizer, click here.
Clinique Pep-Start Hydroblur Moisturizer: Summary
| | |
| --- | --- |
| Factor | Clinique Pep-Start Hydroblur Moisturizer |
| Overall Rating | |
| Texture/Feel | This is a thick, daily moisturizer with a silky texture. |
| Application | Applying it is easy, but I needed a lot to fully cover my face. |
| Drying Time | This soaks in quickly, but leaves a tacky film like some makeup primers do. |
| Smell | Unscented |
| Immediate Results | Just after use, my skin was silky smooth and my pores were less noticeable. |
| Long Term Results | No improvement or really moisturizing results. My skin developed pimples from the silicones in the product over time. |
| Ingredients | Dimethicone, St. Paul's Wort, Caffeine, Shea Butter |
| Guarantee | Clinique products bought through their website (new and used) can be returned for a refund or exchange. |
| Price | 1.7 fl oz is $29.50 |
| Where To Buy | Click Here |