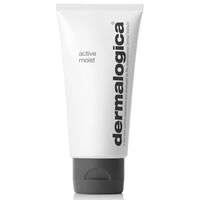 Product Name:  Dermalogica Active Moist
Overall Rating: 

Face or Body:  Face
Day/Night:  Both
Size:  1.7 oz
Price:  $40.00
Cost Per Ounce:  $23.53
Where to Buy:  Click Here
# of Ingredients:  41
Notable Ingredients:  Silk Amino Acids, Lavender Extract, Mallow Flower/Leaf/Stem Extract, Ivy Leaf/Steam Extract
Overall Opinion:
Dermalogica Active Moist is a great, high quality moisturizer.  After testing it out for a while, I ranked it 4.5 out of 5 stars. So it's up there with the best of them.
I love the ingredients in this moisturizer.  It contains a ton of plant extracts, and is also formulated without parabens, colors, and artificial fragrances.  That's definitely something I look for when putting products on my face.
I was really impressed with the results of this lotion.  It packed my skin with moisture without causing breakouts or oily skin.  It left my skin feeling so soft and hydrated.
The smell is light and refreshing, I think most of you out there will love it.  It smells like a spa!
The one thing I really don't like about this product is Dermalogica doesn't have a money back guarantee.  It's disappointing to me that they don't stand behind their products.
I like most things about this moisturizer, especially the results!
Detailed Opinion:
Texture/Feel
Dermalogica Active Moist has a medium texture, not too thick and not too thin.  It's a very lightweight moisturizer. It's a white cream that feels really silky between your fingers.
Application
This moisturizer comes in a squeeze tube, which makes it very easy (and sanitary) to apply.
I found with this one, a little goes a long way. I use about a nickel size for my entire face.
It glides over my skin and is really easy to blend in; it's not messy at all.
It doesn't really say when to apply it, so I assumed it's best to apply it morning and night.  I actually prefer using this one at night as opposed to during the day.
Drying Time
Once I rubbed the lotion into my face, it took about 5-7 minutes to dry.  So if you apply in the morning, you'll need to wait a few minutes before applying your makeup on top of it.  I prefer to use this one at night for this reason.  Also, this one doesn't have SPF in it, so if you're going to be in the sun a lot, you may want one with sunscreen.
Smell
Dermalogica Acitve Moist has a very light herbal smell.  The scent that really stuck out to me is lavender.
It smells really good; I love the smell.  It kind of resembles essential oil, and reminds me of a soothing spa smell.  The scent is very light and not overwhelming.
Immediate Results
My skin immediately drank this moisturizer up, and I could tell it adds instant hydration.  So if your skin is cracking, peeling, or just very dry, this is a great one for immediate relief.
Longer Term Results
After using this moisturizer for a while, I can't believe how supple my skin is! Not to mention how hydrated it feels.  I haven't noticed any dry spots at all since starting this moisturizer.
This product says it's for combination skin, and I really like that. I love how it provides moisture without causing greasiness or breakouts.
I also noticed my skin was SO soft while I was using this moisturizer.  It literally felt like a baby's bottom.
Ingredient Notes
Dermalogica Active Moist contains a lot of plant extracts.  The first one of note is Lavender Extract.  This ingredient is known for treating acne as well as preventing scar tissue from forming.
Next, it includes Mallow Leaf Extract, which is a skin-conditioning agent that provides great hydration to your skin.
A really interesting ingredient is Ivy Leaf Extract.  This acts as an astringent and helps unclog pores. Ivy is also anti-inflammatory which can really help improve the appearance of your skin.
Silk Amino Acids are also featured in this moisturizer, and this is where it gets its hydration benefits.  Silk Amino Acids are extracted from raw silk, which is pretty awesome.  They're very hydrated and provide your skin with instant moisture!
Now that I've mentioned a few ingredients included in this moisturizer, let's talk about what's NOT included.
Dermalogica Active Moist is formulated without artificial fragrances, colors, or parabens, which is amazing!
Price
This moisturizer sells for $40.00 for a 1.7-ounce tube.  That's pretty pricey, but also on par with other high-end moisturizers.
Guarantee
No, they don't have a guarantee.  You can return the product within 30 days, but it has to be unused which is super lame.  I hate when companies don't stand behind their products.
Where To Buy
To buy Dermalogica Active Moist, click here.
Dermalogica Active Moist: Summary
| | |
| --- | --- |
| Factor | Dermalogica Active Moist |
| Overall Rating | |
| Texture/Feel | This is a lightweight lotion that is white in color. |
| Application | Very easy to apply, comes in squeeze tube. |
| Drying Time | Takes 5-7 minutes to dry on skin. |
| Smell | Smells really good, light and botanical. |
| Immediate Results | My skin felt and looked so hydrated. |
| Long Term Results | Skin was hydrated, no breakouts, even skin tone. |
| Ingredients | Silk Amino Acids, lot of plant extracts |
| Guarantee | No guarantee |
| Price | It's $23.53 per ounce, which is pretty expensive. |
| Where To Buy | Click Here |