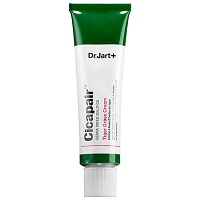 Product Name:  Dr. Jart Cicapair Tiger Grass Cream
Overall Rating: 

Face or Body:  Face
Day/Night:  Both
Size:  1.7 oz
Price:  $48.00
Cost Per Ounce:  $28.24
Where to Buy:  Click Here
# of Ingredients:  69
Notable Ingredients:  Centella Asiatica Leaf Water, Spirulina Platensis powder, Lavender Oil
Overall Opinion:
I really like Dr. Jart Cicapair Tiger Grass Cream.
At first I was skeptical, because the cream is SO thick.  I thought it'd make me break out or clog my pores (my skin is very touchy and sensitive).  But I was pleasantly surprised with the results of this tiger grass cream.
This is a great moisturizer for those with inflamed or sensitive skin. Tiger Grass is known for being very soothing, and can help with skin ailments such as dryness, redness, acne, etc.
I saw great results after a short period of time, and my results only got better over time.  My dry spots were completely gone, and my acne marks were greatly diminished.  I couldn't believe how much my redness had faded, which I'm so happy about!
This cream also smells great due to the essential oils in it.  I love the fresh, herbal lavender scent.
I wouldn't recommend using this in the morning, or before you apply makeup, it's just too thick.  But it works great as a nighttime cream.
Overall, I gave this moisturizer 4 out of 5 stars.
Detailed Opinion:
Texture/Feel
Dr. Jart Cicapair Tiger Grass Cream is one of the thickest moisturizers I've tried; it's more like a paste.
The cream is a light green/creamy color, which is also different than most moisturizers.
Application
Applying Cicapair takes a little more elbow grease than most, just due to the thick texture.
With this one, a little bit goes a long way.  I used about a dime size for my entire face.
There's no green cast when applying it to your skin, as you apply it, it kind of looks and feels like Vaseline.
This one comes in a tube, which is a bit odd.  But I liked it because it made applying it very clean and easy.  This product also comes with a silver looking key thing, which I'm not sure how to use! It doesn't say anywhere in the directions.
Drying Time
This one takes a long time to dry, which is why I recommend only applying it at nighttime.
Once applied to my skin, it felt a little tacky and took about 20-30 minutes to dry.
Smell
This one smells really good.  The smell is faint, and very "spa like".  It smells like relaxing lavender to me, and lavender is a smell I love!
Immediate Results
After waking up the next morning, I was surprised with how even my skin tone looked.  I didn't expect to see such good results after only one use, but nonetheless I did.
My redness and acne marks seemed to be duller than the night before, and I was excited to use the cream again!
Longer Term Results
Longer term, I noticed some great changes in my skin.
The main one being my redness and acne marks were greatly diminished. I struggle with hormonal acne so I'm constantly fighting off breakouts and the red marks they leave behind.
This is one of the first and only moisturizers I've tried that helps to combat those marks daily.
Now, this cream is VERY thick, so I wouldn't recommend using it in the morning as it does leave a bit of a greasy film on your face.
But when used at nighttime, it works great.
Dr. Jart Cicapair Tiger Grass Cream also worked great at healing my dry spots.  This cream is extra hydrating due to how thick and emollient it is. So if you struggle with dryness, this cream is great for that.
I think this cream will work best for those of you with sensitive skin or with skin conditions such as Eczema, Rosacea, Acne, etc.
Ingredient Notes
This Tiger Grass Cream has some really interesting ingredients in it.
Starting with Centella Asiatica Leaf Water. Centella Asiatica (aka Tiger Grass) is an herbal plant used for its medicinal properties. It's known to be very soothing and calming for skin. Research has even shown this plant can help with acne breakouts!
Cicapair also has Spirulina Platensis powder in it.  Spirulina powder is said to be anti aging, and can tone and detox your skin.
Essential Oils are also included in this cream.  It has Lavender Oil, Grapefruit Peel Oil, Rosewood Oil, as well as a few more extracts.
Essential Oils are known to be very beneficial for your skin in addition to your overall health.
Price
This tube of cream isn't cheap.  It's $48.00 for a 1.7 ounces, which is SO expensive! But I think this cream is worth it for the results.
Guarantee
If you buy through Sephora, they have a great money back guarantee.  You can try the product, and if you're unhappy with it, return it for a refund.
Where To Buy
Dr. Jart Cicapair Tiger Grass Cream, click here.
Dr. Jart Cicapair Tiger Grass Cream: Summary
| | |
| --- | --- |
| Factor | Dr. Jart Cicapair Tiger Grass Cream |
| Overall Rating | |
| Texture/Feel | This is a very thick, green colored cream. |
| Application | It feels like Vaseline as you apply it. |
| Drying Time | It takes 20-30 minutes to dry. |
| Smell | Smells good and herbal, like lavender. |
| Immediate Results | My redness was reduced after only one application. |
| Long Term Results | My acne scars greatly faded; my skin was moisturized and looked really good. |
| Ingredients | Centella Asiatica Leaf Water, Spirulina Platensis powder, Essential Oils |
| Guarantee | Yes, through Sephora |
| Price | It's almost $30 per ounce, which is SO expensive. |
| Where To Buy | Click Here |