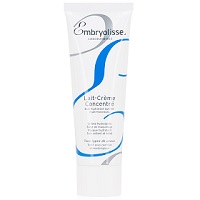 Product Name:  Embryolisse Laboratoires Lait-Crème Concentre
Overall Rating: 

Face or Body:  Face
Day/Night:  Both
Size:  2.54 oz
Price:  $28.00
Cost Per Ounce:  $11.20
Where to Buy:  Click Here
# of Ingredients:  20
Notable Ingredients:  Beeswax, Shea Butter, Soy Protein, Aloe Leaf Extract
Overall Opinion:
Embryolisse Laboratoires is located in France and has been making this moisturizer for years.  It has tons of reviews and is quite a French staple in skincare, so I was excited to try this out!
First, I liked the metal tube that it came in – it is sturdy and very easy to use.  It comes with a lid that is used to puncture the seal of the bottle to ensure it hasn't been contaminated during shipping.
It is marked for All Skin Types, though the consistency of this cream is a lot like sunscreen and I really wouldn't recommend this for oily skin.
I noticed that it really moisturized my skin and made it look very hydrated after using it, but it also takes a long time to soak in even if your skin is really dry.  As the day went on, I noticed a waxy film never really went away, which was a little disappointing.
Over time, I thought this moisturizer did a great job at hydrating my skin, but it never really soaked in completely. It also didn't improve my skin in terms of fine lines or overall tone, so I really wasn't that impressed overall.
Detailed Opinion:
Texture/Feel
The texture of this moisturizer reminds me of sunscreen.  It is a good thickness, but also feels a little oily.  I thought it was easy to cover all the areas of my face with a small amount.
Since it does a great job at hydrating, it left a dewy look on my skin each time I used it.
Application
Applying Embryolisse Lait-Crème Concentre was really easy with the packaging. The tube is metal and the cap is easy to secure without leaking or causing a mess.
Because of the consistency of the cream, it was easy to cover all the areas of my face with a small amount.
After dispensing the lotion, the bottle can stand up on the counter once the cap is back on, which is great for storage.
Drying Time
This moisturizer takes a little more time to dry and continues to leave a little bit of a tacky film even after it has soaked in.
I really didn't mind the dewy look on my skin at night, but it wasn't something I wanted to use before I added my foundation in the morning.
Smell
The smell of this facial moisturizer is very floral, which might be a turn off for some people, including myself
I found the smell to be way too heavy, and perfumey for my liking.  I prefer a fresh, spa smell.
Immediate Results
After waking up the next morning after using Embryolisse Lait-Crème Concentre, I definitely thought my skin looked moisturized and hydrated.
I noticed that even the next the morning my skin was still hydrated from the night before, so I didn't need to put too much on during my morning routine.
My skin felt hydrated and looked healthy, but the sticky film was still noticeable in some areas even after waking up.
Longer Term Results
Longer term I really liked how plump my skin felt after using this.
I didn't really see a change in the fine lines in my face, but I really liked the overall healthy look of my skin.
Unfortunately, I did get a couple of pimples after using it for a long time; I am guessing because of all the oils.
I didn't fully break out or have an allergic reaction, but this did end up clogging my pores after using it several days in a row.
Overall, I thought this did a great job as a basic facial moisturizer, but I didn't love the oily feeling it left on my skin.
Ingredient Notes
I really like how simple this face lotion is from an ingredient standpoint – there aren't a ton of ingredients. Sometimes moisturizers don't always have to be complex and fancy to be effective.
Embryolisse Lait-Crème Concentre contains Shea Butter, which has vitamins like Vitamin A and E. It is used in moisturizers for maximum hydration.
This moisturizer also contains beeswax, which is calming and can help condition and soothe skin.
Soy protein contains Isoflavones, which help prevent the effects of aging on skin cells, making skin look healthier and younger.
Price
Even though this moisturizer is simple, it isn't cheap.
I bought a 2.54 fl oz tube for $28.00, which is more than a lot of moisturizers out there.
Guarantee
Embryolisse Laboratoires has a 60 day money back guarantee for any products purchased on their website, which is amazing!
If you don't love any of their products, you just have to return them within the 60 days to get a full refund.
Where To Buy
To buy Embryolisse Lait-Crème Concentre, click here.
Embryolisse Lait-Crème Concentre: Summary
| | |
| --- | --- |
| Factor | Embryolisse Lait-Crème Concentre |
| Overall Rating | |
| Texture/Feel | This is a white cream that is not too thick or thin – easy to spread. |
| Application | Applying it is easy, just unscrew the cap and squeeze the amount out that you need! |
| Drying Time | It takes a while to dry – several minutes at least. Even after it soaks in, it leaves an oily film. |
| Smell | This smell is a strong floral scent.. There is a lot of Parfum in this one. |
| Immediate Results | After the first night, my skin felt really soft and moisturized. |
| Long Term Results | Over time, my skin felt plump and hydrated, but did clog my pores after using it several days. |
| Ingredients | Aloe Vera and Shea Butter |
| Guarantee | Yes – all products purchased on their site can be returned in 60 days for a full refund. |
| Price | It's $11.20 per oz, which is on the more expensive side for moisturizer. |
| Where To Buy | Click Here |