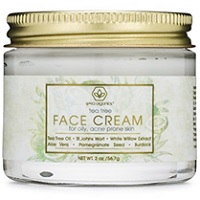 Product Name: Era Organics Tea Tree Face Cream
Overall Rating:

Face or Body: Face
Day/Night: Not specified
Size: 2 oz
Price: $15.07
Cost Per Ounce: $7.54
Where to Buy: Click Here
# of Ingredients: 22
Notable Ingredients: Burdock Root, Tea Tree Oil, Salicylic Acid, Aloe Leaf Juice, St. John's Wort
Overall Opinion:
Era Organics has great products for people looking for USDA organic skincare that is reasonably priced.
I wasn't sure what to expect, but I really liked the list of organic ingredients; a lot of them I hadn't seen before in other moisturizers.
I saw really good results with this face cream, which was surprising because of how cheap it was. I thought it could have been a little bit more moisturizing, but it seemed to help hydrate my skin and keep it clear of any acne.
This is a really thick cream, but it felt luxurious to apply and didn't seem too heavy on my skin. It smells pretty strong of tea tree oil, which is a pretty intense smell if you don't like it.
Overall, I thought this was a great product for anyone who is struggling with oily skin and acne that needs a good moisturizer.
Detailed Opinion:
Texture/Feel
Era Organics Tea Tree Face Cream is a thick, waxy cream that is white in color.
It is really thick and not oily at all, so if you already have dry skin, this might not be the best product for you.
Application
Applying this cream is really easy – it comes in a jar.
I liked that they jar was glass and it was easy to get the right amount out each time.
It is not difficult to apply, but you do have to scoop it out of the jar, which is a little messy.
Drying Time
Era Organics Face Cream dries really fast.
It soaks in over 1-3 minutes and leaves a little bit of a waxy feeling on the skin, which I didn't love.
Smell
This is a Tea Tree Face Cream and it smells pretty strong.
Tea Tree Oil has a distinct smell, but it tends to work wonders for people who struggle with acne. It might be a good trade off even if you don't like the smell very much.
Immediate Results
Short term, I noticed a kind of waxy feeling, which went away after it completely soaked in.
My skin felt really soft and fresh right after I applied it. It felt good to know there were so many ingredients fighting off any bacteria or possible acne.
Because this is made for people with oily skin, it is one of the driest creams I have ever used.
I liked how it made my skin look and feel overall, but I thought it could have been a little more moisturizing in the short term.
Longer Term Results
Longer term I noticed my skin was really clear and pretty hydrated.
My fine lines were less noticeable and my skin tone was more even.
It really made my skin look and feel healthier. My only complaint was that it would be a little bit more moisturizing.
Overall, I think this is a great moisturizer for people with oily skin who struggle with acne. If you have really dry skin, I don't think this is the best face cream for you.
Ingredient Notes
Era Organics is known for using mostly USDA certified organic ingredients, which is great when you are applying something to your face every day.
One of the unique ingredients in this cream is the Burdock Root, which is a naturally grown root like ginger. It is known to help bring blood to the skin and increase circulation. It has some anti-inflammatory and anti-aging effects.
Tea Tree Oil has been used for acne because of its antiseptic properties. It is known to be really effective, but smells really strong.
This moisturizer also contains salicylic acid, which I have seen in tons of facial cleansers, but not as many moisturizers. It also has the potential to really help people who are struggling with acne. But it does have a tendency to really dry out the skin.
Price
A 2 oz jar is $15.07, which comes out to $7.54 per oz.
I thought for USDA Organic ingredients, this was an amazing price!
Guarantee
Era Organics that are ordered from the website specifically have a 60 day money back guarantee, which is awesome.
All you have to do is send the product back to them and notify them of your return.
Where To Buy
To buy Era Organics Tea Tree Face Cream, click here.
Era Organics Tea Tree Face Cream: Summary
| | |
| --- | --- |
| Factor | Era Organics Tea Tree Face Cream |
| Overall Rating | |
| Texture/Feel | This is a really thick cream, which is slightly waxy, but great for oily skin. |
| Application | Applying this is so easy. Just take a small amount out of the jar. |
| Drying Time | This dries really fast! Only after a couple of minutes. |
| Smell | Slightly strong smell of tea tree oil. |
| Immediate Results | At first, seemed a little waxy but continued to soak in over time. |
| Long Term Results | Over time, this helped keep my skin clear and even seemed to even out my skin tone. I wish it were a little more moisturizing. |
| Ingredients | Tea Tree Oil, Aloe Leaf Gel, Salicylic Acid, St. John's Wort |
| Guarantee | Yes, Era Organics has a 60 money back guarantee if you don't completely love it! |
| Price | It's $7.54 per oz, which is super inexpensive! |
| Where To Buy | Click Here |