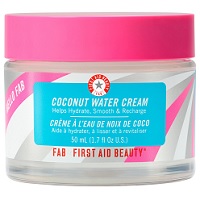 Product Name:  Hello Fab Coconut Water Cream
Overall Rating: 

Face or Body:  Face
Day/Night:  Both
Size:  1.7 oz
Price:  $34.00
Cost Per Ounce:  $20.00
Where to Buy:  Click Here
# of Ingredients:  29
Notable Ingredients:  Coconut Fruit Juice, Fruit Extracts, Sea Salt
Overall Opinion:
There's a lot to like about First Aid Beauty Coconut Water Cream.  After using it, I give it 4 out of 5 stars.
I'm very happy with the results it had on my skin.  After using it twice daily for a while, my skin felt super hydrated, and looked glowing and plump.  I really loved the way it helped my skin.  It felt like I was renewing my skin with each application.
One small drawback is I had a few days where I broke out in little whiteheads on my chin.  At least the breakouts were mild.
It's easy to use and dries quickly, both of which are important to me.
The ingredients in here are also impressive.  They leave out all the bad stuff, and packed it full of the good stuff such as Coconut Water, Fruit Extracts, etc
There isn't much of a smell to this moisturizer; I was kind of hoping it smelled like coconut.
Also, this moisturizer is pretty expensive. But you do get what you pay for.
I'm pleased with this Coconut Water Cream, especially its results!
Detailed Opinion:
Texture/Feel
This cream is more like a gel in my opinion.  It has a foggy clear color to it; it's not completely white like a lot of moisturizers on the market.
The texture is very lightweight and slick feeling.
Application
I think applying this moisturizer is a breeze.  It glides over my skin so nicely; I'm able to apply it to my entire face and neck in under 30 seconds.  It also blends in really well, and doesn't have any soaping effect.
The directions say to use this one in the AM and PM, so that's what I did J
Drying Time
I'm very impressed with how quickly First Aid Beauty Coconut Cream Water dries.  Once I apply it, it's dry within 1-2 minutes.
I love how quickly it dries and that I don't feel any sticky residue on my skin.
That makes this one ideal to use in the daytime under my makeup and at nighttime.
Smell
This one doesn't have much of a smell at all. To be honest, I was kind of hoping it smells like coconut, seeing as it's a "Coconut Water Cream".
It has a very, very faint smell that smells good, and a little sweet.  But you really have to try to smell it; it's so light.
Immediate Results
Right after applying the first time, my skin felt so velvety.  I couldn't stop touching my face (I know, I know, bad habit).
I love how soft this one makes my skin feel.  I also noticed that my skin felt a little more supple and glowy.
Longer Term Results
I really love the long-term results I got from using First Aid Beauty Coconut Water Cream.  This cream is light enough to wear during the day for hydration, but it's also hydrating enough that I didn't experience any new dryness or redness while using it.
My skin felt smoother, and even looked a little plumper while using it.
I saw minimal results in the anti aging department, but my fine lines did seem to slightly diminish.
The one thing I don't like about this one is I'd occasionally break out in whiteheads on my chin while using it.
But overall, the longer term results are very impressive.
Ingredient Notes
First Aid Beauty Coconut Water Cream has a great ingredient lineup.
I love that it doesn't contain any mineral oils, parabens, artificial fragrance, and many more harmful ingredients.
It also includes a lot of beneficial ingredients for your skin.
To start off, the first ingredient in here is Coconut Fruit Juice.  I had never heard of Coconut Fruit Juice before, but after a little research, it appears it's the same as Coconut Water.  As we all know, Coconut Water is great for hydration, both when taken internally and when applied externally.  I love this ingredient.
This moisturizer also includes quite a few fruit extracts such as Coconut Fruit Extract, Apple Fruit Extract, Apricot Extract, and many more.  I love seeing plant and fruit extracts in my moisturizers as they can have great benefits when added to your skincare routine.
Another ingredient that stuck out to me is Sea Salt.  I've never seen Sea Salt included in skincare before. Sea Salt is said to cleanse pores and prevent acne by ridding of bacteria.
Price
This is more expensive than your average moisturizer, but in my opinion it's worth it.
It's $34.00 for a 1.7-ounce jar, which is what a good quality moisturizer will cost you nowadays.
Guarantee
Yes, they have a 30 day guarantee through their website.  It says they accept new or gently used products, so I'm not sure how "gently used" it has to be to return it.  This may turn out to not be a guarantee at all, unfortunately.
Where To Buy
To buy First Aid Beauty Coconut Water Cream, click here.
First Aid Beauty Coconut Water Cream: Summary
| | |
| --- | --- |
| Factor | First Aid Beauty Coconut Water Cream |
| Overall Rating | |
| Texture/Feel | This feels like a gel and has a murky, clear color to it. |
| Application | Applying is so easy and convenient. |
| Drying Time | It dried very fast, in about 1 minute. |
| Smell | Smell is SO light, but it's sweet. |
| Immediate Results | My skin felt very soft to the touch. |
| Long Term Results | Plumper skin, smoother skin, some reduction in fine lines |
| Ingredients | Coconut Fruit Juice, Fruit Extracts, Sea Salt |
| Guarantee | Yes, 30 days |
| Price | It's $20.00 per ounce, which is very expensive. |
| Where To Buy | Click Here |