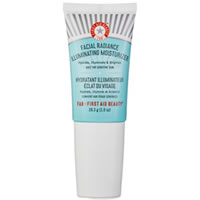 Product Name:  First Aid Beauty Illuminating Moisturizer
Overall Rating:  

Face or Body:  Face
Day/Night:  Day
Size:  1 oz
Price:  $34.00
Cost Per Ounce:  $34.00
Where to Buy:  Click Here
# of Ingredients:  30
Notable Ingredients:  Sodium Hyaluronate, Evodia Rutaecarpa Fruit Extract, Camellia Sinensis Leaf Extract
Overall Opinion:
First Aid Beauty Illuminating Moisturizer is a great daytime moisturizer.  After testing it out, I gave it 4 out of 5 stars.
I absolutely love how this moisturizer made my skin look.  I applied it under my makeup each morning, and was left with a dewy glow you don't get from most moisturizers.  All day long my skin looked great; it never looked or felt greasy.
I also really like how First Aid Beauty Illuminating Moisturizer doesn't have any color additives, alcohol, mineral oil, propylene glycol, etc.  It's just packed with great ingredients.  It includes Sodium Hyaluronate, which is a newer form of Hyularonic Acid.  That's just one of the exciting ingredients in it!
There's no fragrance to this moisturizer, which was fine by me.
It comes in a squeeze tube with a brush on the end, which makes it really easy to apply.  Although, washing the brush can be a pain.
The one thing that didn't quite meet my expectations is that I didn't see any real long term effects as far as my fine lines and wrinkles go.  It's great for immediate results, but I don't think it's quite rich enough to provide long term effects.  I was happy it didn't make my acne prone skin breakout though, so that's always a plus!
So overall, I really enjoy this moisturizer and gave it 4 out of 5 stars.
Detailed Opinion:
Texture/Feel
First Aid Beauty Illuminating Moisturizer is a pearlescent, light pink color.  It definitely has a different appearance than your average facial moisturizer.  The texture isn't very thick, but not thin either; it has a middle of the road consistency, and feels very lightweight.
Application
Applying this moisturizer is also very different than most.
It comes in a squeeze tube with a brush applicator, so you squeeze the bottle and a little moisturizer appears on the brush.  You then brush it on to your skin, using the brush and not your hands.
I like that the application is different than most, and it's nice you don't need to use your hands to blend it in.  However, I found it a pain to clean the brush off every few days.
This is definitely a daytime moisturizer, as I see no need to get an immediate "sheen" on your face before bedtime.  The sheen will also get on your pillow if you decide to apply at night.  I really liked using this moisturizer on my face as a primer before applying my makeup.  Although, they say you can apply on top of your makeup as well, but I think that would just smear my makeup all over.
I found this moisturizer blended nicely, and looked great under my makeup.
Drying Time
This moisturizer dried SO fast, it was awesome.  It dried in 1-2 minutes, so make sure you blend it in as you go.
It's very lightweight, and I think that's why it dried so quickly.  I was happy with how quickly it dried because I was able to apply my makeup immediately after using this moisturizer.
Smell
First Aid Beauty Illuminating Moisturizer doesn't have much of a smell at all.  I couldn't smell anything as I was applying it, or throughout the day as I wore it.
Immediate Results
This moisturizer has very immediate results.  As soon as I applied it, I could see a noticeable sheen to my skin.  It's called an "Illuminating Moisturizer", so it kind of works as a liquid highlighter, but not as strong.  I loved the dewy look it gave my skin, without my skin feeling sticky.
Even under makeup, it made my skin look amazing and flawless.
I read a few reviews that said the product made their skin look "glittery", so I was worried at first.  But that's the exact opposite of what I experienced, I looked glowy, not glittery.
Longer Term Results
As far as long term results, I didn't see any drastic ones.  This one kept my skin moisturized throughout the day, but I don't think it was hydrating or emollient enough to help with any wrinkles or fine lines in the long run.
I have sensitive, acne prone skin, and the good news is this one didn't break me out even after using it for a while.
Ingredient Notes
Sodium Hyaluronate is a new form of Hyaluronic Acid that's included in this moisturizer.  It helps to pack moisture into your skin, while giving it a smooth appearance.
This illuminating moisturizer also includes Evodia Rutaecarpa Fruit Extract, which is said to have an anti-inflammatory effect on your skin.
Another notable ingredient in this moisturizer is Camellia Sinensis Leaf Extract.  This is essentially Green Tea Extract, an antioxidant that protects your skin from free radicals.
First Aid Beauty Moisturizer is formulated without alcohol, parabens, fragrance, and colorants.  It's also vegan, oil-free, gluten-free and nut-free, which is really awesome.
Price
A one ounce tube of First Aid Beauty Illuminating Moisturizer is $34.00.  Which works out to $34.00 per ounce… that's SO expensive!
Guarantee
First Aid Beauty has a 30-day guarantee, which is great.
Where To Buy
To buy First Aid Beauty Illuminating Moisturizer, click here.

First Aid Beauty Illuminating Moisturizer: Summary
| | |
| --- | --- |
| Factor | First Aid Beauty Illuminating Moisturizer |
| Overall Rating | |
| Texture/Feel | This is a lightweight moisturizer that is a pearlescent, light pink color. |
| Application | Applying it is different; you use the brush applicator and not your hands. |
| Drying Time | It dried so fast, within one minute. |
| Smell | There was no smell at all. |
| Immediate Results | I saw an immediate sheen to my skin, and my complexion looked very smooth. |
| Long Term Results | I didn't notice long term improvement with my fine lines and wrinkles. |
| Ingredient Notes | Sodium Hyaluronate, Evodia Rutaecarpa Fruit Extract, Camellia Sinensis Leaf Extract |
| Guarantee | Yes, if you purchase through their website, they have a 30 day guarantee. |
| Price | It's $34.00 per ounce, talk about a pretty penny! |
| Where To Buy | Click Here |