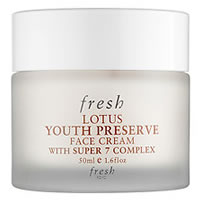 Product Name:  Fresh Lotus Youth Preserve Face Cream
Overall Rating:  

Face or Body:  Face
Day/Night:  Both
Size:  1.6 oz
Price:  $45.00
Cost Per Ounce:  $28.13
Where to Buy:  Click Here
# of Ingredients:  41
Notable Ingredients:  Lotus flower extract, Blue-green algae extract, Hibiscus fruit extract, Fig fruit extract, Vitamin C
Overall Opinion:
This is an awesome moisturizer; I love it.
It has a lot going for it in the smell department, ingredients, and results.
After trying it out, I gave it a 5 out of 5 stars, which is the highest ranking I give.
Both my short term and long-term results were great.  My skin felt and looked smooth and hydrated.  It also felt silky soft, and my fine lines became less noticeable.  Fresh Lotus Youth Preserve Face Cream is great for both its hydrating benefits and anti aging.
It smells like cucumbers, which I love.  It has a very light, spa-like fragrance, which I think most people will enjoy.
This moisturizer is very expensive, which sucks, but I still think it's worth it!
Overall I highly recommend this face cream.
Detailed Opinion:
Texture/Feel
Fresh Lotus Youth Preserve Face Cream is a soft, white facial moisturizer.
The texture is great… it's silky smooth and fluffy.  It's pretty lightweight as well, which is great.
Application
Applying this cream is a dream.  It blends into my skin so nicely.  It's nice I don't have to rub and rub to get it to blend in.  It literally just glides over my skin and my skin drinks it up!
I'd say it took less then 30 seconds to apply it to my face and neck.
Drying Time
This moisturizer dries very quickly.  In less than 2 minutes, it was dry on my skin.  I like the quick drying time because I could then apply my makeup over it while not having to wait around forever.
The quick drying time also makes this a great daytime lotion.  I hate when lotions take forever to dry and feel heavy on your skin during the day.  That makes it very difficult to apply makeup and products on top of it.
Smell
Fresh Face Cream smells SO good.  It has a light cucumber scent that reminds me of a spa.  I loved the scent, and enjoyed when I'd catch little whiffs of it throughout the day.
Immediate Results
My skin immediately felt soft and refreshed after using this moisturizer.  The next morning I couldn't believe has silky my face felt.  It also looked smooth and not oily.
Longer Term Results
After using Fresh Lotus Youth Preserve Face Cream for a while, I was very happy with the results.
The thin lines around my lips were less visible. I also noticed my skin tone looked more even.  And the best part was how hydrated my skin felt.  I don't have super dry skin, but I occasionally get dry patches.  This moisturizer completely eliminated those.
I have oily, acne prone skin and a lot of moisturizers make my face look like an oil slick.  I'm happy to report that this one didn't have that effect at all.  It actually gave me a matte appearance, with just a tiny bit of oil by the end of the day.
Bottom line, it made my skin look and feel great.
Ingredient Notes
The first notable ingredient in this moisturizer is Lotus flower extract.  Lotus is known for its purifying effect, and when you apply topically, it can help reduce pore size and help exfoliate your skin. And judging by the name of this product, Lotus is the star of the show in this face cream.
Fresh Lotus Youth Preserve Face Cream also has Blue-green algae extract in it.  Algae is having a hot moment in skincare, especially moisturizers.  I couldn't find what the difference between blue-green, red, brown, etc. algaes are.  But I did find that algae has great benefits for your skin.  It's an antioxidant, which helps protect your skin from free radicals.  Keeping you looking younger, longer.
Hibiscus fruit extract is another ingredient that peaked my interest.  After doing some research, I found that hibiscus is naturally packed with AHAs (alpha-hydroxy acids).  AHAs help control oily skin, exfoliate, and increase moisture.  Yes please, bring on the AHAs!
Fig fruit extract is an ingredient that really helps pack moisture into your skin. It's a great natural hydrator.
Lastly, this face cream has Vitamin C. And who doesn't love Vitamin C in their skincare? Vitamin C is great for both its anti-aging benefits and hydration.
Price
Now, this facial cream isn't cheap.  It's $45.00 for a 1.6-ounce jar.  But let me tell ya, it's worth it!
Guarantee
Yes, they have a 60-day period where you can return your product.  All you need to do is call or email them for a return authorization number.
Where To Buy
To buy Fresh Lotus Youth Preserve Face Cream, click here.
Fresh Lotus Youth Preserve Face Cream: Summary
| | |
| --- | --- |
| Factor | Fresh Lotus Youth Preserve Face Cream |
| Overall Rating | |
| Texture/Feel | This is a lightweight cream that's creamy and fluffy. |
| Application | It's very easy to apply, it blends right in. |
| Drying Time | It dried in less than 2 minutes. |
| Smell | Smells so good, like cucumber. |
| Immediate Results | My skin felt so soft. |
| Long Term Results | My wrinkles improved and skin felt more hydrated. |
| Ingredients | Lotus flower extract, Blue-green algae extract, Hibiscus fruit extract, Fig fruit extract, Vitamin C |
| Guarantee | Yes, they have a 60 day guarantee. |
| Price | It's $28.13 per ounce which is very expensive. |
| Where To Buy | Click Here |