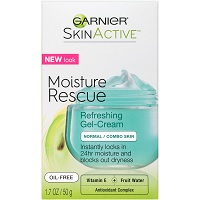 Product Name:  Garnier SkinActive Moisture Rescue
Overall Rating: 

Face or Body:  Face
Day/Night:  Both
Size:  1.7 oz
Price:  $8.99
Cost Per Ounce:  $5.29
Where to Buy:  Click Here
# of Ingredients:  27
Notable Ingredients:  Vitamin E, Fruit Water, Yellow and Blue Dyes
Overall Opinion:
I give Garnier Moisture Rescue 2.5 out of 5 stars, so in my opinion it's a very average moisturizer.
It's not that I didn't like it, it just didn't do much for my skin at all.  I didn't experience any negative effects, but I also didn't experience any positive results.  My skin was the same as before I started using it.  But it did make my skin feel soft, so that's a plus.
Application is very easy, and it doesn't take long to dry.  It also smells pretty good.  But the fragrance is artificial (from parfum) which I don't like.
It has some good ingredients in it such as Vitamin E and Grape Fruit Extract.  But it also contains dyes that turn the product green, which is disappointing to me.  There's really no reason at all to include dye in a moisturizer.
So overall, didn't love it, didn't hate it.
Detailed Opinion:
Texture/Feel
This Garnier moisturizer is called a "gel-cream", but it honestly feels and looks more like a gel.  It's not creamy at all.
It's green in color and has a very lightweight, gel texture to it.
Application
This moisturizer is very easy to apply.
It goes on clear so it's very easy to blend in.  The thin texture makes it easy to spread; it just glides over your skin.
You need to apply to your face and neck twice a day, so I chose morning and evening to apply.
This is about as easy as applying a moisturizer gets, no mess and no fuss.
Drying Time
I'm also really impressed with the drying time of this moisturizer.
Once I applied it, it dried almost immediately.  It literally took under a minute or two to dry, which is great.
I could then easily apply my makeup on top of it in the morning.
Smell
I really like the smell of this one, although the scent isn't natural.  It comes from parfum/fragrance which I never like seeing when I apply products to my face. I'm fine with fragrance, as long as it's natural.
Nonetheless, it smells very good.  It's a light, fresh, and girly scent.  The scent isn't too strong, but it fades as the day goes on.
Immediate Results
The next morning when I woke up, my skin felt so soft.  It literally felt like velvet.
Longer Term Results
I tried the Moisture Rescue Gel for Normal/Combo skin.  They also have a version for Dry/Sensitive skin.
After using this moisturizer for a while, I realized that it didn't have any negative effects on my skin, but it also didn't have many positive effects.
It made my skin feel soft, which is about it.
I didn't notice any retained moisture or help with my dry areas while using it.  I also didn't really see much In the way of anti aging.
This is definitely a light moisturizer, so much so that I don't think it's hydrating enough.  I wish it packed in a little more moisture and I saw more results as far as my skin goes.
On the bright side, it didn't cause any breakouts or clogged pores.
To be honest, I don't know if I'd purchase this one again (even though the cost is great), just because I didn't notice a lot of results.
Ingredient Notes
Garnier Moisture Rescue contains some really good ingredients that I'm excited to see in there.
First, it contains Vitamin E, which has some great reparative benefits for your skin.  Vitamin E is known for helping to heal scars, heal skin, and even has some anti aging effects.
This gel-cream also contains Vitis Vinifera Extract, which is just a fancy word for Grapefruit Extract.  This extract comes from actual grapes, not grapefruit, so that can be a little confusing.  This ingredient has very potent antioxidant effects, and can be great for inflammation.
Now, this one does have 2 different color dyes in it as well, which I don't like.  Why do they feel the need to put those in there? Just so the product matches the packaging better? I'd rather not see coloring in products I'm applying to my face.
Price
A 1.7 ounce jar of this moisturizer sells for $9.00 which is extremely cheap as far as moisturizers go.
Guarantee
It really depends on where you purchase the product.  I couldn't find a guarantee through the Garnier website, but I know Ulta has a good guarantee.
Where To Buy
To buy Garnier Moisture Rescue, click here.
Garnier Moisture Rescue: Summary
| | |
| --- | --- |
| Factor | Garnier Moisture Rescue |
| Overall Rating | |
| Texture/Feel | This is a light, thin, gel like moisturizer; it's green in color. |
| Application | Applying is so easy and simple with this one. |
| Drying Time | It dried very quickly, in less than one minute. |
| Smell | Smells good, but the fragrance is artificial. |
| Immediate Results | My skin felt soft. |
| Long Term Results | No real changes either way, the only thing I noticed is soft skin. |
| Ingredients | Vitamin E, Grapefruit Extract, Dyes |
| Guarantee | Yes, but it depends on where you purchase the product. |
| Price | It's $8.99 per jar, which is very cheap. |
| Where To Buy | Click Here |