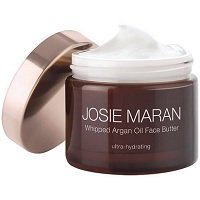 Product Name:  Josie Maran Whipped Argan Oil Face Butter
Overall Rating: 

Face or Body:  Face
Day/Night:  Both
Size:  1.7 oz
Price:  $40.00
Cost Per Ounce:  $23.53
Where to Buy:  Click Here
# of Ingredients:  35
Notable Ingredients:  Argan Oil, Shea Butter, Cucumber Extract, Aloe Vera
Overall Opinion:
Josie Maran Whipped Argan Oil Face Butter is one of the most hydrating creams I've tried.
If your skin is in need of some moisture, you'll love this product.
After using it for a while, I'm very impressed with my results.
My skin is plumped, hydrated, and I even have less fine lines!  Although, I found using it twice a day to be TOO much moisture, so I recommend only using once per day unless your skin is in pretty bad shape.
This moisturizer has no smell, and also has a great ingredient lineup.
The one thing that sucks is it's very expensive.  But I guess that's to be expected with a high quality product.
Overall, I really like this moisturizer and gave it 4 out of 5 stars.
Detailed Opinion:
Texture/Feel
This moisturizer is a thick, off white cream.  It's called a "whipped" moisturizer, but it doesn't appear to be any more whipped than most moisturizers.  It has the same thick texture as a lot of facial moisturizers out there.
Josie Maran Whipped Face Butter is a bit thicker than most creams I've tried.
Application
The directions say to apply this one morning and night.
I followed the directions and applied twice a day.  I found applying twice a day was too much for my skin, so I ended up applying it only at nighttime and it worked much better for me.
When I applied it in the morning, I found my makeup looked greasy by the end of the day and it was just too much moisture for my skin.
But when I applied it at nighttime, it gave me hydration for 24 hours, which is amazing.
The whipped face butter is a white color, and it's very easy to blend into your face and décolleté.  It literally only took me a few seconds to apply.
As with many moisturizers out there, this one comes in a jar.
Drying Time
After I applied the moisturizer, it took about 10 minutes to dry, which is another reason I like only applying it at night.
I didn't have to wait around waiting for it to dry before applying my makeup.
I'd throw it on after washing and toning my face and go to bed.
Smell
Josie Maran offers this product in two different scents… unscented and mango.
I tried the unscented one, and it really has no fragrance at all.  I think the mango would smell nice too, although I can't say it does as I've never tried it.
The unscented version is a great option for those of you who are sensitive or allergic to fragrance.
Immediate Results
Immediately after applying it, I could tell it was going to be very hydrating because my skin took about ten minutes to fully soak it in.
The next morning, I could really tell how hydrated my skin already was after only one use.  The hydrating effects last a full 24 hours until I applied it the next night!
I also noticed that when I applied it at night, the next morning my makeup looked flawless because of how supple my skin looked.
Longer Term Results
Longer term, I noticed some really good results.
My skin looked plumper, and it was definitely more hydrated.  It even helped to fill in some fine lines around my eyes.
Josie Maran Whipped Argan Oil Face Butter is definitely heavier and more hydrating than most creams out there.  So, this is a great option for those of you whose skin really needs some TLC.
I also noticed that this cream didn't break me out, which is a huge plus!
Ingredient Notes
This moisturizer has some very exciting ingredients in it.
To start out, let's talk about the overall ingredients.  This product is paraben free, gluten free, organic, cruelty free, and vegan.  I love that it's cruelty free!
Now, it obviously has argan oil in it, which is an interesting ingredient as far as skincare goes.  You often see argan oil included in hair care products, but it has some great anti-aging and hydration benefits for your skin as well.
Shea butter is another hydrating ingredient found in this moisturizer.  Shea butter is known for its super moisturizing effects, which explains why this cream gives my skin so much hydration.
This moisturizer also has cucumber extract in it.  This extract is known to be packed with vitamins, and also acts as an astringent.  So, it's especially good for those of you with oily or acne prone skin like myself.
Lastly, it contains Aloe Vera.  As we all know, aloe vera is known for its cooling effects, and is often used on sunburns.  I've used aloe vera on my face before, and unfortunately it makes me break out a little bit.  So, I was a little leery that aloe vera is included in here, but thankfully I had no breakouts from it!
Overall, I'm impressed by the ingredients in this moisturizer.
Price
One jar sells for $40.00.  That's definitely on the pricier side, but a lot of the high quality moisturizers are in this price range.
Guarantee
Josie Maran has a 30 day guarantee, which is great!
Where To Buy
To buy Josie Maran Whipped Argan Oil Face Butter, click here.
Josie Maran Whipped Argan Oil Face Butter: Summary
| | |
| --- | --- |
| Factor | Josie Maran Whipped Argan Oil Face Butter |
| Overall Rating | |
| Texture/Feel | This is a heavier moisturizer that's white in color. |
| Application | Applying is simple, use morning and night. |
| Drying Time | It takes about 10 minutes to absorb into skin. |
| Smell | Doesn't have any smell. |
| Immediate Results | My skin was very hydrated. |
| Long Term Results | Lasting hydration, reduced fine lines, plumped skin |
| Ingredients | Argan Oil, Shea Butter, Cucumber Extract, Aloe Vera |
| Guarantee | Yes, 30 day guarantee |
| Price | It's $40.00 per jar, which is very expensive. |
| Where To Buy | Click Here |