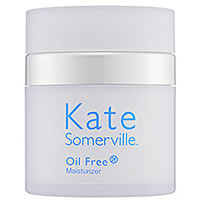 Product Name:  Kate Somerville Oil Free Moisturizer
Overall Rating:  

Face or Body:  Face
Day/Night:  Both
Size:  1.7 oz
Price:  $65.00
Cost Per Ounce:  $38.24
Where to Buy:  Click Here
# of Ingredients:  23
Notable Ingredients:  Red Marine Algae, Essential Amino Acid Derivatives, Ahnfeltiopsis Concinna Extract
Overall Opinion:
I give Kate Somerville Oil Free Moisturizer 5 out of 5 stars.
I really love this moisturizer; it's one of my favorites!
To start, I love the way it makes my skin look and feel.  After using it for a while, my breakouts cleared up, and my skin was extra moisturized.  I even noticed my fine lines starting to soften.  And the best part is this one is great for those of you with oily skin.  I have very oily skin and this one didn't leave me greasy by the end of the day.
There are some great cutting edge ingredients in this moisturizer, such as Red Marine Algae and Essential Amino Acid Derivatives.  And to top it off, this product doesn't contain Parabens or fragrances.
The smell is virtually non-existent, but if I tried hard, I could smell a hint of a sour smell.  Although, it never bothered me.
The one downside to this moisturizer is the price tag.  It's quite hefty at $65 per jar.  But let me tell you, it's worth it!
So overall, I'm very happy with this moisturizer and I gave it 5 out of 5 stars.
Detailed Opinion:
Texture/Feel
This moisturizer is lightweight and smooth in texture.
It's white in color, like most moisturizers are.
Application
Applying this lotion is so easy.  It comes in a jar with a push top applicator.  So in my opinion, it's more sanitary than your average jar of moisturizer.  I love that I don't have to stick my fingers in the jar to get the product out. I just used one pump each time, and it covered my entire face.
You're directed to apply this one twice daily, both morning and night.  I applied it under my makeup in the morning, and the application was flawless. My makeup looked smooth and matte on top of it.
Kate Somerville Oil Free Moisturizer blends in nicely… it's kind of like my skin just drank it up.
Drying Time
This moisturizer dries so fast, which is awesome.  It literally only takes a minute to dry, which is great especially when you're applying your makeup on top of it.  As soon as it dried, my skin felt silky and smooth.  I didn't feel any residual stickiness, which is one of my pet peeves!
Smell
Kate Somerville Oil Free Moisturizer doesn't have a strong smell.  It's almost fragrant-less, but there's a small hint of something a little sour.  The smell is minimal however, and goes away within a few seconds.
Immediate Results
The next morning after applying this lotion, my skin felt and looked really soft.  I was also pleased that I didn't look like an oily grease ball by the end of the day.
I also noticed that this moisturizer helped heal some of my hormonal breakouts.
Longer Term Results
I noticed great long term results from this moisturizer.
After using it for a while, my skin looked brighter and I'd even go as far as to say it looked younger.  My skin tone was more even, and I slowly started to see my fine lines soften.
This is a great lotion for anti-aging, acne, and its hydration benefits.
This has now become a staple in my skin care routine and I'm addicted to the results I see!
Ingredient Notes
Kate Somerville has great ingredients.  Let me start out by telling you what this moisturizer is formulated WITHOUT.  There's no parabens, fragrances, or oils in this moisturizer.  I love that it doesn't contain oils, because that makes it great for those of us with oily skin.  It gave me hydration, without making me oily.
This product contains some very interesting ingredients.
First, it contains Red Marine Algae, which helps with your skin's appearance and firmness.  This ingredient is probably why my skin looked so soft and young.
Next, it contains Essential Amino Acid Derivatives.  Amino Acids are great for their anti-aging benefits.  With continual use, they can help with fine lines and wrinkles.
The last ingredient that stuck out to me is Ahnfeltiopsis Concinna Extract.  This is another algae that is known for its emollient effects.
So as you can see, this moisturizer has a lot of cutting edge ingredients (most of them from the sea).
Price
Now, this moisturizer doesn't come cheap.  It's $65.00 for a 1.7 ounce bottle.  But in my opinion, it's worth the hefty price tag!
Guarantee
Kate Somerville offers a 30-day satisfaction guarantee, which is awesome.
You have to call them to get a return authorization number, which is a bit of a nuisance.  But I was happy to see they have a guarantee, especially because this product is very pricey!
Where To Buy
To buy Kate Somerville Oil Free Moisturizer, click here.
Kate Somerville Oil Free Moisturizer: Summary
| | |
| --- | --- |
| Factor | Kate Somerville Oil Free Moisturizer |
| Overall Rating | |
| Texture/Feel | This is a lightweight lotion that's white in color. |
| Application | You apply it twice a day, easy enough. |
| Drying Time | It dried in under one minute. |
| Smell | Minimal smell |
| Immediate Results | My skin looked and felt so soft. |
| Long Term Results | My fine lines improved, my skin looked younger, and no breakouts. |
| Ingredients | No parabens, fragrances, or oils.  Has some different types of sea algae in it. |
| Guarantee | Yes, Kate Somerville has a 30 day money back guarantee. |
| Price | It's $65.00 per jar, which is expensive. |
| Where To Buy | Click Here |