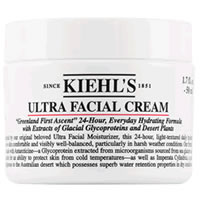 Product Name:  Kiehl's Ultra Facial Cream
Overall Rating:  

Face or Body:  Face
Day/Night:  Both
Size:  0.95 oz
Price:  $18.00
Cost Per Ounce:  $18.95
Where to Buy:  Click Here
# of Ingredients:  35
Notable Ingredients:  PROPYLPARABEN, METHYLPARABEN, PSEUDOALTEROMONAS FERMENT EXTRACT, PRUNUS ARMENIACA KERNEL OIL
Overall Opinion:
I'm not a fan of this moisturizer, so I gave it 2 out of 5 stars.
I found this lotion to be almost too hydrating for a daily moisturizer.  It's better suited for those of you who get really cracked, dry skin during the winter months.
I found it made my skin very oily and greasy, so it's not good for those with oily skin.
I also don't like how it contains parabens, most high end moisturizers these days try to stay away from parabens due to their potentially harmful side effects.
I noticed after using Kiehl's Ultra Facial Cream for a while that my wrinkles were softening, which is a small silver lining.  But I can find other moisturizers that have the same effect without all the greasiness.
I wouldn't recommend this cream, so I gave it 2 out of 5 stars.
Detailed Opinion:
Texture/Feel
Kiehl's Ultra Facial Cream is a milky white cream that has a slick texture.  The texture isn't as "creamy" as some moisturizers I've seen, it feels and looks like a mix between a gel and a cream.
Its texture is pretty thick, although not the thickest I've seen.
Application
Applying Kiehl's Facial Cream is very easy.  It blends into your skin quickly and virtually takes no time to apply at all.  It took me under a minute and application wasn't messy at all.
It comes in a jar, like many moisturizers do.  I just don't find jars the most sanitary way to apply moisturizer.  There's just something about dipping your fingers continuously into that jar that grosses me out.
You can use this one either at bedtime or in the morning.  After using it both times, I'd highly recommend using it only at night. In my opinion, it's way too thick to be a daytime moisturizer, and it's hard to wear makeup over it.
Drying Time
I really wasn't a fan of the time this moisturizer took to dry.
Once I applied it, it felt SO sticky on my skin, and unfortunately that sticky feeling never really went away.
So I don't think this cream even really dried on my skin.  It felt a little less sticky after a few hours, but I could still feel in on my face.
Smell
Kiehl's Ultra Facial Cream doesn't have much of a scent.  The scent is very light and smells a little like baby powder.  But the smell isn't overwhelming, and you can only smell it if you really try.
Immediate Results
Immediately after I applied this cream, my skin felt and looked greasy.
It was very moisturized, to the point that it was TOO hydrated.  My face looked like an oil slick, so I'd definitely recommend only using this one at nighttime.
Longer Term Results
As far as long term results go, I noticed some improvements in my skin.  I noticed that my wrinkles and fine lines were less noticeable, and my skin was very hydrated.  Any dryness I had before was completely eliminated by this cream.  But it was at the expense of my skin looking and feeling oily and sticky all the time.
Ingredient Notes
Kiehl's Ultra Facial Cream contains parabens, which I'm really not a fan of.  Parabens can mess with your hormones, and in my opinion, that's never a good thing.
It contains Methylparaben and Propylparaben. Both of these are used as preservatives in cosmetics, but research has shown these ingredients may actually cause more harm than good.
Now, not all ingredients in this moisturizer are bad, but parabens will prevent me from purchasing this lotion again.
This moisturizing cream also contains Pseudoalteromonas Ferment Extract, which is a very interesting ingredient.  This ingredient is actually a strain of bacteria found in mud in Antarctica.  It's a peptide that's known for its ability to regenerate skin and lock in moisture.
Another great ingredient included is Armeniaca Kernel Oil, which is essentially Apricot oil.  It's said that this oil can help firm and tone your skin.
Price
This cream is pretty expensive, especially for the quality of product you get.  It's almost $19.00 per ounce, which I would pay for a high quality product, but I wouldn't pay that again for Kiehl's Ultra Facial Cream.
Guarantee
Kiehl's has a 100% Money Back Guarantee which is awesome.  They really stand behind their products, and you can return it for any reason if you're unhappy.
Where To Buy
To buy Kiehl's Ultra Facial Cream, click here.
Kiehl's Ultra Facial Cream: Summary
| | |
| --- | --- |
| Factor | Kiehl's Ultra Facial Cream |
| Overall Rating | |
| Texture/Feel | This is a thick, milky white cream. |
| Application | Applying it is easy, but I'd only apply at nighttime. |
| Drying Time | It never dried and stayed sticky on my face. |
| Smell | The smell was a very light baby powder scent. |
| Immediate Results | My skin looked oily and greasy. |
| Long Term Results | My wrinkles improved and so did my dry areas. |
| Ingredients | Propylparaben, Methylparaben, Pseudoalteromonas Ferment Extract |
| Guarantee | Yes, they have a money back guarantee. |
| Price | It's $18.95 per ounce, which is pricey. |
| Where To Buy | Click Here |