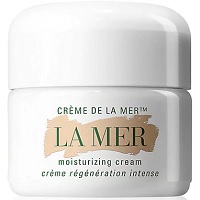 Product Name:  La Mer Moisturizing Cream
Overall Rating: 

Face or Body:  Face
Day/Night:  Doesn't say
Size:  1 oz
Price:  $170.00
Cost Per Ounce:  $170.00
Where to Buy:  Click Here
# of Ingredients:  43
Notable Ingredients:  Seaweed (Algae) Extract, Mineral Oil, Citrus Aurantifolia (Lime) Extract, and Fragrance
Overall Opinion:
This cream has a cult following, so I was really excited to try it.  I honestly had pretty high hopes for it just based on the cost.  You can't get away with charging hundreds of dollars for a moisturizer if it's not the best, right?!  Wrong.  While this wasn't the worst moisturizer I've tried, it's definitely not the best.
Let's start out with what I do like about it.  After a while of using it, I saw some positive changes in my skin.  I noticed my fine lines start to smooth, and my skin looked younger and fresher.  Now, the results were subtle, but I noticed them.
They also have a great money back guarantee through their website, which I'm happy to see.
But, for me, the negatives kind of outweighed the positives.
To start, this cream is SO thick; it's actually TOO thick.  It takes over 2 hours to dry once applied to my skin, and it's definitely way too heavy to wear under makeup.  So I could really only use this cream once per day, at night.
The smell is also something I don't care for.  It has a heavy, old lady scent; it smells like floral baby powder.
It also made me break out in whiteheads all over my face.  I read a few other reviews where this happened to people as well.
As far as ingredients go, it has a mix of both good and bad ones.  I'm happy to see Seaweed Extract in there; I love this ingredient.  But it also contains some not so good ingredients such as Mineral Oil, Lime Extract, and fragrance.
So overall, I was pretty overwhelmed with this cream even though I had high expectations for it.
I gave it 2 out of 5 stars after testing it out.
Detailed Opinion:
Texture/Feel
La Mer Moisturizing Cream is very thick in texture and is white in color. This is definitely one of the thickest moisturizers out there; it kind of resembles a paste and feels tacky.
Application
So, this one is a bit confusing because neither the box nor the pamphlet inside say how to use the cream.  I think this is very odd, especially with a cream that's so expensive.
I ended up using it like I do most moisturizers, twice daily (once in morning and once at night).
It goes on with a little bit of a white cast.  But it quickly blends in if you use a little elbow grease.  I also found that I had to use more of this product with each application than I normally do.  This is due to the really thick texture; a little bit doesn't go a long way.
After using this cream for a while, I realized it's definitely not a good "daytime cream", it's better suited for use at night.  It's just way too heavy to wear during the day and under makeup.
Drying Time
Since La Mer Moisturizing Cream is so thick, it takes a really long time to dry.  It took about 2 hours before my skin felt semi-dry.  I really don't like how long this one takes to dry.
Usually my skin drinks up moisturizer, but this one took forever for my skin to absorb.  It kind of just sat there feeling tacky on my face for 2 hours, which obviously makes it hard to wear during the day under makeup.
Smell
This moisturizer has a pretty heavy smell.  To me, it has an "older" scent, like something my grandma would wear (now, that I think about it, she does use this product).
So I really don't care for the scent, not to mention they use fragrance in here, and I'm pretty sure it's not natural.
Once I applied the cream, the scent became a little more bearable, but I still wouldn't say I liked the scent.
It smells kind of like floral mixed with baby powder.
Immediate Results
I didn't really see any immediate results with this moisturizer.
The most immediate result I saw was that after about a week of using it I began to get little whiteheads all over my face.
Longer Term Results
After using this cream for a while, I saw okay results.
I really did like how my skin felt; it was smooth and soft to the touch.
It also looked really good (despite my whiteheads).  My skin looked a little younger and fresher than it usually does.
It's not a miracle cream as far as anti-aging effects go, but I saw some improvement.
The only downside to using it was the whiteheads, which unfortunately kept coming while I used the cream.  It's just very thick, so it was clogging my pores.
Ingredient Notes
The first ingredient in this cream is Seaweed (Algae) Extract, which is great.  I love that it's the first thing listed, as it shows it contains a good amount, enough to be efficacious.  Seaweed is said to have antioxidant effects, and can help fight off free radicals.  It's also been shown to have anti-aging and anti-inflammatory effects
The second ingredient on the list is one I'm not so impressed with…. Mineral Oil.  This ingredient always seems to clog my pores, and I know it does the same for others.  Recent studies kind of frown upon this ingredient, and I can see why just based on what it does to my skin.
The next ingredient I took note of is Lime Extract.  I'd never seen this ingredient in skincare before so I did a little research and it appears there's a negative connotation surrounding Lime Extract.  This ingredient can cause your skin to become photosensitive, which can make it red and blotchy looking.
Now, this moisturizer does have some good oils and extracts in it as well; they're just further down the list of ingredients (making them not as potent).
The last ingredient on the list is Fragrance, which I'm guessing is not natural just based on the scent.
Price
This is by far the most expensive moisturizer I've ever tried or will ever try.  It retails at $170.00 per ounce!  I think this is a ridiculous price point.  Especially for a product that has very similar ingredients to other products out there.
Guarantee
Yes, they offer a money back guarantee through the La Mer website, which I'm very happy to see.  You can return the unused portion of your product to them at any time.  They even provide a return-shipping label!  Talk about good customer service.
Where To Buy
To buy La Mer Moisturizing Cream, click here.
La Mer Moisturizing Cream: Summary
| | |
| --- | --- |
| Factor | La Mer Moisturizing Cream |
| Overall Rating | |
| Texture/Feel | This one is a very thick, paste-like cream that is white in color. |
| Application | Applying is a little tedious just because of the thick texture. |
| Drying Time | It dried in about 2 hours. |
| Smell | Smells like an older lady scent, not good in my opinion. |
| Immediate Results | Broke out in whiteheads after about a week. |
| Long Term Results | I saw some good anti-aging benefits, but still had whiteheads. |
| Ingredients | Seaweed (Algae) Extract, Mineral Oil, Citrus Aurantifolia (Lime) Extract, Fragrance |
| Guarantee | Yes, they have a wonderful guarantee through their website. |
| Price | It's SO expensive… $170 for a 1-ounce jar! |
| Where To Buy | Click Here |