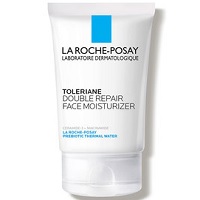 Product Name: La Roche-Posay Toleriane Double Repair Face Moisturizer
Overall Rating:

Face or Body: Face
Day/Night: Both
Size: 2.5 oz
Price: $19.99
Cost Per Ounce: $7.99
Where to Buy: Click Here
# of Ingredients: 25
Notable Ingredients: La Roche-Posay Prebiotic Thermal Water, Ceramide NP, Niacinamide, Tocopherol, Ammonium
Overall Opinion:
I was really surprised by how much I liked this moisturizer.
I have never used La Roche-Posay before, but it has great ratings online and the prices are pretty reasonable.
I was interested in the prebiotic thermal water, which is only in La Roche-Posay products. It is a special ingredient that is made to help with the microbes on the skin.
This is a great moisturizer if you are looking for something that will work with sensitive skin. It is unscented, lightweight, and soaks in really fast.
I was happy to find a moisturizer that was really hydrating without being too thick or oily.
After using it over time, I really saw a difference in my skin. I just thought it looked healthier overall. I didn't notice a difference in the fine lines or wrinkles, but I loved how soft my skin felt.
Detailed Opinion:
Texture/Feel
This Double Repair Moisturizer is nice and light without being too thin.
It almost looked like I had water on my skin after rubbing it in right away, but it soaked in really fast afterward.
Application
Applying Double Repair Face Moisturizer is really easy.
The bottle seems really well made and the cap keeps everything really clean.
You can stand the bottle up on your countertop or in the cabinet after you are done using it, which I really liked for storage.
I only needed a little bit each time to cover my whole face – about a dime sized amount always did the trick.
Drying Time
This is a nice lotion because it's really lightweight without being thin or oily.
I thought it soaked in really fast. It only took about 30 seconds to a minute total.
I really appreciated how fast it dried. In the morning, it made putting makeup on afterward really easy and didn't delay my whole morning routine.
Smell
This face moisturizer is unscented.
Immediate Results
After the first day, I noticed my skin felt really soft and slightly more moisturized.
I noticed how it didn't seem to suffocate my pores, but the prebiotic water really made my skin feel hydrated.
Longer Term Results
Longer term I noticed my skin looked healthier.
I didn't really seem to need as much moisturizer as when I started, which I loved!
It didn't do much for my fine lines, but I thought it worked great in making my skin feel hydrated.
Ingredient Notes
Double Repair Face Moisturizer is marketed as oil free, fragrance free, and non-comedogenic.
La Roche-Posay Prebiotic Thermal Water is a unique ingredient to this moisturizer. I was interested to use something that works with the natural microbes that are found on our skin.
Niacinamide is a form of vitamin B3 that helps nourish skin while improving the look of large pores.
Ceramide NP is a type of lipid (fat) that is found in the skin naturally. It helps to form the outer layers of the skin and protect the natural skin barrier.
Price
A 2.75 fl oz bottle of Double Repair Face Moisturizer is $19.99 online.
Even though $20 is a little pricier than some moisturizers, this product is worth the extra couple of dollars if you are looking for something that will work for sensitive skin.
Guarantee
La Roche-Posay has a 30 day return policy for products that are bought on the website. But if you buy them at any 3rd party stores, the return policy is based on that store.
To get a refund, just ship the item back to the warehouse listed on the website within 30 days of purchase.
Where To Buy
To buy La Roche-Posay Double Repair Face Moisturizer, click here.
La Roche-Posay Toleriane Double Repair Face Moisturizer: Summary
| | |
| --- | --- |
| Factor | La Roche-Posay Toleriane Double Repair Face Moisturizer |
| Overall Rating | |
| Texture/Feel | Lightweight, white lotion with a watery base |
| Application | Applying is really easy and clean. |
| Drying Time | It was totally absorbed in about 30 seconds! |
| Smell | No smell. Unscented |
| Immediate Results | After the first day, my skin felt softer and looked hydrated. |
| Long Term Results | My skin felt healthier over time. No change in fine lines. |
| Ingredients | Prebiotic Thermal Water, Niacinamide, Ceramide NP, Ammonium, Glycerin |
| Guarantee | Yes, there is a 30 day return policy on La Roche-Posay website. |
| Price | It's $7.99 per oz, which I thought was pretty inexpensive. |
| Where To Buy | Click Here |