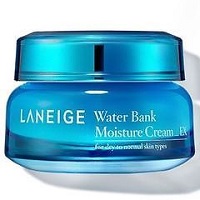 Product Name:  Laneige Water Bank Moisture Cream
Overall Rating: 

Face or Body:  Face
Day/Night:  Both
Size:  1.6 oz
Price:  $35.00
Cost Per Ounce:  $21.88
Where to Buy:  Click Here
# of Ingredients:  54
Notable Ingredients:  Ionized Mineral Water, Olive Squalene
Overall Opinion:
I can't begin to tell you how disappointed I am with this "water cream".
I was so excited to try it out, especially because it has such pretty packaging, and the brand has a pretty good reputation.
But after trying out Laneige Water Bank Moisture Cream, I'm very disappointed with it and the effects it had on my skin.
The main thing I don't like is how sticky the cream is.  It never absorbed into my skin and my skin constantly felt tacky when I wore this.  You definitely can't wear it under makeup, and it's even uncomfortable to wear at night.
It also gave me acne all over my face, which looked so bad and was painful.
It has some ingredients in it that sound good, but they just didn't work out for me.  Maybe they have too many ingredients in there, 54 is quite a lot compared to most.
Not to mention, this cream smells like heavy perfume and Laneige doesn't have a guarantee.
So unfortunately, I don't care for this cream and wouldn't purchase again.
Detailed Opinion:
Texture/Feel
Laneige Water Bank Moisture Cream is a fluffy white cream that kind of resembles whipped butter.  The color is pure white, and the texture is a little of the thicker side.  Once you apply it, it becomes even thicker.
At first, the cream feels very slick once you start applying it.
Application
I didn't have any issues while applying this cream.
You can use it either day or night, or both.
The product blends in smoothly, and doesn't leave a white cast on my skin, which makes it really easy as far as application goes.
Drying Time
The drying time is the thing I hate most about this moisturizer.
Once applied to my skin, the cream never dries.  If I apply it at night, I can still feel the tackiness on my skin the next morning when I wake up.
It's actually quite uncomfortable to wear this cream as it feels so sticky and tacky on your face, and never fully dries.
It literally just sat on my face and never soaked in.
For a "water" cream, I expected the product to be more lightweight but this one is surprisingly thick once applied.
Smell
This is another thing I don't care for.  This moisturizer has a very strong, heavy perfume scent.
I like when my moisturizers smell light, refreshing and spa-like, not like my grandma's floral perfume (no offense grandma).
Immediate Results
The only immediate result I saw from using Laneige Water Bank Moisture Cream is that it sat on top of my skin and didn't absorb.  This left my skin feeling tacky and uncomfortable.
Longer Term Results
After using this (begrudgingly) for a while, I didn't see any positive results.
My skin constantly felt sticky (especially when I'd use it both morning and night).  And I had new acne breakouts all over.
After reading some reviews, I found I wasn't the only one who had this disappointing experience.
Unfortunately, this cream is way too thick and sticky once on your skin.
Don't even bother trying to wear makeup over it, it looks completely awful.
Ingredient Notes
I'm surprised by the amount of ingredients in this cream, there's a lot.
Some of the ones that stand out are Ionized Mineral Water and Olive Squalene.
Both of these are supposed to be hydrating and conditioning for your skin, but I think they may be TOO hydrating.  There's also fragrance/parfum in here, which I try to avoid unless it's natural.
Price
Laneige Water Bank Moisture Cream is expensive, but not the most expensive I've seen.  It sells for $35 per jar.
Guarantee
No, they don't have a money back guarantee.  If you try the product, and don't like it….well you're just out of luck.
You can only return the product if it's unopened…. that's not helpful at all! Come on Laneige, stand behind your products a little bit more.
Where To Buy
To buy Laneige Water Bank Moisture Cream, click here.
Laneige Water Bank Moisture Cream: Summary
| | |
| --- | --- |
| Factor | Laneige Water Bank Moisture Cream |
| Overall Rating | |
| Texture/Feel | This is a heavy, white moisturizer. |
| Application | Applying it is very easy and fast. |
| Drying Time | It never dried, it stayed sticky on my skin. |
| Smell | Has a heavy, floral perfume scent. |
| Immediate Results | Just sticky skin |
| Long Term Results | No positive results, had acne breakouts. |
| Ingredients | Ionized Mineral Water, Olive Squalene |
| Guarantee | Nope, no guarantee |
| Price | It's $35.00 per jar. |
| Where To Buy | Click Here |