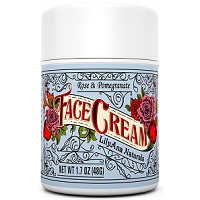 Product Name:  LilyAna Naturals Rose and Pomegranate Face Cream
Overall Rating: 

Face or Body:  Face
Day/Night:  Both
Size:  1.7 oz
Price:  $18.99
Cost Per Ounce:  $11.17
Where to Buy:  Click Here
# of Ingredients:  24
Notable Ingredients:  Rose Distillate, Aloe Vera Juice, Avocado Oil, Coenzyme Q10, Phenoxyethanol
Overall Opinion:
LilyAna Face Cream was an interesting product.
It has thousands of reviews online and is reasonably priced, so I was excited to try it out.
First, I noticed the packaging is pretty unique.  The bottle with the pump works great and dispenses a pretty large amount with just one pump, which I had to get used to.
I first noticed the really strong smell of the rose distillate, which I thought was kind of overpowering and I don't love that smell.
It is a nice lightweight cream, which I prefer when using a face cream.  I noticed it soaked in pretty fast too – less than 5 minutes.
It doesn't leave any bad residue or oily film after soaking in, which is great.  But I could still smell the rose on my face, which was still pretty strong even after waiting a while.
After it soaked in, my face felt pretty soft, but not really that moisturized. I could put my make-up over it without issues, almost like I didn't even put on a moisturizer.
Long term, I didn't see any great improvement in my skin or the lines on my forehead. I thought it was a fine product, but I didn't really love the results.
This is marketed as 90% organic, which is great. There are a couple of products that some people might have a problem with, like the phenoxyethanol, which is sometimes used in skin care products as a preservative.
Overall, I thought this face cream was just OK, nothing that special or amazing.
Detailed Opinion:
Texture/Feel
LilyAna Face Cream is a light, white cream.
I thought the consistency was just fine for a face cream; it wasn't too thin or thick.
Application
Applying this cream was super easy.
The packaging is a simple white pump, which is actually kind of different from a lot of the pumps that I have seen on the market.
It was really easy to use, but I learned that I didn't even need a full pump each time I used it. I just didn't need that must moisturizer on my face at one time.
Drying Time
This was actually one of the highlights of the product – it soaks in really fast!
I liked that it didn't leave any gross film or oily residue on my skin. It also made my routine in the morning super easy because I could apply my make up right after I used it without any issues.
It does say to use it around the eyes and neck as well, which I did at night before bed.
Smell
I actually really didn't care for the smell of this cream.
It is listed as rose and pomegranate, but I could only smell the rose – it was really strong and lingered after it soaked in.
Immediate Results
Right after using it, I thought my skin felt soft, but it wasn't really moisturizing.
I could tell I had used it because of the smell, but it soaked in and almost felt like I hadn't used a moisturizer at all.
For some people, this might actually be a good thing, but I was worried I wasn't using enough each time.
Even after adding a little bit more each time, it continued to soak in really fast and left my skin feeling just a little bit softer than before.
Longer Term Results
This is where this product fell off for me – I didn't really see any great results.
It didn't seem to smooth my skin or help with the fine lines that I am worried about.
I liked that I was getting so many of the vitamins that are in this – but it didn't seem to show even after several days of using it.
Ingredient Notes
The first ingredient listed in this face cream is the rose distillate, which you can definitely smell! Rose distillate has been shown to help lock in moisture and have antibacterial properties, which can help fight acne in some cases.
LilyAna Face Cream is said to be 90% organic, which is clear in the list of ingredients like the organic cranberry, orange, and lemon extracts.
It also contains a ton of vitamins such as Vitamin E, which is used to help block free radicals from the skin and keep it looking younger and healthier.
Another really interesting ingredient is the Coenzyme Q10, which I don't see in skin care lines as much. It is a natural enzyme in our body that acts as an antioxidant.  Many people take it for things like heart health. It has also been shown to work topically on the layers of our skin and will build up over time to help fight off skin damage and effects of aging.
The last one I thought I should mention is the preservative in this face cream, which is phenoxyethanol. While it has been shown to be an effective preservative, some people are concerned about possible carcinogenic properties. Whether it is harmful in such small quantities is what people tend to debate about.
Price
This face cream is on the lower/middle of the line range of pricing at $18.99 for 1.7 fl oz. I thought the price was fine, especially for the ingredients in this face cream. But 1.7 fl oz. is not that much product, so it depends on how much you want to pay for the amount of face cream you need every day.
Guarantee
Yes! LilyAna Face Cream has a 30-day money back guarantee if you are not completely satisfied with the results.
Where To Buy
To buy LilyAna Face Cream, click here.
LilyAna Naturals Rose and Pomegranate Face Cream: Summary
| | |
| --- | --- |
| Factor | LilyAna Naturals Rose and Pomegranate Face Cream |
| Overall Rating | |
| Texture/Feel | This is a lightweight, white cream. |
| Application | Applying this is really easy and clean with the pump. |
| Drying Time | This dries really fast! Less than a couple of minutes. |
| Smell | I really didn't like this smell. I found it to be too sweet. |
| Immediate Results | Right after using it, my skin felt soft but not that moisturized. |
| Long Term Results | Over time, my skin really didn't change much. No improvement of wrinkles. |
| Ingredients | Rose Distillate, Aloe Vera Juice, Coenzyme Q10 |
| Guarantee | Yes, buying this through Amazon gets you a 30-day money back guarantee. No questions asked. |
| Price | It's $11.17 per fluid ounce, which is a little pricey, but not terrible. |
| Where To Buy | Click Here |