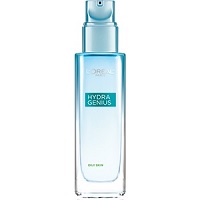 Product Name:  L'OREAL Paris Hydra Genius Daily Liquid Care for Normal/Oily Skin
Overall Rating: 

Face or Body:  Face
Day/Night:  Both
Size:  3.04 oz
Price:  $17.99
Cost Per Ounce:  $5.92
Where to Buy:  Click Here
# of Ingredients:  35
Notable Ingredients:  Aloe Water, Hyaluronic Acid, Dimethicone, Citric Acid, Sorbic Acid
Overall Opinion:
L'Oreal Paris Hydra Genius is pretty different from a lot of moisturizers out there in a lot of ways, but this liquid care formula has some great benefits.
I saw pretty good results overall after using this product for several days. I really thought it did an above-average job at keeping my skin hydrated.
This moisturizer is different because it is more of a gel than a lotion. I actually really liked how lightweight it was when I applied it every day.
I liked the overall smell, but it is really strong and smells like perfume.
It is marketed to keep your skin moisturized for 72 hours. I don't think it really worked that long, but it made my skin feel and look a little healthier over time.
Overall, I thought for the price of $17.99 it was a great product to try if you're looking for something that is different than most face moisturizers and is more middle-of-the-line in terms of pricing.
Detailed Opinion:
Texture/Feel
L'Oreal Paris Hydra Genius is a gel-like face moisturizer. It is really lightweight and spreads really easy.
Because of the gel base, it feels really moisturizing when it is first applied.
Application
This is a glass bottle with a pump applicator. I actually liked the glass bottle – it makes the product feel more high-end.
Each pump dispenses a pretty small amount, but a little bit goes a long way.  I needed about 2-3 pumps for each application.
Drying Time
Drying time was really interesting – I chose the one for normal/oily skin, so it has the dimethicone in it, which gives a matte finish once the product dries.
Because this is a gel base, it made my face look wet after I applied it until it completely soaked in, which took about 1 minute total.
Smell
This has some strong smelling perfume in it, so if you're looking for an unscented or lightly scented product, this is not a good choice.
I actually really liked the smell. It isn't too sweet, but it doesn't smell like anything specific.
Immediate Results
I actually really liked how my skin looked right after I applied this. The matte finish was nice and somehow my skin still felt and looked really hydrated.
This is great to use right before you put on makeup, because the matte finish acts as a light primer.
Longer Term Results
Long term I thought my skin looked more supple and overall a little healthier.
It didn't really do much for the fine lines that I worry about, which was a little disappointing.
Overall I liked the results, but it wasn't the best product I have ever used. I think it is a reasonably effective product for the price of $17.99.
Ingredient Notes
Since this is a L'Oreal Paris product, it is not going to be an all natural moisturizer. There are definitely ingredients that I did not recognize.
One ingredient that I have mentioned in this review is the dimethicone. Dimethicone is used in makeup and other products as a primer, which helps to blue pores and create the matte finish for people who are concerned about having oily skin. One possible downside is that it is known to suffocate pores and sometimes cause acne. I didn't really have an issue with this, but it is something to keep in mind.
This moisturizer has hyaluronic acid, which helps rejuvenate skin cells and keep skin looking younger and healthier.
This also contains aloe water, which really worked well to keep my skin hydrated. I thought it was an interesting addition to this moisturizer.
Price
L'Oreal Paris Hydra Genius is a glass bottle that contains 3.04 fl oz of moisturizer for $17.99, which comes out to $5.92 per oz.
This is not the cheapest price, but it is definitely cheaper than a lot of the high-end products out there for $30+.
Guarantee
L'Oreal does not sell their products directly. They only sell through third party stores, so the return policy depends on where you buy it. There is no guarantee overall.
Where To Buy
To buy L'Oreal Paris Hydra Genius, click here.
L'Oreal Paris Hydra Genius: Summary
| | |
| --- | --- |
| Factor | L'Oreal Paris Hydra Genius |
| Overall Rating | |
| Texture/Feel | This is a lightweight, gel-like moisturizer with a mild matte finish. |
| Application | Applying this is really easy with a pump applicator. |
| Drying Time | It dries really fast! Though it does take 1-2 minutes for the matte to really show. |
| Smell | This has a great smell, but it is also pretty strong. |
| Immediate Results | Leaves skin feeling really hydrated right after use. |
| Long Term Results | Over time, I thought my skin looked a little healthier, but I didn't notice a huge difference overall. |
| Ingredients | Dimethicone, Hyaluronic Acid, Aloe Water |
| Guarantee | No, the return policy will depend on where you purchase it. |
| Price | It's $17.99 for 3.04 oz. |
| Where To Buy | Click Here |