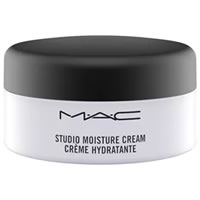 Product Name:  Mac Studio Moisture Cream
Overall Rating: 

Face or Body:  Face
Day/Night:  Both
Size:  1.7 oz
Price:  $33.00
Cost Per Ounce:  $19.41
Where to Buy:  Click Here
# of Ingredients:  35
Notable Ingredients:  Caffeine, Passion Fruit Extract, Green Tea Leaf Extract, Barley Extract
Overall Opinion:
I fell in love with this moisturizer after my first use.
It smells good, the results are great, and it's easy to apply.
Immediately after using this cream, my skin looks brighter and feels so soft.  I had no trouble applying my makeup on top of it; I think it actually helped my makeup go on smoother than normal.
Long term, my skin looked younger and I had less acne breakouts.  I didn't notice any additional oiliness to my skin, which is a huge plus for me.  I think Mac Studio Moisture Cream will work great for most skin types, unless you're extremely dry (think chapped).
The price is a little hefty, but for the results, I'd gladly pay it again.
To top it off, Mac has a great money back guarantee through their website.
Overall, I'm very happy with this moisturizer so I gave it 4.5 out of 5 stars.
Detailed Opinion:
Texture/Feel
This is a very fluffy, white cream. The first thing I noticed about it is how light and airy the product looks in the jar.
The cream is very smooth and silky to the touch.
Application
Mac Studio Moisture Cream comes in a jar.  When I applied, I'd dip my finger in and take about the size of a quarter…that covered by entire face and neck.
Rubbing it in is so easy; it doesn't take long at all.  Some moisturizers sit on top of your skin and take a lot of elbow grease to blend in…this isn't one of them.  It only took me about 30 seconds to apply all over, and there was no white residue.
The directions say you can apply both morning and night.  I used it both morning and night, and found it works great in both instances.  It's lightweight enough to wear under your makeup, and hydrating enough to use as a night cream.
Drying Time
Once I applied this moisturizer to my face and neck, it dried in less than 2 minutes.
That's a great drying time, and my skin felt so soft to boot!
I'm glad this one dries so quickly; it makes it easy for me to apply makeup on top of it.
Smell
Mac Studio Moisture Cream has a really light scent.  It smells a little like cucumber to me, and the smell is very soothing.
I think this is one of the best smelling moisturizers out there; I couldn't get enough of the smell.  It almost smells a little botanical, which could come from the plant and fruit extracts in it.
Immediate Results
The next morning my skin looked visibly brighter and smoother.  I don't know how this one works so fast, but I literally looked forward to waking up in the morning just to look at my skin.
My face also felt really soft immediately after applying this moisture cream.
Longer Term Results
Longer term I noticed this cream helped clear my acne, and also made my skin look younger. My makeup went on so smooth over this cream, and in turn my face felt and looked younger and more vibrant than it had in a long time.
I noticed some of my red acne scars started to fade, my fine lines were less noticeable, and my skin was never dry while using it.
Now, for those of you who need a SUPER hydrating cream, this one may not be thick enough. But I think for most of you out there this one will work wonders.
I have oily skin, and this cream didn't cause any excessive greasiness like a lot of moisturizers out there. Overall, I'm very pleased with the results of Mac Studio Moisture Cream.
Ingredient Notes
Mac Studio Moisture Cream has some really cool ingredients in it.
It has caffeine in it, which seems like a weird ingredient to be included in skincare.  But caffeine has been showing to provide antioxidant properties when applied to your skin; it's even said to help the appearance of cellulite.
It also has Passion Fruit Extract, which is packed with both Vitamin C and Vitamin A.  These vitamins can help smooth wrinkles and also contain antioxidants. This is a great ingredient for anti-aging benefits.
Green tea extract is another ingredient that's known for its anti-aging effect.  It has polyphenols in it, which help fight off free radicals and provide soothing effects. Green tea has show to be promising for reversing sun damage, that's probably why my skin looked noticeable brighter while using this cream.
This lotion is just packed with antioxidants, and Barley Extract is no exception when it comes to this.  This ingredient also has antioxidants in it, and has been shown to help the appearance and feel of skin.
I love these cutting edge ingredients included in this moisture cream!
Price
Mac Studio Moisture Cream is $33.00 for a 1.7-ounce jar.  That's almost $20 an ounce, which isn't cheap.
Guarantee
Yes, they have a great money back guarantee through their website.  They even pay for return shipping, which is awesome.  I couldn't find a time limit on the guarantee, so I'm guessing it's indefinitely.
Where To Buy
To buy Mac Studio Moisture Cream, click here.
Mac Studio Moisture Cream: Summary
| | |
| --- | --- |
| Factor | Mac Studio Moisture Cream |
| Overall Rating | |
| Texture/Feel | It's a very soft, fluffy, white cream. |
| Application | Easy to apply, rub on face and neck morning and night. |
| Drying Time | Dries in under 2 minutes. |
| Smell | Smells SO good, like cucumber or botanicals. |
| Immediate Results | My skin looked brighter immediately. |
| Long Term Results | My acne improved; I saw anti-aging benefits. |
| Ingredients | Caffeine, Passion Fruit Extract, Green Tea Leaf Extract, Barley Extract |
| Guarantee | Yes, they have a great guarantee. |
| Price | It's $19.41 per ounce, not cheap. |
| Where To Buy | Click Here |