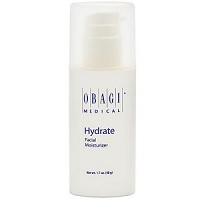 Product Name:  Obagi Medical Hydrate Facial Moisturizer
Overall Rating: 

Face or Body:  Face
Day/Night:  Both
Size:  1.7 oz
Price:  $50.00
Cost Per Ounce:  $29.41
Where to Buy:  Click Here
# of Ingredients:  30
Notable Ingredients:  Shea Butter, Avocado Oil, Mango Seed Butter, Soybean
Overall Opinion:
Obagi Medical Hydrate Facial Moisturizer has been around for a long time and is said to be a great product, so I was excited to try this out.
It is a line that is generally prescribed by physicians for people with damaged and sensitive skin, but it can be found at a bunch of different stores online as well.
First, I have always like Obagi's packaging  – very clean looking and easy to use.
This is a white/yellow cream, which is nice and light in texture and is easy to dispense.
This doesn't have a smell – I really liked how lightweight the texture is.
It didn't take much to cover my face and neck and it didn't take too long to soak in, which I thought was great.
Overall, I can really see why people like this moisturizer. It really made my skin feel soft and I noticed a little bit of improvement in my overall complexion as time went on.
One of the things I didn't like about it was that sometimes it left a little bit of a waxy residue on my skin. I also didn't really see any improvement in the fine lines or wrinkles, but I really thought it did a great job at moisturizing.
This is a product that definitely works – but it doesn't give you that refreshing, pampered feeling of using something high-end.
Detailed Opinion:
Texture/Feel
Obagi Hydrate Facial Moisturizer is a lightweight face lotion that is white/light yellow in color.
It is definitely not too thin – it really felt like it was doing the job.
Application
Applying this moisturizer was so easy – the pump was really simple to use and dispensed enough of the product to cover my face in just one pump.
I didn't really have to rub in the lotion too much because it is so lightweight.
Drying Time
Obagi hydrate cream soaks in really fast.
I could still tell I put moisturizer on after I applied it, but it seemed to really work its way into my skin quickly, which I liked.
Smell
This facial moisturizer is unscented, which I know a lot of people are always looking for in their skincare products.
Personally, I really like having something refreshing to put on in the morning, so it was a little disappointing for me.
Immediate Results
After the lotion soaked in, it left my skin feeling soft. It isn't oily at all, which is something I worry about in face lotions.
One of the things I didn't like was that it left kind of a waxy feeling on my cheeks right after I applied it, but even with the waxiness I didn't have a problem putting my makeup over it or anything.
Overall, I thought my skin felt really soft and hydrated, which is what I am looking for in a daily moisturizer.
Longer Term Results
Longer term, I noticed that my skin looked and felt a little firmer, which I really liked.
My skin definitely looked healthier as time went on, even if I was out all day in the hot sun, I still noticed the difference at the end of the day.
It didn't do much for the fine lines that I am concerned about, but it also didn't cause a reaction or make me break out or anything, so that was great!
Overall, while I did think this was a good product and it works really well, I just wasn't that excited about it or in love with it.
Ingredient Notes
Obagi is specifically tailored for people who have sensitive skin so the ingredients are nice and gentle.
The Obagi skincare line that is prescribed through physicians and skin care specialists all contains 4% hydroquinone in addition to the ingredients that are in the regular lotion sold in stores. Hydroquinone is a phenol that helps lighten dark spots, freckles, and other color damage caused over time.
The regular moisturizer contains mango seed butter, which has those essential fatty acids that are really moisturizing and good for our skin.  Mango seed butter also has antibacterial properties, so this helps moisturize without causing breakouts.
Soybean contains phytoestrogens, which help skin rejuvenate over time.  It also has Vitamin E, which also helps skin cells replenish and is said to help with discoloration and wrinkles.
Overall, the ingredients make for a product that is great for sensitive skin and I thought did a great job at hydrating.
Price
Obagi is recommended to be used with the other skincare products in their line, which is all pretty expensive compared to the regular products you see in a drugstore.
This moisturizer is $50.0 for 1.7 oz, which comes out to $29.41 per oz! It is definitely on the expensive side for face lotion, but for a lot of people who are struggling with skin issues, it is worth it.
Guarantee
This is tricky, because there is no guarantee for Obagi products that are sold through online stores – so the return policy depends on the store you buy it through.
Where To Buy
To buy Obagi Medical Hydrate Facial Moisturizer, click here.
Obagi Medical Hydrate Facial Moisturizer: Summary
| | |
| --- | --- |
| Factor | Obagi Medical Hydrate Facial Moisturizer |
| Overall Rating | |
| Texture/Feel | This is a lightweight face moisturizer that is white/light yellow in color. |
| Application | Applying it is easy – the pump works really well. |
| Drying Time | This moisturizer soaks in really fast! |
| Smell | Unscented |
| Immediate Results | This made my skin feel really soft just after use – sometimes with a little bit of a waxy residue. |
| Long Term Results | This definitely helped moisturize my dry skin and made it seem overall healthier, but it didn't improve my fine lines. |
| Ingredients | Shea Butter, Mango Seed Butter, Avocado Oil |
| Guarantee | There is no guarantee unless a physician or "skin care professional" prescribes Obagi products. The return policy is then based on the third party seller like Amazon or Walmart. |
| Price | This is $50 for the 1.7 fl oz bottle. |
| Where To Buy | Click Here |