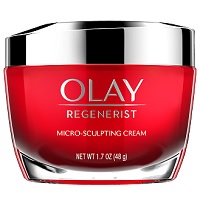 Product Name:  Olay Regenerist Micro-Sculpting Cream
Overall Rating: 

Face or Body:  Face
Day/Night:  Both
Size:  1.7 oz
Price:  $26.99
Cost Per Ounce:  $15.88
Where to Buy:  Click Here
# of Ingredients:  40
Notable Ingredients:  Vitamin B3, Green Tea, Parabens
Overall Opinion:
Olay Regenerist Micro-Sculpting Cream is a very popular cream, so I expected there to be some things I like about it.  Unfortunately, after using it for a while, I don't like anything about it so I gave it 1 out of 5 stars.
To start, it's pretty pricey for a drugstore moisturizer.  I'll gladly pay $27.00 for a high quality cream, but this one is overpriced for what you get.
The smell isn't good either; it stinks like chemicals!  I don't know how else to describe it, other than it's not pleasant.
Once I applied it to my face and neck, it never fully dried. My skin felt tacky and sticky for a good 12 hours, which was really annoying.  It's one of my pet peeves when moisturizers feel sticky on my skin.  My skin also looked and felt greasy.
As far as results go, I didn't see any positive ones.  This cream broke my skin out in cystic acne, and didn't improve my wrinkles or dry spots at all.
To top it off, Olay Regenerist Moisturizer has parabens in it, which I try to avoid in my skincare.
So as you can tell, I'm very let down by this moisturizer.
Detailed Opinion:
Texture/Feel
This is a pretty thick, white cream.
Just based on looks, it resembles a lot of moisturizers on the market today.
It has a soft, smooth feel to it.
Application
Olay Regenerist Micro-Sculpting Cream is very easy to apply.
I used about a nickel size for my entire face and neck, and it blended in very easily.  There was no soaping effect while applying it, which is always nice.
Drying Time
The drying time of this cream really sucks; it actually never truly dried.
When I'd apply it at night, I could feel the stickiness of it on my face all night.  This made it virtually impossible to wear during the daytime.
I really hated how tacky it felt on my skin, and how it never fully dried.  It also made my skin feel a little greasy.
Smell
The smell is awful.  It smells very strongly of chemicals.  I definitely didn't like applying this on my face just based on the smell.  I can't place my finger on what the exact smell is, but it's definitely not a light, fresh scent.
Scent is very important to me in my moisturizers, as I know it is to a lot of you out there.  I like my moisturizers to have a refreshing scent, something that is nice and spa-like.  This one definitely missed the mark.
Immediate Results
Well, immediately after applying this cream and throughout the night, my skin felt sticky.
By the next morning, I had developed a nice big cystic pimple on my forehead.   So my first impressions of this moisturizer weren't very good.
Longer Term Results
I wish I could say my results got better the longer I used this cream, but unfortunately that's not the case.
The longer I used this cream, the more it destroyed my skin.  I had acne, greasy skin, and a dry flaky chin.  I felt like I needed to go find a good moisturizer to use just to reverse the effects of this one.
I unfortunately didn't see any improvements in my skin, wrinkles, or skin tone while using this moisturizer.
Ingredient Notes
Now, Olay Regenerist has some good ingredients in it, but it also has some bad ones.
As for the good, it has Vitamin B3, Pro Vitamin B5, Vitamin E, Amino Peptide, and Green Tea.
Vitamin B3 is said to help the appearance of wrinkles, uneven skin, and even acne.  This is a great ingredient that I love seeing in my skincare.
Green Tea is another great skincare ingredient.  Green Tea has antioxidants in it, which help protect your skin.  It also is known to have anti-inflammatory effects.
Now, Olay Regenerist Micro-Sculpting Cream also has some ingredients that I'm disappointed to see included.
It has quite a few parabens, which are a known no-no when it comes to skincare.  Nowadays, there's just no reason to include parabens in products.  I'm actually quite shocked to see Olay put parabens in here.
Price
A 1.7 ounce jar of Olay Regenerist Moisturizer sells for $27.00, which is way too expensive for this product.  I'll gladly pay that price for a decent moisturizer, but this one isn't very good.
Not to mention, for a drugstore moisturizer that's a pretty high price tag.
Guarantee
Sadly, I couldn't find any guarantee through their website.  But this cream is widely available, so I'm sure other retailers have guarantees.
Where To Buy
To buy Olay Regenerist Micro-Sculpting Cream, click here.
Olay Regenerist Micro-Sculpting Cream: Summary
| | |
| --- | --- |
| Factor | Olay Regenerist Micro-Sculpting Cream |
| Overall Rating | |
| Texture/Feel | This is a white cream that feels smooth to touch. |
| Application | Applying is easy, I used about a nickel size for face and neck. |
| Drying Time | It never dried, it stayed tacky on my skin for about 12 hours. |
| Smell | Smells gross, like chemicals. |
| Immediate Results | I had a major acne breakout and tacky feeling skin. |
| Long Term Results | My skin didn't improve at all, it actually became worse. |
| Ingredients | Parabens, Vitamin B3, Green Tea |
| Guarantee | No, not through Olay that I could find. |
| Price | It's $27.00 per jar, very expensive for this cream. |
| Where To Buy | Click Here |