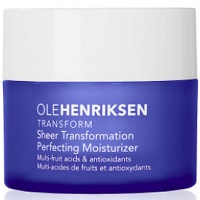 Product Name:  Ole Henriksen Sheer Transformation Perfecting Moisturizer
Overall Rating: 

Face or Body:  Face
Day/Night:  Both
Size:  1.7 oz
Price:  $38.00
Cost Per Ounce:  $22.35
Where to Buy:  Click Here
# of Ingredients:  38
Notable Ingredients:  Pea Extract, Licorice Root Extract, Sandalwood Extract
Overall Opinion:
When spending $38.00 on a moisturizer, I wanna be impressed.  I definitely wasn't let down with Ole Henriksen Sheer Transformation Moisturizer.
I like a lot of things about this moisturizer.
The texture is great; it's very lightweight and non-greasy.  It feels creamy and smooth.
It also gives me great results.  When I use it, my skin looks and feels great.
I noticed after long-term use my skin was hydrated, oil free, and youthful looking.  I think this moisturizer will be great for most skin tones.
It packs enough moisture for those with dry skin, but it's also light enough for those with acne prone skin (like myself).
Even though it has a very expensive price tag, this moisturizer is well worth it in my opinion.
So I gave it 4.5 out of 5 stars.
Detailed Opinion:
Texture/Feel
Ole Henriksen Sheer Transformation Moisturizer is a medium textured, white cream.  It's very smooth and slick feeling.
I wouldn't say this is a thin lotion, but it is lightweight once applied.  The texture is very creamy.
Application
This moisturizer is really easy to use.
Just apply both AM and PM to a clean face.  The white color makes it very clean to apply, and it blends into my skin quickly.
It takes less then a minute to apply.
The directions say you can use this both morning and night, and I liked using it at both times.  Sometimes a moisturizer is better suited for nighttime because it's heavier, well not this one.
I love wearing this one under my makeup.  It's a great daytime moisturizer, but it packs enough hydration to use as a night cream as well.
It's really the best of both worlds.
Drying Time
Once I applied and blended it into my skin, it dried in about 2 minutes, which isn't bad.  I was happy with how quickly it dries.
Once it dries, it leaves a light sheen on your skin, which I love.
Smell
This one has a very light smell.
It's hard to describe what it smells like exactly, maybe a little earthy and floral.  I usually am not a huge fan of floral smelling products, but this one is so light and it's combined with another scent, so it's not bad.
Immediate Results
Like I mentioned earlier, right after I applied this one, I noticed a very subtle sheen to my skin.  It looks like I'm glowing or something.
I really like this, it makes my skin look youthful and dewy.
I also love that this one feels super light on my skin; it's not heavy at all.
Longer Term Results
I noticed that this moisturizer really hydrated my skin and I didn't have any dryness while using it.
My skin looked youthful and had a glow to it that was very welcome.
I also didn't notice any acne breakouts; I actually believe this moisturizer helped control my acne.
My skin stayed matte and my makeup looked great when I'd apply on top of it.
I think this one will work great for a broad spectrum of skin types… everything from young, acne prone skin, to older, sensitive skin.
Ingredient Notes
This moisturizer has some interesting extracts in it.
The first extract I took note of is Pea Extract.  I don't see this one too often, but it's supposed to be great for your skin. Peas have enzymes in them that help prevent the breakdown of collagen.  So it's great for keeping your skin looking young.
This one also contains Licorice Root Extract.  This extract is great for sensitive and uneven skin.  It's known to help fade dark spots as well as certain skin conditions. I love this ingredient.
Sandalwood Extract is another great extract they include in here.  This ingredient is moisturizing and anti-inflammatory, which explains why my skin looked and felt so supple while using this cream.
Price
A jar of Ole Henriksen Sheer Transformation Moisturizer is $38.00.  That's $22.35 per ounce, which is very expensive.
But this moisturizer is well worth the pretty penny.
Guarantee
Yes, Ole Henriksen has a 60-day money back guarantee, which is amazing!
Where To Buy
To buy Ole Henriksen Sheer Transformation Mositurizer, click here.
Ole Henriksen Sheer Transformation Moisturizer: Summary
| | |
| --- | --- |
| Factor | Ole Henriksen Sheer Transformation Moisturizer |
| Overall Rating | |
| Texture/Feel | This is a lightweight lotion with a white, creamy texture. |
| Application | It's easy to apply, just apply to clean skin morning and night.. |
| Drying Time | It dried in under two minutes. |
| Smell | Smell is hard to describe, smells a little earthy and floral. |
| Immediate Results | My skin had a sheen to it and looked dewy. |
| Long Term Results | My skin was moisturized and looked youthful. |
| Ingredients | This one has some great extracts such as Pea Extract, Licorice Root Extract, and Sandalwood Extract. |
| Guarantee | Yes, they have a 60 day guarantee, which is amazing. |
| Price | It's $38 per jar; it's very expensive. |
| Where To Buy | Click Here |