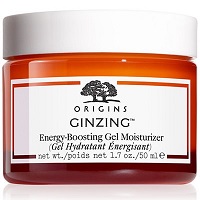 Product Name:  Origins Ginzing Moisturizer
Overall Rating: 

Face or Body:  Face
Day/Night:  Both
Size:  1.7 oz
Price:  $28.50
Cost Per Ounce:  $18.95
Where to Buy:  Click Here
# of Ingredients:  46
Notable Ingredients:  Panax Ginseng, Caffeine, Essential Oils
Overall Opinion:
Origins Ginzing Moisturizer is a great product that hydrates and lives up to the hype.  I gave it 4 out of 5 stars.
I like most things about this moisturizer.  For starters, it's different in that it's a gel-moisturizer.  So that makes it a slicker feeling product than most, and makes it really easy to apply to your skin.
It smells great; it has a light and refreshing citrus scent.  I think most people will love the smell of this product.
I was also really impressed by how it made my skin look and feel.  My skin was hydrated and smooth, without extra greasiness.
The one downside is that my forehead broke out in whiteheads after using it for a while.
But overall, I'd recommend this product for those of you who are looking for a little extra moisture in your skin care routine.
Detailed Opinion:
Texture/Feel
This moisturizer is in the form of a thick, white gel-cream.  Although when you apply it, it doesn't feel super thick.  They call it a "gel moisturizer" and it has a very slick feel to it due to the gel-like texture. To the naked eye, it looks more like a cream, however.
Application
Origins Ginzing Moisturizer is super easy to apply.  The gel texture makes it glide over your skin; you don't need to do much blending.  It goes on your skin clear, not white, so you don't need to worry about a white cast on your skin.
You can apply this one both AM and PM, which is great.  It doesn't contain SPF though, so take that into account for the daytime.
Drying Time
It takes about 3 minutes to dry once applied to my skin.
That's not a bad drying time, especially at night time.  But if you apply in the AM, you'll need to wait a few minutes before applying makeup on top of it.
Smell
Origins Ginzing Moisturizer smells like orange.  It's very fresh smelling.  I really enjoy the scent of this one; the citrus scent is so refreshing!
Immediate Results
This is called an "energy boosting" moisturizer, but no, I didn't feel instantly energized by putting this on.  If anything, maybe the smell helped wake me up a little in the mornings though.
I still enjoyed the immediate results, however.  The next morning after I applied it, my skin felt really smooth, and I didn't notice any additional greasiness (which is common with my skin).  I also noticed my skin felt really moisturized; this gel did a really good job of getting rid of my flaky spots.
Longer Term Results
When I started using this moisturizer, I had really dry skin on my chin and nose due to acne treatment I was using.  After using this product for a while, my dry skin completely went away.  My skin felt so hydrated while using this moisturizer, without feeling overly hydrated or oily.  Now, for those of you with chronically dry skin, this may not provide enough moisture for you.  But it's perfect for those with some dry areas, who are looking for some extra moisture.
I also noticed my skin looked brighter and a little more taut after using this Ginzing moisturizer for a while.  I was really impressed with the results.
The only downside is after continued use, this one gave me some whiteheads on my forehead.  So I discontinued use for a few days and they went away.
Ingredient Notes
This one has some interesting ingredients that I haven't seen in moisturizers before.
Panax Ginseng is the first notable ingredient.  Ginseng is said to help revitalize your skin, giving it a brighter appearance.  It can also help with the appearance of fine lines and wrinkles.  I think this ingredient is what gave me brighter skin.
This moisturizer also contains caffeine.  I haven't seen caffeine in many moisturizers before, so this ingredient intrigued me.  Caffeine is said to help with the appearance of cellulite, and can help with inflammation.  Caffeine can help restrict blood vessels, thus leading to tighter looking skin.
Origins Ginzing Moisturizer also has several essential oils in it.  Now, I know you've heard essential oils can be good to disperse around the house, but I bet you didn't know they can also have great benefits for your skin as well.
Lemon Peel Oil, Grapefruit Peel Oil, Spearmint Leaf Oil, and Orange Peel Oil are the 4 essential oils that are included in here.  That explains where the fresh, citrus scent comes from!
Price
A 1.7-ounce jar of this cream sells for $28.50.  That's a bit pricier than your average moisturizer, but not as outrageous as some out there.
Guarantee
Yes, they have a money back guarantee, although they don't say how long it lasts for.  I'm just happy to see they stand behind their product and give you a chance to try it before deciding if you like it.
Where To Buy
To buy Origins Ginzing Moisturizer, click here.
Origins Ginzing Moisturizer: Summary
| | |
| --- | --- |
| Factor | Origins Ginzing Moisturizer |
| Overall Rating | |
| Texture/Feel | This is a gel-moisturizer with a slick texture. |
| Application | Applying it is simple, apply AM and PM. |
| Drying Time | It took about 3 minutes to dry. |
| Smell | Smells like citrus (orange), very fresh. |
| Immediate Results | My skin felt smooth and soft. |
| Long Term Results | My skin was hydrated, brighter, and tighter.  Had a few white heads. |
| Ingredients | Panax Ginseng, Caffeine, Essential Oils |
| Guarantee | Yes, they offer a guarantee. |
| Price | It's $28.50 per jar. |
| Where To Buy | Click Here |