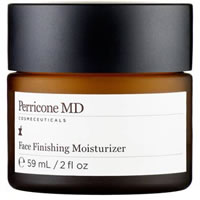 Product Name:  Perricone MD Face Finishing Moisturizer
Overall Rating: 

Face or Body:  Face
Day/Night:  Both
Size:  2 oz
Price:  $69.00
Cost Per Ounce:  $34.50
Where to Buy:  Click Here
# of Ingredients:  35
Notable Ingredients:  Hydrolyzed Whey Protein, Hydrolyzed Wheat Starch, Aleurites Moluccana Seed Oil
Overall Opinion:
This moisturizer has some good things going for it, but it also has a few drawbacks.
I think it's better than your average moisturizer, but not the best, so I gave it 3 out of 5 stars.
First off, I really love the results I got by using Perricone MD Face Finishing Moisturizer.  Even after the first application, I noticed my skin was brighter and "dewier".  And my results just got better the longer I used it.  My skin was hydrated, and even started to feel tighter. So I was really happy with my skin while using this product.
It's also easy to use, and the drying time isn't bad.  It dries in 3 minutes, making it easy to use in the morning or evening.
Now for the downsides, the main one being the scent.  I really couldn't stand how it smells.  It has a very strong perfumey/rose scent that's very overwhelming.  It reminded me of a bad perfume or something.
The price point is also very high, it's $69 per jar!  Talk about a pretty penny.
The Perricone MD guarantee is also weak.  You can't return the product if it's been heavily used, which doesn't really give you a good chance to try it.
Perricone MD has some really great, high end products, and this one is overall pretty good.
Detailed Opinion:
Texture/Feel
This moisturizer is a creamy, off white lotion.  It's very soft and velvety to the touch.
This Face Finishing Moisturizer is on the thicker side, but at least it doesn't feel too thick on your skin.
Application
Like many moisturizers out there, this one comes in a jar.  But they also include a little plastic spoon you can use to get the moisturizer out of the jar.  I think that's a nice touch and is a bit more sanitary than just using your fingers.
The directions say to apply this one morning and night. I tried using this both in the AM and PM, and I liked it both ways.  However, I think I prefer using it at night, just because the smell is so strong.  (I was kind of embarrassed to wear it during the day.)
If you'd like to, you can apply this one under your makeup.  It blends into my skin very easily and doesn't leave any white cast.
Drying Time
Once I applied Perricone MD Face Finishing Moisturizer to my face, it dried in abut 3 minutes.  That's a pretty good drying time, but if you're applying your makeup over top it, you'll need to wait a few minutes.
Smell
This moisturizer has a very strong smell.
It smells like floral and roses.  I have to tell you, I'm not a fan of the smell at all.  It resembles old lady perfume, and is very overwhelming.  It gave me a headache some days.
Immediate Results
My skin felt dewy and soft after I used it.   It's hard to explain, but my skin felt like it had a velvet finish.  It also looked to be glowing a little.
Longer Term Results
I loved the way my skin looked after using this moisturizer for a while.
It continued to feel soft and hydrated, but on top of that, it looked brighter.  It didn't make my acne any worse, and it provided hydration without any greasiness.  The overall texture of my skin looked better, my pores were even smaller.
My skin also started to look and feel a little tighter after using it for a while.  The results are just great.
Ingredient Notes
Now, this one has some odd ingredients in it, both good and bad.
To start, I want to say that I don't think this moisturizer is vegan or gluten free.  I can't be sure, but it has Hydrolyzed Whey Protein and Hydrolyzed Wheat Starch.  After researching a bit, I found that Wheat Starch has gluten, and obviously Whey Protein is made from milk.  I personally am fine having these ingredients in here because I don't have any allergies or food restraints.  But for those of you who do, it's just something to take into account.
Another ingredient in Perricone MD Face Finishing Moisturizer is Aleurites Molucca Seed Oil.  This ingredient comes from the nuts of the Kukui nut tree. There hasn't been a ton of research done on this ingredient, but it's supposed to be good for its Antimicrobial properties and healing effects.
This moisturizer also included fragrance in it, which I think it could do without.  The fragrance isn't a good smell; it smells awful in my opinion.
Price
This moisturizer is very expensive.  It's $69 for a 2-ounce jar!  That's definitely one of the most expensive moisturizers on the market.
Guarantee
No.  They say they have a 30-day money back guarantee, but if you read into it, you cannot return heavily used products.  To me, that's not a guarantee.  What if I try the product a few weeks and then it breaks me out? This isn't much of a guarantee in my opinion.
Where To Buy
To buy Perricone MD Face Finishing Moisturizer, click here.
Perricone MD Face Finishing Moisturizer: Summary
| | |
| --- | --- |
| Factor | Perricone MD Face Finishing Moisturizer |
| Overall Rating | |
| Texture/Feel | This is a thick cream with an off white color. |
| Application | Applying is easy, and it comes with a scoop to get it out of the jar. |
| Drying Time | It dries in about 3 minutes once applied. |
| Smell | Smells so strongly of roses, I don't like the smell. |
| Immediate Results | My skin felt velvety and dewy. |
| Long Term Results | I saw great results long term… tighter and brighter skin. |
| Ingredients | Hydrolyzed Whey Protein, Hydrolyzed Wheat Starch, Aleurites Moluccana Seed Oil |
| Guarantee | No |
| Price | It's $69 per jar, which is super expensive. |
| Where To Buy | Click Here |