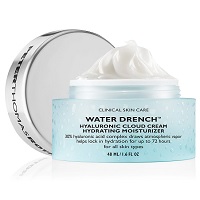 Product Name:  Peter Thomas Roth Water Drench Moisturizer
Overall Rating: 

Face or Body:  Face
Day/Night:  Both
Size:  1.6 oz
Price:  $52.00
Cost Per Ounce:  $32.50
Where to Buy:  Click Here
# of Ingredients:  45
Notable Ingredients:  Hydrolyzed Silk, Ceramides, Hyaluronic Acid
Overall Opinion:
Peter Thomas Roth Water Drench Moisturizer makes a lot of promises as far as results go, and I have to say, it doesn't disappoint.
This cloud cream is packed with some great, hydrating ingredients, which explains the great results I saw by using it.
My skin became SO soft and hydrated, and even looked younger.  You can't beat that!
I found it worked great when I'd use it both morning and night.  It's light enough to wear during the day under my makeup, and works great as a nighttime moisturizer as well.  I didn't notice any increased oil production while using it, which is good news for those of you with oily skin (like myself).
It doesn't have a scent to it, which I enjoyed.  At least I didn't need to worry about an overpowering scent giving me a headache.
The one thing that sucks is the price.  This moisturizer is very expensive; I wish it didn't cost so much.  But I do have to say, the results are worth the hefty price tag.
So overall, I'm really impressed with this moisturizer, and I give it 4.5 out of 5 stars.
Detailed Opinion:
Texture/Feel
This moisturizer is a milky white color, and has a slick, soft feeling.  They call it a "cloud cream" and it literally looks like a cloud.
It's very lightweight and a little wet feeling.
Application
Peter Thomas Roth Water Drench Moisturizer is really great to apply.  It kind of just glides over your skin, which makes putting it on very easy.
It looks a little wet on my skin as soon as I apply it, but that look quickly fades away after a few seconds (once it absorbs into my skin).
The product itself is white, but it goes on to my skin with no color at all. So you don't need to worry about it leaving a white cast (like sunscreen does).
The lightweight texture makes it really easy to blend in, and it only took me about 30 seconds to apply on my face and neck.
Drying Time
The Water Drench cream took about a minute and a half to dry once I applied to my skin.  That's really good as far as drying times go.
Once it dries, it feels SO soft on your skin.  My skin literally never felt so soft.   It felt like velvet or silk.
Smell
This one doesn't have a scent at all.
It's fragrance free, and I really didn't smell much of anything.  So it's a good option for those who are sensitive to fragrance.
Immediate Results
After applying it the first night, I woke up and my skin felt very soft.  And it was ever so slight, but my skin also felt a little tighter.
I also noticed how good it made my makeup look when I applied it underneath it.  I stayed matte for a long time, so it did a good job keeping oil at bay.
I couldn't wait to see what the next few weeks of application brought, because I was really impressed in the immediate results.
Longer Term Results
I'm even more impressed with the long-term results of this moisturizer.
After using this cream for a while, my skin looked amazing.  I was shocked how it tightened my skin a little.  I've never experienced that effect from a moisturizer before.
My skin looked youthful, hydrated, and plump.
I wouldn't say it helped my acne, but it definitely didn't make it worse.  It kind of just stayed the same.
But it did help lessen my oil production a little bit.
I think this moisturizer is good for those with only slightly dry skin, as well as those with chronically dry skin.  It just does a really great job hydrating.
Ingredient Notes
This one is packed with good ingredients.
It has 30% hyaluronic acid in it, which is a high amount, hence why it does wonders for my skin.  Hyaluronic acid is known for helping skin look for youthful. It can even help protect your skin from damaging elements.  Hyaluronic Acid is said to retain up to 1,000 times its weight in water, which is awesome!
This cloud cream also has a few different ceramides in it to help lock in moisture.
Another interesting ingredient is Hydrolyzed Silk.  Silk is packed with amino acids, and those can be beneficial when included in skincare.
Another thing I love about this moisturizer is its oil free, paraben free, and fragrance free.
Price
Peter Thomas Roth Water Drench Moisturizer is $32.50 per ounce, which is very expensive.
But if you have the money, this cream is great and you're sure to see great results like I did.
Guarantee
Yes, Peter Thomas Roth has a 30 day money back guarantee.
You need to email them to get an RMA before returning though, which can be a bit of a pain.
But I'm really happy to see they have a guarantee!
Where To Buy
To buy Peter Thomas Roth Water Drench Moisturizer, click here.
Peter Thomas Roth Water Drench Moisturizer: Summary
| | |
| --- | --- |
| Factor | Peter Thomas Roth Water Drench Moisturizer |
| Overall Rating | |
| Texture/Feel | This is a lightweight cream, with a milky white color. |
| Application | Applying is very easy, it glides over skin. |
| Drying Time | It dried in under 2 minutes. |
| Smell | Doesn't have any scent at all. |
| Immediate Results | My skin felt SO soft and felt tighter. |
| Long Term Results | Over time, my skin looked great.  It was hydrated, soft, and more youthful looking. |
| Ingredients | Hydrolyzed Silk, Ceramides, Hyaluronic Acid |
| Guarantee | Yes, Peter Thomas Roth has a 30 day money back guarantee. |
| Price | It's extremely expensive at $52 per jar. |
| Where To Buy | Click Here |