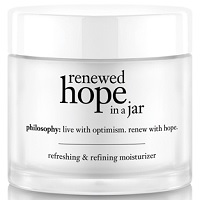 Product Name:  Philosophy Renewed Hope In A Jar
Overall Rating: 

Face or Body:  Face
Day/Night:  Both
Size:  2 oz
Price:  $39.00
Cost Per Ounce:  $19.50
Where to Buy:  Click Here
# of Ingredients:  44
Notable Ingredients:  Glycolic Acid, Citric Acid, Mandelic Acid, BHT
Overall Opinion:
After trying out Philosophy Renewed Hope In A Jar, I'm happy to say I'm pretty pleased with it.
I really like how easy it is to use, how quickly it dries, how it smells, and the results it produces.  Not to mention, they have a great guarantee through their website.
After using it for a while, I noticed my skin looked more youthful, and I didn't notice any new breakouts, which is always a plus for me.  My skin seemed more hydrated too.  The one drawback I have about this product is, I don't know how much moisturize it will give to those of you with very dry skin.  My skin doesn't need a TON of moisture to begin with, because I have oily skin.  But those of you who don't may need a little more hydration than this one gives.
The price is also a bit on the high side, but I think it's a great value for this moisturizing cream.
So overall, I give this moisturizer 4 out of 5 stars.
Detailed Opinion:
Texture/Feel
This moisturizing cream looks like most others out there.  It has a medium texture, not too thick and not too thin, and it's white in color.
It has a very velvety feel to it, which I enjoy… it just feels SO soft.
Application
Philosophy Renewed Hope In A Jar is so easy to apply.
It glides over skin with no soaping effect.  It blends in quickly and evenly, so overall applying it took about 30 seconds.
I used this one twice a day, before my makeup and before bedtime.
Drying Time
Once on my skin, it took about 30 seconds to a minute to dry.
I'm very happy with how quickly this one dries; it makes it easy to apply makeup or other skincare on top of it.  It's not sticky either, when it dries it feels silky to the touch.
Smell
I really like the way this cream smells.  It has a very light, feminine, fresh scent that lasts a while once on your skin.  I love the way it smells; the only problem I have is I'm not sure if the scent is a natural fragrance or not.  It just says fragrance on the packaging, so I don't think it's natural.
But regardless, it smells great.
Immediate Results
After Philosophy Renewed Hope In A Jar dried on my skin, it felt so soft.  Like I mentioned above, it has a velvety finish.  I couldn't stop touching my skin!
Longer Term Results
I used this cream for a while and I noticed good long-term results as well.
I'm pleased to say it helped soften the lines around my eyes, and my skin looked younger.
I didn't experience anymore oil or breakouts than usual.
I noticed that it was great at hydrating my skin too.  But for those of you with really dry skin, this one may not be hydrating enough.  But it'll get the job done if you just need a mild moisturizer.
Overall, I'm really impressed with the results of this moisturizer.
Ingredient Notes
This Philosophy moisturizer has some interesting ingredients.
First off, it has three mild acids in it that I love.  It has Glycolic, Citrus, and Mandelic Acid.  All of these are great for anti aging and your skin in general.
Mandelic Acid encourages cell turnover, which makes it great for both anti aging and acne.
Glycolic Acid is really good at exfoliating and can even be used on the most sensitive of skin.
Citrus Acid is great for purification and can help prevent and heal clogged pores. It's also great at exfoliating!
Now, this moisturizer has a controversial ingredient in it called BHT. This is a preservative that scientists have mixed feelings about.  But a lot of them say it's harmful in animal studies and to steer clear of it in your skincare.
Price
This isn't the most affordable moisturizer out there, but it's also not the most expensive.  It's $39.00 for a 2 ounce bottle, which breaks down to $19.50 per ounce.  In my opinion, I think this one is worth the higher price point.
Guarantee
Yes, Philosophy has a 60 day guarantee through their website.  Keep in mind, your product must have been purchased through Philosophy and you're responsible for return shipping costs.
I love that they stand behind their products.
Where To Buy
To buy Philosophy Renewed Hop In A Jar, click here.
Philosophy Renewed Hop In A Jar: Summary
| | |
| --- | --- |
| Factor | Philosophy Renewed Hop In A Jar |
| Overall Rating | |
| Texture/Feel | This is a white moisturizer with an average texture. |
| Application | Applying is very easy, only takes about 30 seconds. |
| Drying Time | It dries in about a minute, which is great. |
| Smell | Smells really good, light and refreshing. |
| Immediate Results | My skin felt very smooth and soft. |
| Long Term Results | After some time, my skin looked younger and my fine lines softened. |
| Ingredients | Citrus Acid, Glycolic Acid, Mandelic Acid, BHT |
| Guarantee | Yes, Philosophy has a 60 day guarantee. |
| Price | It's $19.50 per ounce, which is a little pricey. |
| Where To Buy | Click Here |