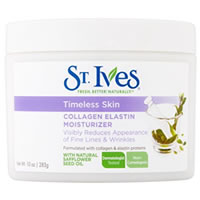 Product Name:  St. Ives Timeless Skin
Overall Rating: 

Face or Body:  Face
Day/Night:  Both
Size:  10 oz
Price:  $5.44
Cost Per Ounce:  $0.54
Where to Buy:  Click Here
# of Ingredients:  17
Notable Ingredients:  Mineral Oil, Hydrolyzed Collagen, Carthamus Tinctorius (Safflower) Seed Oil
Overall Opinion:
I was a little skeptical trying out this drugstore moisturizer, but after testing it out, I'm pleasantly surprised.  I gave it 4 out of 5 stars due to how it made my skin look and feel.
This moisturizer is definitely better than I expected it to be, especially for a price tag of $5.44.
It smells pretty good, light and refreshing.  Although, I smelled a hint of sunscreen in it too (which is weird, because it doesn't contain any).
It's also easy to apply; it blended into my skin very nicely.  You can use it both morning and night.  However, I preferred to use it once daily or else it made my skin greasy.
St. Ives Timeless Skin makes my skin SO soft, we're talking like silk.  I love how my face feels when I use this moisturizer.  It also deeply hydrated my skin and even helped fade my smile lines.
So overall, I think this moisturizer is better than average, and I gave it 4 out of 5 stars.
Detailed Opinion:
Texture/Feel
This is a pretty lightweight, white colored moisturizer.  It's creamy, and while it looks thick in the tub, it goes on your skin as a pretty light feeling cream. It almost looks like a whipped moisturizer in the jar.
Application
I found this moisturizer very easy to apply. The only thing I don't like is that it comes in a jar, which seems unsanitary to me.  But most moisturizers come in jars, so I'll deal with it, haha.
I used about a quarter size for my entire face and neck, and just spread it on like you do any moisturizer.
You can use this moisturizer both morning and night, but I preferred to use it just once daily or my skin became a little oily.
I used it under my makeup and my makeup turned out looking great all day!
Drying Time
Once applied to my skin, St. Ives Timeless Skin takes about 1 minute to dry.  That's not long at all, I'm very happy with the drying time.
Smell
Overall, this one smells pretty good.
It has a light, refreshing scent that I think most people will enjoy.  Although it has a tiny bit of a sunscreen scent to it as well, which is weird because it doesn't contain sunscreen in it.
Immediate Results
Right after using it, my face felt really soft.  My skin felt like I'd just gotten a microdermabrasion; it was that soft.
Longer Term Results
My skin looked and felt great after using St. Ives Timless Skin for a while.  This moisturizer deeply hydrates and makes my face feel really silky.
It helped brighten my skin a little, but didn't do much as far as helping my acne breakouts.
I like using it once per day, either in the morning or at night. I noticed when I'd use it twice per day, I'd get a few little whiteheads and some greasiness to my skin.
Ingredient Notes
St. Ives Timeless Skin has mineral oil in it.  Mineral Oil is a somewhat controversial ingredient, as it's been said that it comes from petroleum. After a little research, there's mixed reviews on this ingredient. Some experts say it's fine and actually beneficial to have in your skincare, while others suggest avoiding it.
It also contains Hydrolyzed Collagen, which is a conditioning agent.
Another ingredient that's known for its hydrating and smoothing properties is Carthamus Tinctorius (Safflower) Seed Oil.  I love this ingredient for its moisturizing properties.  I think this ingredient is what had my skin feeling so soft all the time!
Price
This cream is only $5.44 for a 10 ounce jar.  That's $0.54 per ounce which is so cheap!
Guarantee
This moisturizer is mostly sold at drugstores, so it depends on where you get it.  If you get it online through Amazon, they have a 30 day guarantee.
Where To Buy
To buy St. Ives Timeless Skin, click here.
St. Ives Timeless Skin: Summary
| | |
| --- | --- |
| Factor | St. Ives Timeless Skin |
| Overall Rating | |
| Texture/Feel | This is a white moisturizer with a lightweight feel. |
| Application | Applying is easy, use morning and night. |
| Drying Time | It dried in under one minute. |
| Smell | Smells light and refreshing with a hint of sunscreen smell. |
| Immediate Results | My skin felt very soft. |
| Long Term Results | My skin was hydrated, and looked brighter. |
| Ingredients | Mineral Oil, Hydrolyzed Collagen, Carthamus Tinctorius (Safflower) Seed Oil |
| Guarantee | Depends on where you purchase |
| Price | It's $5.44 per jar, that's SO cheap. |
| Where To Buy | Click Here |