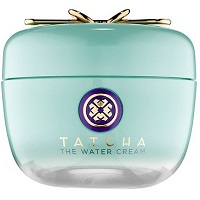 Product Name:  Tatcha Water Cream
Overall Rating: 

Face or Body:  Face
Day/Night:  Both
Size:  1.7 oz
Price:  $68.00
Cost Per Ounce:  $40.00
Where to Buy:  Click Here
# of Ingredients:  46
Notable Ingredients:  Japanese Wild Rose, Japanese Leopard Lily, 23 Karat Gold
Overall Opinion:
After hearing all the hype around Tatcha Water Cream, I had to get my hands on some.
Unfortunately, this moisturizer didn't fully live up to its reputation in my opinion.
Now, for the things I like about it.  I love the ingredients.  It's paraben free, free of mineral oil, and free of synthetic fragrances. It also has 23 Karat Gold in it, which is pretty neat!
The smell is good as well.  It smells very botanical, and as long as you like the smell of essential oils, I think you'll enjoy this one.
Now, when it came to the results, I was very unimpressed.  I didn't notice any long term hydrating or anti-aging effects, which this cream claims to give.  I actually broke out a little more than usual, and my skin just didn't look good.  The one thing I will say is this moisturizer kept my skin matte all day; it didn't cause any excess oil production.
But for the price, I just don't think this one is worth it for the lack of long term results.
I found this Water Cream to be a very average moisturizer.
Detailed Opinion:
Texture/Feel
Tatcha Water Cream is a thick, white cream.  When you scoop it out of the jar, it initially feels very thick, but as you apply to your skin, it liquefies quite a bit.
Application
This moisturizer comes in a jar with a little gold spoon to get the product out.  I like that it comes with this baby spoon because it's more sanitary than just dipping your fingers in there.
With this cream, a little goes a long way. Like I mentioned, the product becomes thinner once applied to your face, which makes it easy to blend in.
It doesn't leave any white cast either, which is nice.
The strange thing about this product is it doesn't come with directions on how to use it.  It doesn't say whether to use it once or twice per day, or in the morning or evening.
So I used it both morning and night.
Drying Time
Tatcha Water Cream takes about 5 minutes to dry once applied to the skin.  In the 5 minutes it takes to dry, it felt sticky on my skin.
Smell
The smell of this one is botanical.  I don't know how else to describe it, but it's a little earthy and manly.  I enjoy the smell; it's pretty light and dissipates quickly once applied to my skin.
Immediate Results
Immediately after I applied this cream, my skin felt matte but that was about it.  I didn't have any immediate smoothing or hydrating effect.
When I wear this one under my makeup, it doesn't look as smooth as it usually does, and it seems to come off easier.
Longer Term Results
I was pretty underwhelmed by my long term results.  I still had dry spots after weeks of use, so this cream isn't very hydrating. I don't think the cream dried my skin out, it just didn't hydrate it much.
For those of you looking for some extra moisture, I don't think you'll like this one.
I also noticed some mild breakouts from this product, which sucked.  Now, it kept my skin feeling matte and non-oily, which is great.
I just didn't notice any anti-aging or hydration benefits, which is what I look for in my moisturizer.
Ingredient Notes
This one has some good things going for it in the ingredients department.
It's free of parabens, synthetic fragrances, mineral oil, and much more.  I love this about Tatcha Water Cream.
This moisturizer also has some cutting edge Japanese ingredients.
The first one is Japanese Wild Rose.  Tatcha says that wild rosehips have been shown to boost collagen, giving your skin a plumper and more youthful appearance.  This ingredient is also especially good for those with oily skin because it's filled with antioxidants that shrink pores and oil.
It also includes Japanese Leopard Lily, but the odd thing is I couldn't find anything about this ingredient on their website or by doing a quick Google search.   They only have one sentence that says it helps with cell turnover. So I can't be sure what the benefit of this ingredient is.
23 Karat Gold is one ingredient that really stuck out to me.  They claim the gold gives you a subtle glow with each use.  Although, I think the amount of gold in here is so small to notice any difference.
Price
This moisturizer is a pretty penny.  A jar sells for $68.00.
Guarantee
Tatcha offers a 30-day satisfaction guarantee, which is great.
Yes, they have a great guarantee.  They say you can return any product you're unhappy with, no matter what the case.  They'll even provide a return label!
Where To Buy
To buy Tatcha Water Cream, click here.
Tatcha Water Cream: Summary
| | |
| --- | --- |
| Factor | Tatcha Water Cream |
| Overall Rating | |
| Texture/Feel | This is a thick, white moisturizer. |
| Application | Applying is simple, and the product becomes liquefied once applied to skin. |
| Drying Time | It dried in about 5 minutes. |
| Smell | It smells like botanicals, a little earthy. |
| Immediate Results | My skin felt matte. |
| Long Term Results | Acne breakouts, my skin was still dry, no hydration or anti aging benefits |
| Ingredients | Japanese Wild Rose, Japanese Leopard Lily, 23 Karat Gold |
| Guarantee | Yes, they have a great guarantee. |
| Price | It's $40 per ounce, VERY expensive. |
| Where To Buy | Click Here |