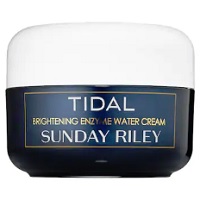 Product Name: Sunday Riley Tidal Brightening Enzyme Water Cream
Overall Rating:

Face or Body: Face
Day/Night: Both
Size: 1.7 oz
Price: $65.00
Cost Per Ounce: $38.23
Where to Buy: Click Here
# of Ingredients: 35
Notable Ingredients: Hyaluronic Acid, Alpha-Arbutin, Papaya Extract, Eggplant Extract, Tamarind Seed Gum
Overall Opinion:
Tidal Brightening Enzyme Water Cream is a lightweight moisturizer meant to be used morning and night.
I was a little shocked at the high price, so I was expecting a lot. I am happy to say I ended up giving it a 4 out of 5 stars!
I saw amazing results using this product. It was so refreshing and easy to apply. The ingredients are unique, which I think made the product more effective than some of the other moisturizers I have used.
The bad thing is, this product is really expensive. It is $65.00 for a 1.7 oz jar, which comes out to $38.23 per oz!
One other thing I thought I would mention is how lightweight it is. It did a lot of great things like even out my skin tone and made my fine lines less noticeable, but it did just an OK job at hydration. If you are looking for a heavy-duty moisturizer for really dry skin, this might not be the best product for you.
If you can afford it, I recommend trying this out, just because it does so much more than just moisturize.
Detailed Opinion:
Texture/Feel
Tidal Brightening Enzyme Water Cream is a really lightweight moisturizer with a light aqua green color.
Application
Applying this moisturizer is really easy – it comes in a jar and has to be scooped out.
Because of the thin consistency, a small amount goes a long way. A quarter size amount covered my whole face and neck.
I would have preferred this in a pump applicator, just because the jar tends to be a little messier and I don't like dipping my fingers in each time.
Drying Time
This moisturizer is very thin, so it soaks in really fast.
It almost looked like water on top of my skin at first. I was worried it would be too shiny/oily, but it soaked in after 1-2 minutes.
Smell
Tidal Brightening Enzyme Water Cream smells like cucumber, which is light and refreshing.
It wasn't too strong or overpowering. It smells like something that would be used in a spa.
Immediate Results
Just after applying Brightening Enzyme Water Cream, I noticed my skin felt hydrated and refreshed.
It made my skin feel wet and shiny right after I applied it, but it went away as it soaked in over a couple of minutes. I could see how people with really oily skin might not like this as much. The cream isn't oily, but it also doesn't have a matte finish or anything that would help with oily skin if that's your concern.
I was relieved by how fast it soaked in. It didn't suffocate my skin, which is something I generally worry about with moisturizers.
Longer Term Results
Long term I noticed a huge difference in my skin tone; it seemed much brighter and more even.
My skin felt hydrated and the fine lines were also a little less noticeable after several days.
I was really impressed at how many great things this moisturizer did – it even made my pores look smaller. Overall, it just made my skin look healthier.
Ingredient Notes
Even though this moisturizer is expensive, it has a ton of interesting ingredients in it, which I think make the price worth it.
This contains two types of hyaluronic acid. Hyaluronic Acid is a carbohydrate that is naturally produced in the body. It is a humectant, meaning it grabs onto moisture and holds onto it in the skin. It helps make skin look younger and overall healthier.
Papaya Extract contains active enzymes that help dissolve dead skin cells on the surface of skin; it is almost like a natural exfoliate.
Another unique ingredient is the Alpha-Arbutin, which is a product used to help lighten skin and even out skin tone. It can be synthetically made or derived from plants such as blueberries. It is also said to have antioxidant properties.
Price
A 1.7 oz jar of Tidal Brightening Enzyme Water Cream is pretty expensive at $65.00, which comes out to $38.23 per oz.
Guarantee
None. Sunday Riley is sold through third party stores like Sephora, Nordstrom, Dermstore, etc. The return policy depends on the place you buy it.
Where To Buy
To buy Tidal Brightening Enzyme Cream, click here.
Tidal Brightening Enzyme Cream: Summary
| | |
| --- | --- |
| Factor | Tidal Brightening Enzyme Cream |
| Overall Rating | |
| Texture/Feel | This is a lightweight cream with an aqua green tint. |
| Application | Applying it is easy – a little bit goes a long way. |
| Drying Time | It dries pretty fast, but takes a couple of minutes to completely soak in. |
| Smell | The smell is really spa-like with a hint of cucumber. |
| Immediate Results | Left skin feeling hydrated and refreshed. |
| Long Term Results | Over time, this moisturizer evened my skin tone, reduced fine lines, and left skin feeling healthier. |
| Ingredients | Hyaluronic Acid, Alpha-Arbutin, Papaya Extract, Eggplant Extract, Tamarind Seed Gum |
| Guarantee | Not specific to the brand. It depends on where you buy it. |
| Price | So expensive… $65.00 for 1.7 oz. |
| Where To Buy | Click Here |