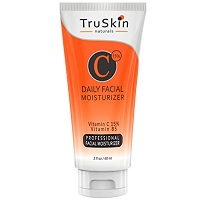 Product Name:  TruSkin Naturals Daily Facial Moisturizer
Overall Rating: 

Face or Body:  Face
Day/Night:  Either
Size:  2 oz
Price:  $15.99
Cost Per Ounce:  $7.99
Where to Buy:  Click Here
# of Ingredients:  18
Notable Ingredients:  Sodium Ascorbyl Phosphate (Vitamin C), MSM (Organic Sulfur), Organic Aloe Vera Oil, Organic Green Tea, Organic Jojoba Oil, Vitamin B5
Overall Opinion:
TruSkin Naturals Daily Facial Moisturizer is an interesting product and has a ton of great ingredients. I really did notice improvement over an extended period of time, which was impressive for the price of this product.
Even though I definitely saw some positive results from this moisturizer, there were a couple of things I wasn't crazy about.
As far as downsides, this product is a little thicker than some moisturizers out there, which might be a negative for some of you.
I liked the Vitamin C and several organic ingredients, like the aloe vera and jojoba oil.  The company is based in the US and has a 90-day guarantee, which is great to know they care about their product and the results their customers are getting.
At first, I thought the price of $15.99 for just 2 oz was a little more than most moisturizers that you get online or at the drugstore. But after using it, I think it is a reasonable price.
Detailed Opinion:
Texture/Feel
TruSkin Naturals Daily Facial Moisturizer is a white cream that is a little on the thicker side.  I found it to be a little on the oily side after rubbing it in.
It really isn't too thick, but it's definitely not thin. You don't need very much for each use to fully cover your face, which is nice.
Application
Applying this cream is super easy – the packaging makes it easy to dispense the amount you need after washing your face.
The consistency is fine with the packaging and wasn't messy or leaking at all.
The tube comes with the cap on the end, which you can stand up on your counter or in the cabinet once you're done using it.
Drying Time
Drying time for this moisturizer took just slightly longer than I expected.
I had to wait a while after I applied it to really feel like I didn't have any residue on my face.
I found it to be a little on the oily side after applying it, which was surprising because it doesn't seem that way at first when I was dispensing it.
Smell
This doesn't have a scent, which I think a lot of people will really like.
It didn't have a bad smell either, which was good. Sometimes unscented products have a weird smell anyway from all the ingredients, but this one didn't!
Immediate Results
Waking up the next morning, after applying it the night before, my skin definitely felt softer.
Even though my skin felt softer, it still felt a little sticky.
It almost felt like there was a light waxy feeling on my cheeks, which I wasn't that excited about.
But my skin definitely felt soft and moisturized.
Longer Term Results
Long term, I really did notice that my skin tone was more even and bright!
The fine lines didn't really change on my face that much, but my skin was definitely brighter and more even toned.
It didn't really do much for my fine lines or wrinkles, which was fine.
I was really impressed with how it improved my complexion.
Ingredient Notes
TruSkin Daily Moisturizer has a lot of great ingredients, which made me excited to use it!
It contains Vitamin C, which is used specifically for brightening complexion and making skin tone more even. It also has anti-aging and anti-oxidant properties, which are supposed to help with wrinkles and fine lines.
Another really interesting product is MSM (methylsulfonylmethane), which is basically organic sulfur. Our bodies produce this naturally. It can be used in skin care and taken in pills for all kinds of issues like inflammation, joint pain, and acne. Topically, it can help boost collagen production.
I really liked how many organic ingredients it has in it, like the organic jojoba oil, which is chemically similar to the oils that our bodies naturally produce to moisturize our skin. It has been known to help with acne and keep skin moisturized and healthy.
This also has Green Tea in it, which is known to have anti-inflammatory properties and can help shrink pores.
Price
A 2 oz tube of TruSkin Daily Moisturizer costs $15.99, which I thought was really reasonable for the great results!
Many of the moisturizers that I have used in the past that have given me this kind of improvement cost $30-$40!
Guarantee
TruSkin Naturals Daily Facial Moisturizer has an amazing guarantee – if you just send an email stating you don't like it, they will refund you without even having you send the bottle back!
Where To Buy
To buy TruSkin Naturals Daily Facial Moisturizer, click here.
TruSkin Natural Daily Facial Moisturizer: Summary
| | |
| --- | --- |
| Factor | TruSkin Natural Daily Facial Moisturizer |
| Overall Rating | |
| Texture/Feel | This is a white, cream lotion. |
| Application | Application is really easy and clean. |
| Drying Time | This moisturizer takes a little while to really soak in – maybe 5-10 minutes. |
| Smell | No scent |
| Immediate Results | At first, it makes your skin feel really soft – sometimes can leave a little film. |
| Long Term Results | Long term this lotion is pretty great! Really improves complexion and overall tone! |
| Ingredients | Vitamin C, MSM, Jojoba Oil, Aloe Vera, Vitamin B5 |
| Guarantee | Yes! Just an email sent and a full refund. No need to send the bottle back. |
| Price | It's $15.99 for 2 fl oz. |
| Where To Buy | Click Here |